Original URL: https://www.theregister.co.uk/2009/04/07/review_media_player_sony_walkman_w202/
Sony W-series Walkman MP3 player
Eat this, Shuffle
Posted in Personal Tech, 7th April 2009 09:05 GMT
Review Apple's recent re-design of its iPod Shuffle wasn't exactly greeted with universal enthusiasm. Now Sony has come at the idea of a screenless music player from a wholly different direction and decided to build the player directly into the earphones – or vice versa, depending on how you look at things. Sounds clever, but does it work?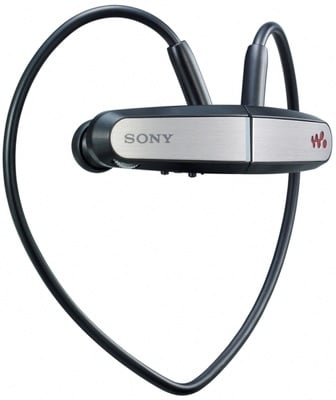 Sony's Walkman W202: the two halves connect magnetically
As you can see from the pictures, the W202's trick feature is the way its two halves fit together to keep things neat and tidy when not in use. The two sections don't actually clip together but rather use a magnet to stay joined - cute. To prevent them coming adrift in your pocket or bag – thus potentially switching the player on and draining the battery – Sony supplies a plastic clip that the two joined parts slot into. The clip also apparently prevents the magnet from zapping any nearby credit cards.
We aren't exactly convinced of the science behind this idea that plastic can shield things from magnetism but we weren't about to risk our Visa card in the quest for empirical proof.
Sony also provides a deskstand with a USB cable that the W202 can be slotted onto to keep it out of harm's way while connected to a PC. Thankfully, the connection between the player and the dock is a standard mini USB port so you can also use a regular cable when travelling.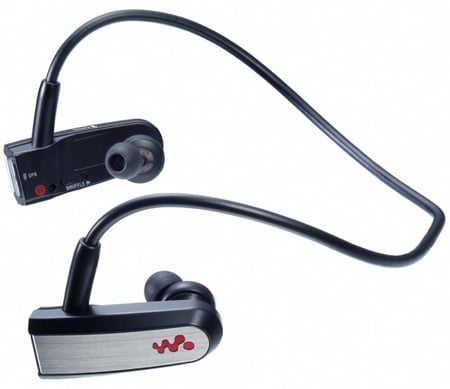 The player in the 'phones - or the 'phones in the player?
Controls are kept to a minimum. Built into the right-hand earpiece is a volume rocker and a jog wheel that doubles up as a power switch and play/pause/skip control. To turn the player on, simply separate the two halves and push the jog wheel in. To switch it off, join the two earpieces back together again.
Though the controls are a little on the small side, after some practice they fall to hand easily enough, especially the volume rocker that has clearly distinguishable dimples at either end.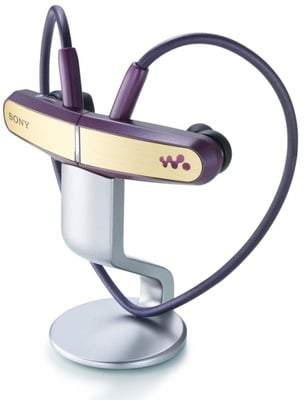 Sony bundles a handy stand
Being a Sony, the W's format support isn't exactly extensive. So you if you want to play anything other than MP3 or non-DRM WMA and AAC files, you're flat out of luck and should probably buy a SanDisk Sansa Clip.
So, to the nitty-gritty. Is the W202 comfortable to wear and what does it sound like?
Perhaps a little surprisingly, it is actually very comfortable once you have chosen the right size rubber buds from the three sets supplied. Just slip the neckband around your head, pop the earphones in and bingo. It's altogether a lot less time time-consuming and boggling to put into place than many Bluetooth earpieces we've come across.
The W weighs only 35g, so you can sometimes just about forget you're even wearing the player, while the flexible neck band sits close enough to your noggin to allow you to lean back in a chair without the player moving. The longest we wore the player for was a little over three hours while on a flight and at the end we were pleasantly free of any sort of earache.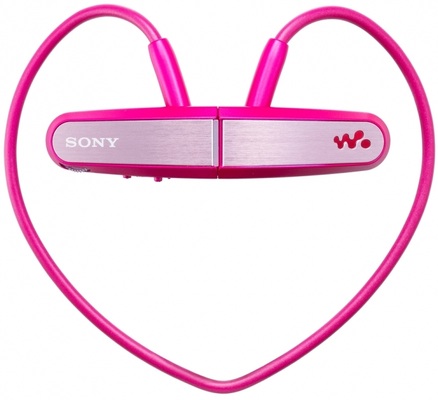 Next year's Valentine's Day gift?
To see how well the player stayed in position in day-to-day use we took it on a quick jog up and down Regent Street early one morning. Not only did it not shake loose during our run but it even stayed firmly in place when we tripped over a curb edge and ended up face down on the pavement in a tangle of limbs and expletives. The things we do in the name of a comprehensive product test...
With Sony's recent S-series Walkman providing the current benchmark for digital music player sound quality, we expected the W to put on a good show and we weren't disappointed. That's not to say it matches the S series - it doesn't - but neither does it disgrace itself.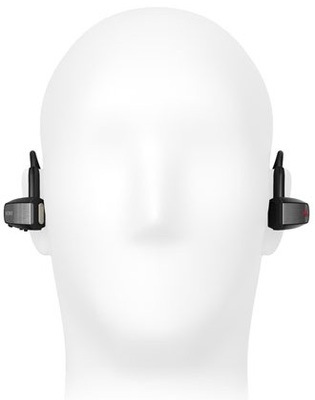 I, Lobot
A lot of this is down to the quality of the earphones themselves. Described as "13.5mm EX" earphones they look and sound a lot like Sony's MDR-RX300SL earphones, which is no bad thing. We found them capable of producing ample - if sometimes rather loose - bass and fine definition no matter what the style, genre or volume – and it pumps out a fair old bit of the latter. Of course, that's just as well since a fundamental aspect of the W series design is that you really do have to stick with the supplied 'phones.
The W202 doesn't have anything by way of sound modification software, not even humble bass and treble controls. In fact, the only interesting bit of software it does have is something called "Zappin".
What this does is scan through your music library by playing what the device thinks is the most recognisable clip of each song – or if it can't work out what the most recogniszable bit is, any bit. You can select short – about four seconds - or long – about 15 seconds - clips by depressing the jog wheel either once or twice while music is playing. To be honest, the clips chosen seemed pretty random to us, the W202 often managing to cunningly avoid obvious chorus lines.
Frankly, it's a wee bit like the iPod Shuffle's VoiceOver function – a handy rather than essential feature aimed more at padding out the promo and advertising literature than real world usefulness.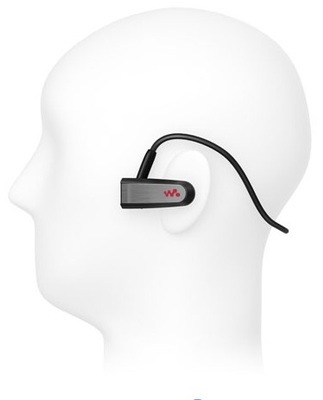 Too easy to grab from the back?
The W202 also comes with a shuffle function which we suspect is how most people will use it, though usefully for those who like their music library played in the order God intended, the default playback setting is to run through each album in the numbered order, albums being sorted alphabetically by artist and then title.
Sony's handy – but Windows only - Content Transfer widget comes pre-loaded in the W202's memory and once installed on your PC lets you drag and drop files directly from iTunes or Windows Explorer – though not WMP or Songbird. It's a simple little application but it makes life a lot easier for those of us who use iTunes to organise our music libraries.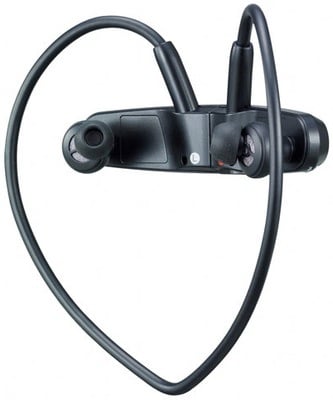 Good sound
To round things up, it's worth saying that we had no problems accessing the W202's storage via either Mac or Linux machines, and that while Sony reckons a full charge is good for 12 hours of playback we found that to be a little optimistic - the best we managed was a little over nine. Sony also says that a three-minute charge from flat will give you 90 minutes' playback, a claim that this time we found to be almost spot on.
If the W202 has a downside, it's that wearing it makes you look a bit like Lando Calrissian's mate Lobot from The Empire Strikes Back or a wannabe Cyberman. Street crime may also be an issue – with the player on display from the rear and lacking a headphones cable it would be a pretty straightforward snatch and grab for any felonious urban youth that you happened to encounter.
Sony will sell you a 2GB W202 for £59 - though we suspect you'll be able to find it cheaper in due course. That's the same price as a 4GB iPod Shuffle, but then the Sony is the better sounding player and is altogether a more funky and clever bit of design.
Verdict
As a player for use when you are out and about, in the gym, jogging, sh**ging or travelling, the W202 is hard to fault. It's light, comfortable, sounds good and does away with the need for earphone cables or Bluetooth connectivity. ®