Original URL: http://www.theregister.co.uk/2009/04/06/review_camcorder_flip_mino_hd/
Pure Flip Mino HD
The YouTuber's favourite goes HD at last
Posted in Personal Tech, 6th April 2009 09:33 GMT
Review The pocket-sized Flip camcorder was one of the top tech toys of summer 2008, and it spawned a host of equally diminutive copycat products – not to mention our own compact camcorder round-up. The secret of the Flip's success lay in its sheer simplicity. Unlike most digital cameras and camcorders, which are festooned with buttons and menus settings, the Flip just had one big button for recording video clips, and two additional buttons for playing and deleting files.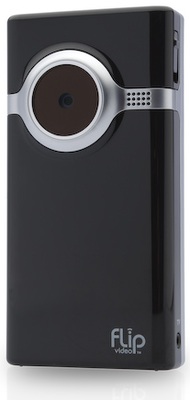 Pure's Flip Mino HD: honey, I shrank the camcorder
The compact design meant that you could easily carry it around in your pocket. You didn't even need a USB cable to connect it to your PC or Mac, as the Flip had a built-in USB interface that simply folded into the side of the unit when it wasn't needed.
That simplicity did have its drawbacks. The modest 640 x 480 resolution meant that video quality wasn't particularly impressive, and the single gigabyte of built-in memory only allowed you to store about an hour of video, so you obviously weren't going to be shooting your indie debut feature on it. However, its sub-£100 price tag and the sheer convenience of its pocket-sized design made it ideal for capturing quick video clips that were no doubt destined for 15 minutes of fame on Facebook.
The original Flip was quickly followed by the Flip Ultra, which had the same resolution but improved video quality a bit by doubling the bit-rate of its compressed video clips to from 2.8MB/s to 4.0Mb/s. The next step was the Flip Mino, which managed to reduce the camcorder's dimensions even further – while also pushing the price above the £100 mark for the first time.

The tiny screen isn't good for your eyes
And that brings us to the new Flip Mino HD which, as the name implies, brings 720p hi-def video capture to the Flip range for the first time. The developers at Pure Digital Technologies – who are currently busy counting the cash from selling the privately-owned company to networking giant Cisco – claim that this is the world's smallest HD camcorder. We're not inclined to argue with that, as the unit measures just 98.5mm high, 49.3mm wide and a mere 16mm thick. It weighs just 93g.
It's certainly smaller than rivals such as Kodak's Zi6 HD camcorder, and is only slightly larger than Apple's slimline iPod Nano 4G. It seems quite solidly built, though, so we wouldn't have any worries about dropping it into a backpack if we were going away for the weekend. The clear plastic coating that covers the back of the unit – including the tiny, 1.5in LCD preview screen – smudges if you so much as look at it, but did seem to be reasonably scratch-resistant during the few days that we had to test it.
The Flip Mino HD retains the simplicity of its predecessors, with the same three buttons for recording, playing and deleting clips. On previous models, the Record button had a gamepad design, allowing you to rock it from side to side in order to adjust additional settings such as the zoom level. However, the Mino HD opts for a more streamlined touch-sensitive panel that responds to a light flick of the finger.
When you turn it on for the first time, you're asked to set the date and time on the small menu screen, but there are no other settings to adjust. Once that's done the screen switches into its viewfinder mode – there's no separate optical viewfinder – and displays a live preview image.
We have to say that this 1.5in screen is the camcorder's biggest weakness. Not only is the screen itself extremely small and low-res – a rather odd 528 x 132 pixels, according to the spec sheet – but the preview image is letterboxed so that it doesn't even fill the small amount of screen space that is available. A screen this size might be tolerable when you're paying less than £100 for one of the low-res Flip models, but it's annoying in an HD model costing £170.
Still, the image quality turns out to be pretty good – just about sharp enough to live up to the HD tag, and with bold, strong colours. There's a slight tendency for colours to wash out in strong sunlight, but the main problem we found with the Flip Mino HD is that its size and weight make it very susceptible to every little shake of your hands. The no-frills design means that it doesn't have any of the image stabilization features found in more expensive camcorders, and we found that there was often a slight shakiness to the image no matter how hard we tried to steady our hand.
There is a tripod socket built into the base of the camcorder, and Flip sells its own mini-tripod for about £15. However, the nature of the Flip range means that the camcorder is very much designed for quick hand-held shooting so the shakiness is something that you'll just have to live with.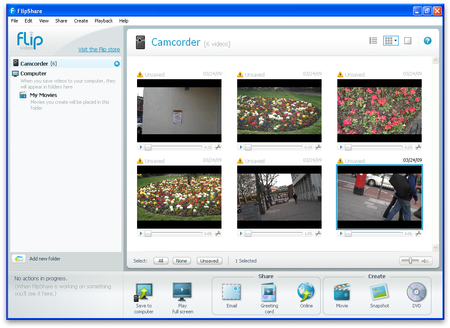 The Flip includes basic editing software
To be honest, we were a little more comfortable with our trusty Kodak Zi6, which is about 25 per cent larger and heavier, and seems a little easier to hold steady in the hand.
We also noticed that the Flip Mino HD worked best when the subject was at least a couple of metres away. Pure Digital says that the fixed-focus lens works between 1.5m and infinity, and clips shot within 1.5m really did look like they'd been taken with a cheap blurry webcam. Again, the nature of the device means that it will often be shoved in people's faces at parties or crowded bars so a 'close-up' mode such as that offered by the Zi6 would be a good addition.
The Flip Mino HD has a 2x digital zoom, which does cause a slight loss of detail in the image, but a more powerful optical zoom is probably a bit much to expect at this price.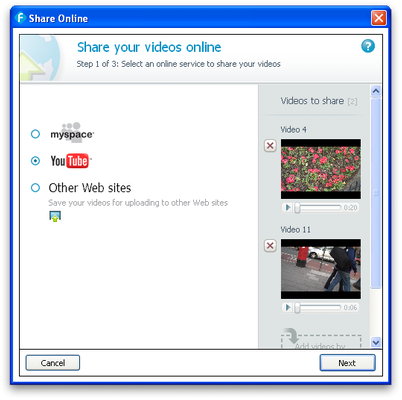 It's time for your 15 minutes of fame
The Flip Mino HD has more built-in memory than any of its predecessors – 4GB this time, although the increase in resolution means that it still stores just a single hour of video, and there's no memory card slot that would allow you to add more memory. Battery life is only about two hours, compared to four hours for the standard-definition Flip Mino, but we found that two hours was plenty, and the camcorder turns itself off quickly when it's not in use so you waste very little power.
Video is captured in MP4 format using the H.264 codec at 30f/s and with a bit-rate of 9.0Mb/s. The camcorder shows up as an ordinary USB storage device when you connect it to a computer, so it's easy to transfer your video files on to a Mac or PC and then onto H.264-compatible devices such as an iPod or Sony Playstation Portable.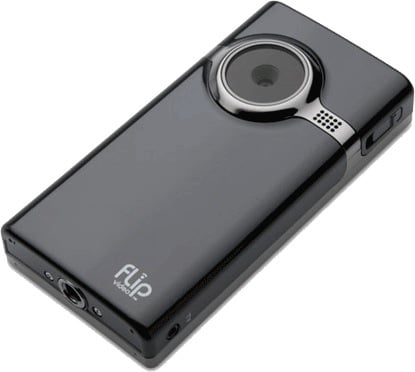 YOUR_CAPTION_HERE
However, you'll probably need to scale your HD clips down to lower resolution to use on an iPod and, at the risk of labouring the point, the Zi6 allows you to switch between HD and VGA resolutions to save you time. It also has a 'snapshot' option for taking still photos, which the Flip Mino HD could do with as well.
There's a program called FlipShare pre-installed on the camcorder's internal memory, which can quickly be copied onto your computer. This runs on both Macs and PCs and provides very basic editing features for trimming video clips and uploading them to sites such as YouTube. It's no replacement for a proper editing program, but it does the trick as far as YouTube is concerned.

Verdict
We've always admired the simplicity of the Flip range, and the compact design and improved image quality of the Flip Mino HD do make it a very attractive option for anyone that wants a high-quality camcorder that they can just slip into their pocket when they leave home. However, with the price now rising to £170, it's disappointing that the Flip Mino HD still has such a limited range of features.
Options such as a close-up mode, snap-shot feature or a memory card slot would make it more versatile without compromising its ease of use. The Flip Mino HD is definitely a welcome addition to the Flip range, but its rivals are catching up now and there are other pocket-sized camcorders that can give it a good run for its money. ®
More Camcorder Reviews...
| | | |
| --- | --- | --- |
| Ten of the Best... Pocket Camcorders | Flip Ultra vs Creative Vado | Flip Ultra |