Original URL: http://www.theregister.co.uk/2009/04/03/review_videphone_asus_eee_aiguru_sv_1/
Asus Eee Linux-based Skype Videophone
Chat with your chums, change the source code
Posted in Personal Tech, 3rd April 2009 10:34 GMT
Review Appearing a somewhat solitary member of the Asus Eee product family, the unique AiGuru SV-1 Videophone stands alone in more ways than one. At around 25cm tall, with curves akin a to Brancusi sculpture, this tabletop unit bearing a widescreen 7in LCD features built-in 802.11b/g Wi-Fi and a rechargeable battery to deliver round-the-home portability.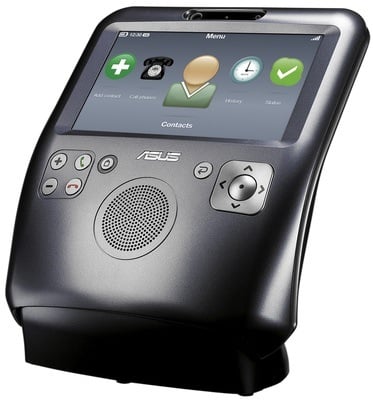 Asus' AiGuru SV-1: comes with full source code
While numerous messengers offer audio-visual communications on a computer, all this Asus device needs is an internet connection – Ethernet or wireless – and you're away, waving a hand to far flung relatives or more select parts of your anatomy to a new best friend in Rio. The catch? It only works with Skype. Indeed, Asus is eager to point out that the AiGuru SV-1 is the world's first 'Skype Certified' standalone videophone.
The concept brings to mind Deckard's conversation, on a grubby Vid-Phon in The Snake Pit Bar, to his replicant sweetheart Rachel in Blade Runner. It was something to do before retiring an errant Nexus-6, formerly part of an off-world kick murder squad, who'd taken up erotic dancing instead. And yet here we have the AiGuru, apparently ten years ahead of its time, and the replicants turn out to be Chavs.
Considerably smaller than the 'futuristic' Vid-Phon, the AiGuru SV-1 has an 800 x 480 screen. Above it is a 0.3Mp camera, with accompanying microphone and activity light. Below is an intuitive range of controls. On the left, volume up/down, call and disconnect, plus a home key that returns to the main menu. The right cluster navigates the screen the functions: up/down, left/right, back and select. In the middle of these controls is a shower head-style speaker grille, protecting a fairly warm sounding 2in speaker.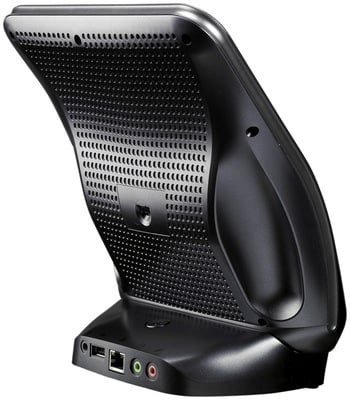 The USB port's not used, alas
The back of the main unit is contoured with vent holes in various places. It's all hinged on a base that houses the battery, the power button and additional interfacing at the rear for the external PSU, Ethernet, and minijack sockets for microphone and headphones. There's also a USB port, but Asus says it's solely for service updates.
Details of what's actually inside the box are not readily advertised but some digging revealed that the AiGuru SV-1 relies on an AMD CPU running Linux. In fact, the supplied CD – that includes a more extensive user guide than the hopeless multilingual booklet – also contains source code for this device.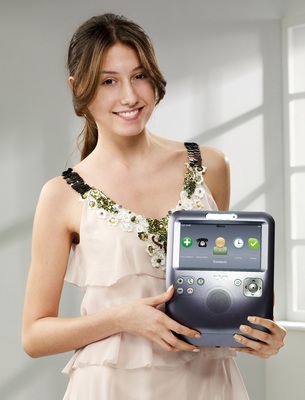 Eee videophone and friend
If you already have a Skype account, then getting started is breeze, although there's an option to create one. On boot, the unit scans for wireless networks and, using the navigation keys, such details as passphrases are easily, but slowly entered in by highlighting letters on a virtual keyboard.
Other settings include time, language and country. When scrolling through the Menu icons, the choice to be selected zooms to the fore. Before signing in, this is limited to Settings, Sign in, Create account and See Myself. The latter lets you tweak the video, which could also do with several tweaks to the options provided: Snapshot, Brightness and Advanced. The Advanced settings provide Contrast, Saturation, Sharpness, Hue and Power Line Frequency - which didn't seem to do anything. The image adjustments were rather crude and the default setting produces a very dark image.
Attempts to get a decent colour balance were nigh on impossible, as this section desperately needs a white-balance function. This becomes more evident during evening conversations, as the colour temperature changes and unnatural light is introduced. It seems that the camera has no way of dynamically calibrating itself during a call to suit the shifting conditions. Instead, you have to termine a conversation, tweak the settings and then resume the call.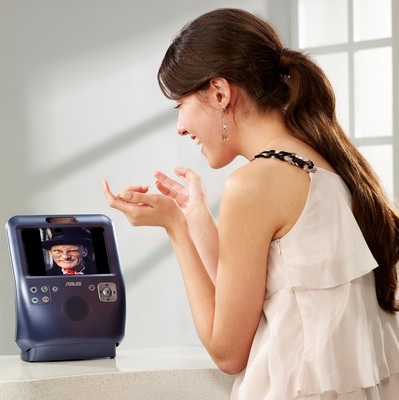 Call now to talk to dirty old gits *you* want to meet
One final bugbear on the camera: it doesn't have a mirroring option, so framing items to display, including oneself, can be a challenge at times.
When signed in, the menu options expand to include: Search, Add Contact, Call phones, Contacts, History, Status and Account. If you're already a Skype user, Contacts reveals all the names in your Skype address book, five names at a time, in a long row. Profiles with images are also visible. Click the down key and names can be accessed more swiftly from the alphanumeric grouping tabs at the bottom of the screen.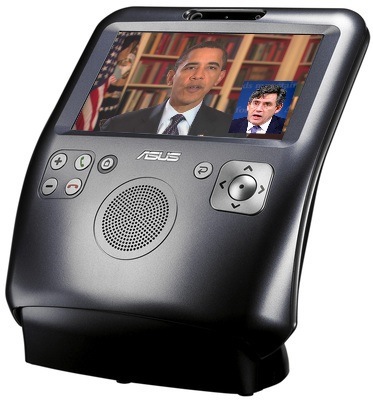 Win friends and influence people
Select a name and the screen transforms to show the profile image and any greeting message, with a sidebar on the right listing options to make a video or voice call together with View Profile, Remove, Block and Rename functions.
Using the videophone was actually a lot of fun. The screen fills with the video from the contact's camera with an optional thumbnail view of your own cam in the bottom right corner. Keep the volume at a moderate level at both ends and conversations can flow without echoes. Images received from decent webcams looked really good and while the frame rates were probably in the low teens, the lip sync was good and the sound excellent at either end.
From a viewer's perspective, compared to a Mac's built-in iSight camera, the AiGuru SV-1 leaves a lot to be desired. The image is fairly soft and the colour somewhat washed out, although the fixed focus is good all-round.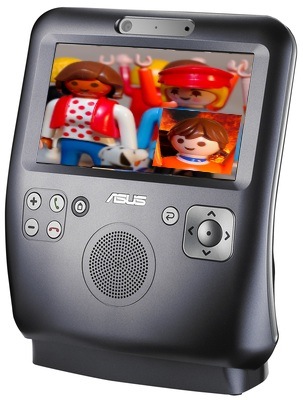 The battery only lasts about 20 minutes, which is rather disappointing but enough to continue a conversation in the kitchen whilst sharing boiled dog recipes with the lovely Rachel. It was only when the AiGuru SV-1 was moved around that design shortcomings became apparent. Unlike old portable TVs, there's no recessed carrying handle on the 1.6kg unit and, as you'd not want to smear the screen, the inclination is to pick it up from the sides. Yet on numerous occasions this caused an accidental click of a button or two, which terminated the call.
Receiving calls was easy enough and there are several ringtone choices. However, if Skype is also running on a computer and is answered from that, the AiGuru SV-1 continues to ring regardless. If a Skype user types messages to you, they aren't received or acknowledged on the unit, and the call History may be an issue for some, as this can't be cleared in any obvious way – a device reset is required. And if you're inclined to make conference calls, you can appear as a guest.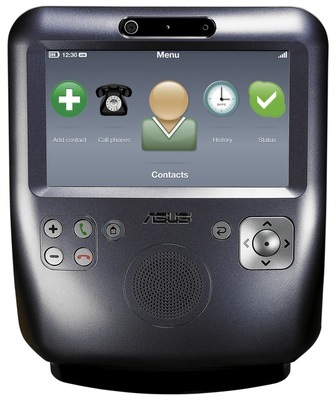 Fun to use
While the Asus AiGuru SV-1 is very much aimed at the consumer market, it really misses a few tricks considering how much potential is inside that box. The Snapshot feature will only add an image to your Skype profile, nothing else. With a screen the same size as those used on digital picture frames, why isn't it possible to grab images and use this device to show photos when it's dormant?
The USB port could take care of additional storage, and you'd think video playback would be possible too. With the Wi-Fi, this device could even become an internet radio or Asus could've added something simple like a calendar with reminders that it's time to di…al.
But the good news is that Linux foundation and the provision of source code. How long before enterprising hackers use the listings to build in these kinds of features?
Verdict
Was the AiGuru SV-1 rushed to market in fear that the world will run out of money soon? Possibly. Given all the things it could be, and may yet become, the £220 Asus Skype phone appears pricey in its current guise. Yet it's fun to use, and probably wouldn't look too out of place in The Snake Pit Bar with Taffy Lewis on the line. ®