Original URL: https://www.theregister.co.uk/2009/04/03/review_graphics_amd_ati_radeon_hd_4890/
AMD ATI Radeon HD 4890
Get ready for gigahertz graphics
Posted in The Channel, 3rd April 2009 14:33 GMT
Review The new AMD ATI Radeon HD 4890 is heavily based on the HD 4870 but it has some changes in its architecture that allow it to run substantially higher clock speeds.
How much higher? Glad you asked. The 4870 has reference clock speeds of 750MHz for the core and GDDR 5 memory that runs at 900MHz. GDDR 5 is a completely different animal to GDDR 3 so the 900MHz speed equates to an effective speed of 3600MHz. This business of true speed/effective speed could get wearisome so we're going to stick to effective speeds for this review.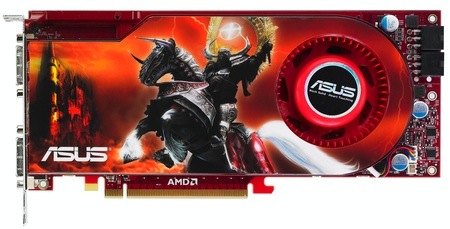 Asus' EAH4890: AMD's Radeon HD 4890 - aka 'RV790' - on board
A reference 4870 runs at 750MHz/3600MHz and a factory overclocked specimen runs a tad faster at 800MHz/4000MHz. You'll generally find that you can overclock a decent 4870 to 850MHz/4300MHz.
By contrast, the new 4890 comes out of the blocks at 850MHz/3900MHz and is also available in factory overclocked versions with a 900MHz core and memory clocked at 4000MHz. Two weeks after the launch of 4890, we can expect to see a super overclocked variant that will run much faster. We estimate that a 1GHz core speed is quite plausible, with memory running at 4400MHz.
That's a lot of numbers so let's recap: a basic 4870 has speeds of 750MHz/3600MHz, and the Asus board we used for testing overclocked to 870MHz/4360MHz. The new 4890 starts at 850MHz/3900MHz, and our Asus sample overclocks to 980MHz/4480MHz.
That's a useful speed bump and as the 4890 has the same 800 unified-shader stream processors and 256-bit memory controller as the 4870 does, we can expect the extra speed will give a proportional increase in performance.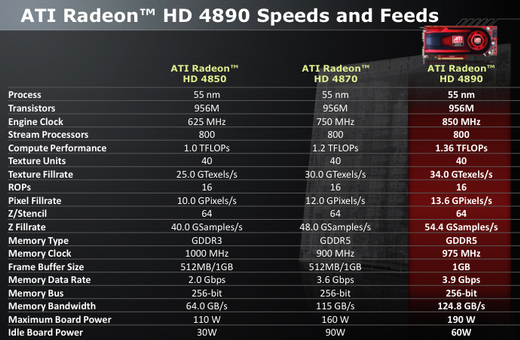 However, the 'RV790' chip design that's the basis for the 4890 is rather more than a simple speed bump of the 'RV770' used in the 4870. For starters, it's bigger and measures some 16.5 x 16.5mm rather than 16 x 16mm, which is an increase of about six percent in area. The fabrication process of both chips is 55nm, and the number of transistors is also the same: 956 million. So we're talking about a reorganisation of the chip rather than a redesign.
Running the new graphics chip at such high clock speeds requires plenty of electrical power so the RV770 has been designed to work with a graphics card that can supply five-phase voltage regulation. The result is that 4870 has an idle power draw of 90W and a maximum power draw of 160W. The figures for 4890 are 60W and 190W, so the new graphics card should draw less power at idle and more power under load.
You can buy an 4870 with either 512MB or 1GB of memory, but the 4890 is only available with 1GB. We 're not exactly comparing like-with-like here, as our Asus EAH4870 had 512MB of video Ram while the EAH4890 has 1GB. We were careful to avoid extreme anti-aliasing settings that would favour the the larger frame buffer, so we're confident that our test results accurately reflect the differences between 4870 and 4890.
Unfortunately, there is no way to make an allowance for the power draw of the extra 512MB of memory so all we can say is that our figures show the overclocked 4870 draws 5W more than the 4890 at idle and 10W less under load.
Lay a 4870 next to a 4890 and we defy you to tell the two cards apart: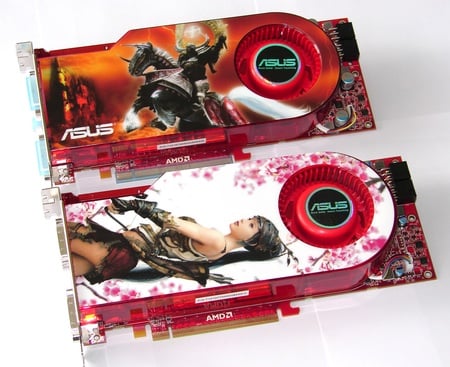 Asus' 4890 (top) and 4870
We tested the graphics cards on a Gigabyte MA790FXT-UD5P motherboard with a Phenom II X4 810 that we overclocked from 2.6GHz to 3.25GHz, 2GB of Kingston DDR 3, an 80GB Intel X25-M solid-state drive and Windows Vista Ultimate. We had planned to use Catalyst 9.3 drivers but they didn't recognise the 4890 so we used the drivers from the Asus 4890 with both cards - let's think of them as Catalyst 9.4 Beta.
You'll see that we ran the Asus EAH4870 TOP at three different speeds. We started by under clocking the Asus to reference 4870 speeds and then used the overclocked TOP speeds. After that we let rip with the Overdrive utility in the Catalyst drivers to raise the clock speeds to 870MHz/4360MHz, which is significantly higher than the starting point for the new 4890. The overclocking process couldn't be simpler as Overdrive tests the card and automatically sets the core and memory speeds very quickly.
3DMark Vantage Results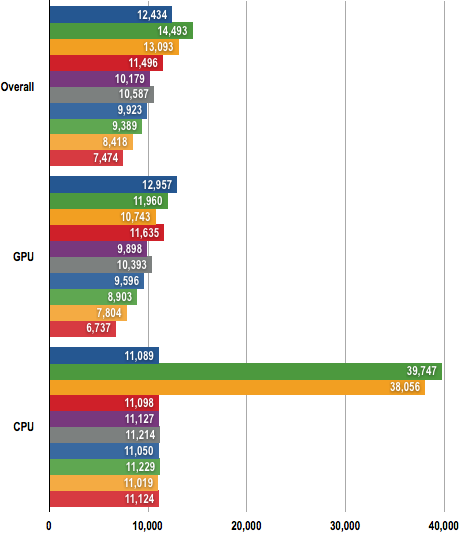 Longer bars are better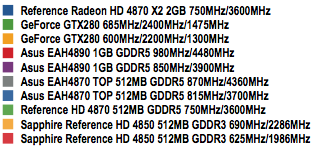 Installing the EAH4890 delivered intriguing results as the 3DMark Vantage scores for the 4890 were a tad slower than the overclocked 4870, which was exactly in line with the clock speeds. The interesting part is that the reference 4890 delivered a faster frame rate in Far Cry 2 than the overclocked 4870, which suggests that AMD's claims of unspecified enhancements in RV790 hold some water. The extra 512MB of memory may have helped the 4890 but we don't think this is the case.
Far Cry 2 Results
Ultra High Quality, 1920 x 1080, No AA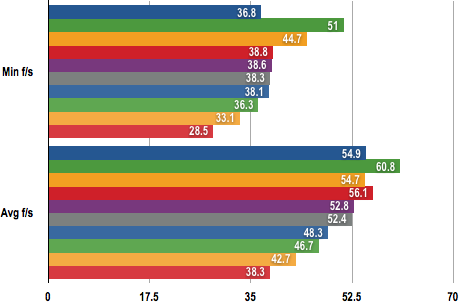 Longer bars are better
Ultra High Quality, 1920 x 1080, 2x AA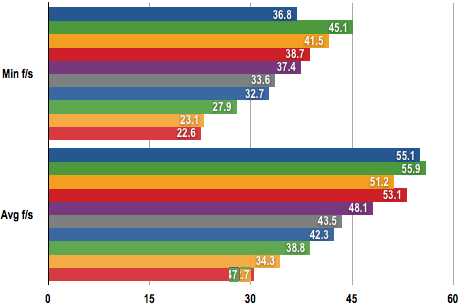 Longer bars are better
Power Draw Results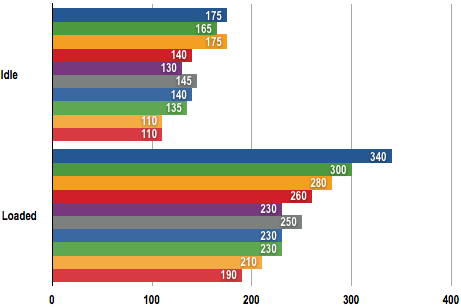 Power draw in Watts (W)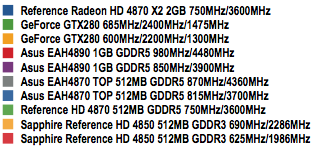 Overclocking the 4890 to 980MHz/4480MHz delivered a chunk of extra performance that is between 12 and 22 per cent higher than the 4870 so clearly anyone in the market for a high-end Radeon graphics card should be interested in an upgrade.
GPU Temperature Results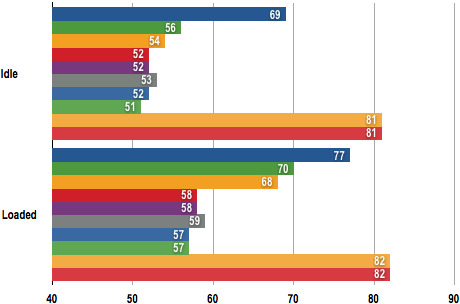 Temperature in °C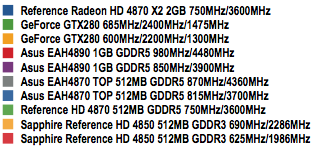 The problem is that AMD has positioned the HD 4890 as a new product at the top of its single-GPU tree and assigned it a UK selling price of £229. The Radeon HD 4870 gets a small price cut to £170 for the 1GB version, so you'll be paying a premium of £60 for the new 4890. That's some 35 per cent and we don't feel it represents good value which is, unfortunately, usually the case with high-end graphics cards.
It does, however, allow AMD to push into the high end of the market, which is currently dominated by Nvidia's GeForce GTX 285. Unfortunately, we don't have a GTX 285 to hand but we do have a GTX 280 and we know from previous testing that a GTX285 performs about nine per cent faster than he tGTX280. Running the GTX 280 on our test platform shows that Nvidia continues to hold the high ground which is what we'd expect from a family of graphics cards that cost between £310 and £370.
It also raises the intriguing question about the likely effect of the new GeForce GTX 275, which is priced above the HD 4890 at £240-280. This is a new model that has been coincidentally launched at the same time as the HD 4890 with hardware apparently available for review in a week's time. Watch this space, as they say...
Verdict
AMD's Radeon HD 4890 is substantially faster than HD 4870 and it has massive headroom for overclocking. The only thing is, we're not sure it offers good value for money. ®