Original URL: https://www.theregister.co.uk/2009/04/03/g20_summit/
G20 Summit: All the action caught on camera
Our man braves London's riot-ravaged streets
Posted in Bootnotes, 3rd April 2009 10:38 GMT
It's been quite a week in good old London Town, what with international big cheeses rolling in to solve the world's economic woes at a stroke and restore our beloved planet to its happy pre-crisis condition of nothing more worrying than some bothersome developing world hunger and the occasional light war to entertain the masses.
Our man on the street was, as ever, on hand to capture the highlights. Suitably disguised in Class War t-shirt and dreadlocks, and accompanied by the obligatory dog on a string, he first mixed with unwashed masses roaming the streets in packs looking for a bit of argy-bargy with the Old Bill, which is exactly what they got: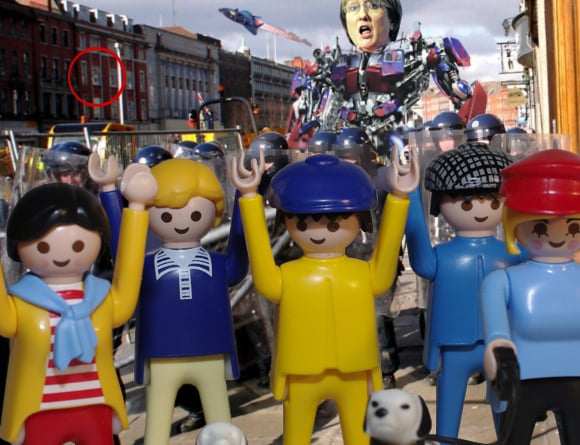 Here we see malodorous anticapitalists righteously dispersed by riot coppers backed by the feared "Jacqimus Prime" killbot - a terrifying cybernetic organism capable of stripping away your civil liberties with a single glance from a distance of two miles.
Yes, yes, we hear you say; we've seen all of this before. Fair enough, but look closer at the highlighted window. Here's the image massively enhanced by El Reg's bank of digital manipulation supercomputers: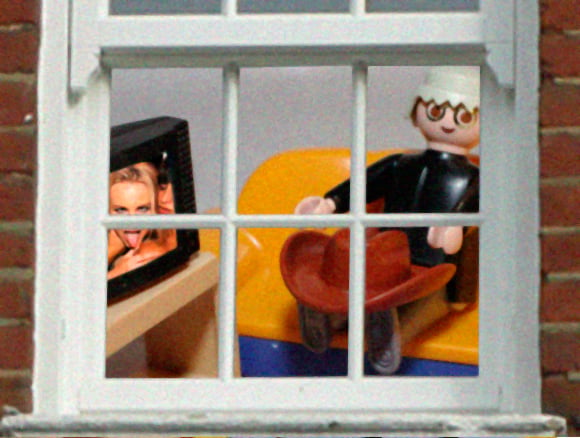 Indeed, while Jacq's away, the mouse will play - in this case by watching some top-quality pornography at the taxpayers' expense. For the record, that is a ten-gallon hat on Richard Timney's lap, and yes, he is very, very pleased.
In Downing Street, meanwhile, Gordo was greeting Barack Obama in traditional international summit style, viz: Dressed in his Nu Labour™ robes of state: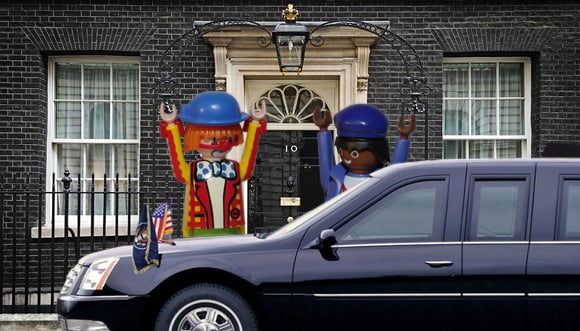 Pretty standard stuff, but the real story here is that El Prez arrived two hours late for the scheduled doorstep love-in. Here's why: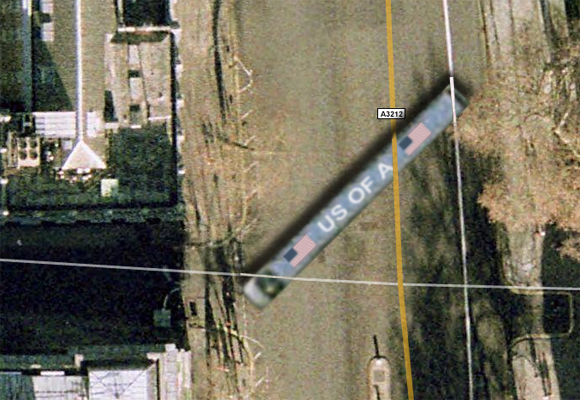 Our exclusive satellite capture shows that due to the presidential vehicle's spectacular length (necessitated by the inclusion of a rocket-launched panic escape pod, capable of lifting Obama into low-Earth orbit in ten seconds in the event of al-Qaeda nuke strike on the limo), the driver couldn't actually make the right turn from Whitehall into Downing Street.
When the bonnet of the armoured beast finally arrived at Gordo's front door, there was a further 20-minute delay while secret services agents at the limo's rear caught a cab to the front in order to cover the president's exit.
While Obama and Gordo were (finally) chewing the fat, our snapper caught a moment of high tension down in the Mall: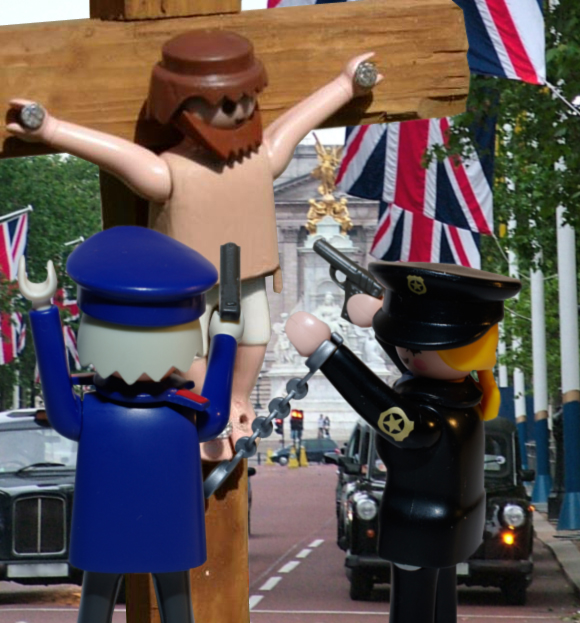 Two armed officers have just ordered Jesus down from the cross, not on the grounds that his crucifix-based protest against former RBS supremo Fred the Shred's hefty pension poses a threat to traffic, but rather that his disciples illegally used a hairdryer to coax his arms into the required position.
We gather he was subsequently let off with a caution, having signed an agreement with Playmobil lawyers that he would in future appear only as God intended.
Our man's last snap, captured just seconds before he was cuffed under the Prevention of Paedophile Photographers Act (there was a primary school within ten miles, officers later explained), is his most dramatic: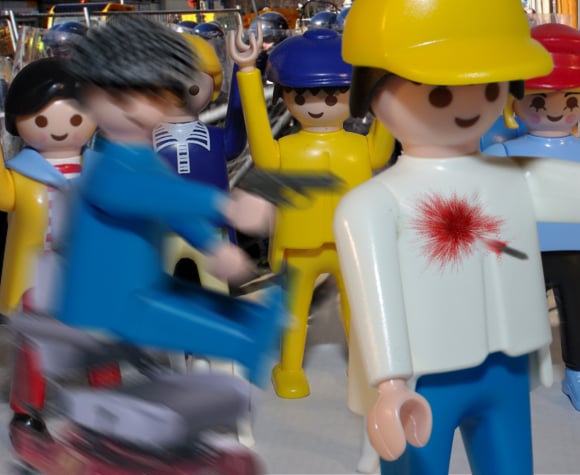 A New York City granny, on a "Grey Panthers" budget trip to England, has popped a righteous cap in a crusty ne'er-do-well, on the grounds that he "looked funny at my dog". Unfortunately, she's failed to consider the recoil of her .357 Magnum, and both she and her motorised mobility scooter are travelling backward at 45mph, as you can see.
Ambulance services treated several people at the scene, described as suffering "grandmother impact-related injuries", while the fire brigade used cutting equipment to remove Dirty Harriet's pooch from the tangled wreckage of her scooter.
And finally - since you were doubtless all wondering just how The Register survived G20 - here's a CCTV image of the Vulture Central lobby on Wednesday afternoon (click pic for a big version):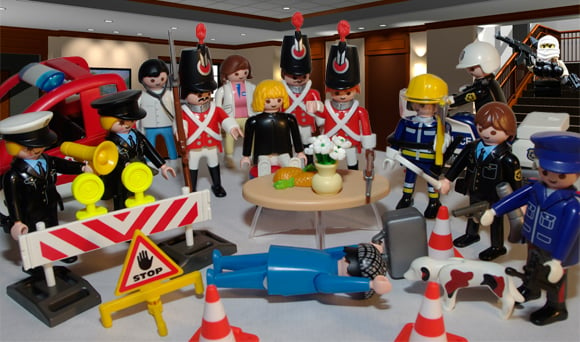 Our receptionist, backed by El Reg ceremonial guardsmen, police, fire services and paramedics, has just "taken down" a courier who unwisely attempted to deliver a new laptop without having either the required biometric ID card, a prior appointment nor indeed a letter from his MP confirming his identity.
Of course, in the confusion the highly-trained security operatives have failed to notice the real threat to world order, seen coming down the stairs at quite a pelt.
Those of you up to speed on current events here will recognise immediately that the figure in question is not in fact a member of the Taliban, but rather our very own Moderatrix - pushed to the limit by readers' shoutpourings and, having resigned from The Register, out to wreak terrible revenge on the commentards. Don't say you weren't warned. ®
Related stories
Our full Playmobil coverage of the events which changed history is available right here.