Original URL: http://www.theregister.co.uk/2009/04/02/review_desktop_mac_apple_mac_pro/
Apple Mac Pro
Goes like the proverbial off a shovel
Posted in Hardware, 2nd April 2009 09:18 GMT
Review The recent updates to Apple's iMac and Mac Mini desktop systems rather suggested that the company was treading water. Both machines sported new graphics chips and faster system buses, but their processor speeds had barely changed and there was a steady trend towards higher prices that suggested Apple was planning to weather the recession by padding its profit margins as much as possible.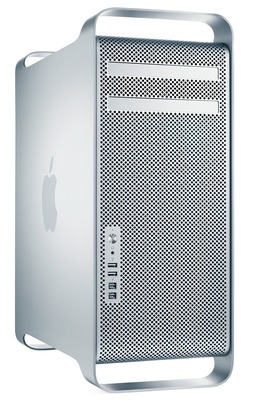 Apple's Mac Pro:
The profit margin on the new Mac Pro can't be that bad either, but Apple's early adoption of Intel's latest quad-core, 64-bit 'Nehalem' Xeon 5500 processor does represent a significant step forward for a machine that's only had one other upgrade since its launch back in 2006.
At first glance, the new Mac Pro looks identical to its predecessors. The gleaming aluminium tower design is unchanged. Forget the diminutive Mac Mini and the slimline iMac – this is a full-scale tower chassis that would gladden the heart of any PC fanboy. It measures 500mm high, 200mm wide and 475mm back to front. Those handles moulded into the top panel are there for a reason: the unit weighs in at close to 20kg.
The perforated front panel is adorned with a power switch, two USB 2.0 ports, two Firewire 800 ports and a headphone socket. There's also an 8x DVD burner and a spare bay for a second optical drive. Round the back of the machine are three additional USB 2.0 ports and two more Firewire 800 ports, as well as inputs and outputs for both digital and analogue audio, two Gigabit Ethernet ports, and both DVI and DisplayPort video connectors.
And, uniquely in the Mac range, the Mac Pro also has three PCI Express slots that can be used to upgrade the system - two PCIe x16 and one PCIe x4 - as well as three additional 3.5in drive bays for adding extra storage.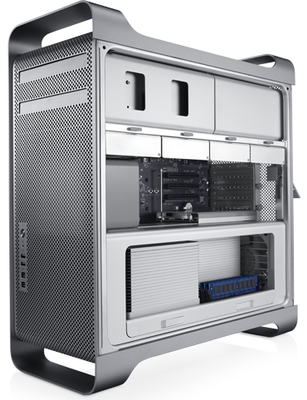 Easily accesible interior
We have to admit that we were rather impressed that the machine didn't crash when we accidentally opened up the wrong drive bay and pulled out the hard disk by mistake. We just slotted the disk back into place and the machine seemed to carry on without a hiccup. But, as impressive as that was, we can't help thinking that it'd be a good idea to let people screw the main system disk into place when idiots like us are around.
What the Mac Pro doesn't include is a monitor, so just remember that you'll need to budget for a separate screen if you don't already have one that you can use. It does come with a keyboard and mouse, though, and we were relieved to see that it arrived with Apple's latest full-size keyboard, rather than the Barbie 'board that came with our iMac.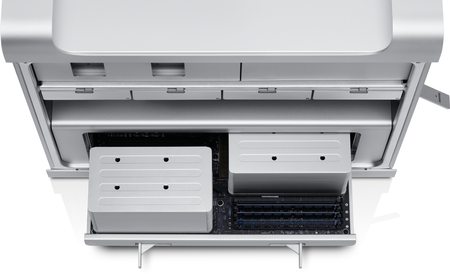 Slide out the motherboard to populate the eight memory slots
But while there are few obvious changes on the outside of the unit, there's a lot going on inside. Flick a latch on the back of the unit and the side panel pops open to reveal a redesigned and tidier internal set-up than before, while a second latch on the base of the unit slides the motherboard outwards for easy access.
The inside of the Mac Pro is immaculate – there's not a cable in sight, and the Ram and PCIe slots sit neatly in front of you waiting for upgrades to be installed. The sheer size of the heatsink on the Xeon chip is a bit alarming, but the heatsink never became too hot to touch while we were testing it, and the cooling fan in the base of the unit hums away quietly without making too much noise at all.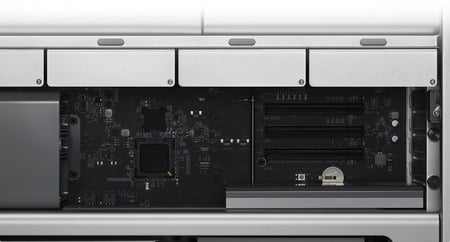 The Pro has a very 'clean' interior
The enormous heatsink also points to the most important change in the new Mac Pro. As the name implies, this machine has always been the powerhouse of the Mac range, aimed at professional users in fields such as video-editing and 3D graphics. Those users will have paid a small fortune for their existing Mac Pro machines, so Apple has to give them more than just a tweaked graphics card if it's going to persuade them to upgrade to this new model. Fortunately, it's got something pretty convincing to offer, in the form of the Nehalem-class Xeon processor – the workstation counterpart of the desktop-oriented Core i7 processor that we had hoped (in vain) to see in the new iMac.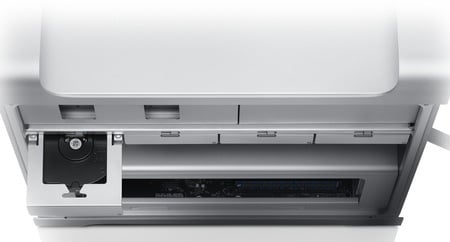 The four 3.5in drive bays are easy to fill
Like the i7, the new Xeon connects directlt to the system's memory, which means that the processor can run full throttle without being hampered by the traditional bottleneck of the frontside bus. The processor also supports hyper-threading, which means that the quad-core Xeon effectively acts like an eight-core processor.
There are two standard models that you can order from Apple. The cheaper model costs £1899 and has a single Xeon 5500 running at 2.66GHz, along with 3GB of 1066MHz ECC DDR 3 memory, a 640GB Sata hard drive and an Nvidia GeForce GT 120 graphics card with 512MB of dedicated video memory.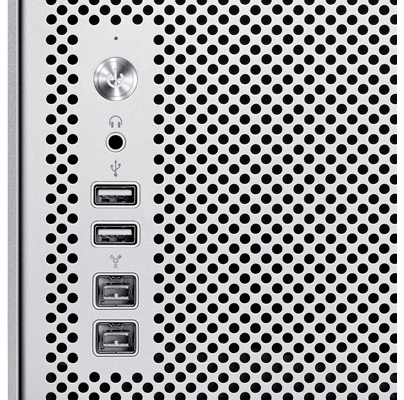 Plenty of USB 2.0 and Firewire 800 ports, front...
However, we tested the more expensive version – the "eight-core" model that has two Xeons running at 2.26GHz and comes equipped with 6GB of Ram, priced at £2499. Each CPU is linked to four Dimm slots. That's eight it total, each capable of taking a 4GB Dimm for a whopping maximum 32GB of memory.
There are also a variety of 'build to order' options available, such as the model with two Xeons running at 2.93GHz for £4500, while for another £400 you could equip that model with no less than four GT 120 graphics cards. Oh how we'd love to use Apple's Boot Camp software to install Windows onto the Mac Pro and try it out as a games machine.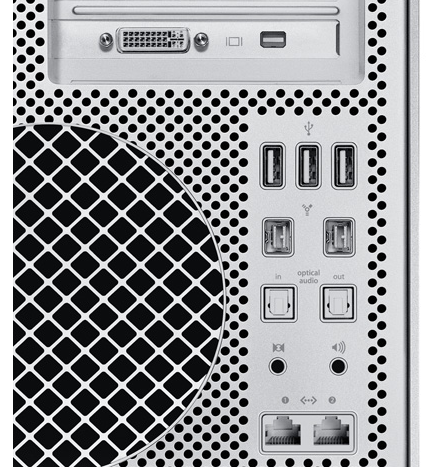 ...and back
And, following Apple's tradition of exorbitant pricing for memory upgrades, you can spend an additional £4480 to upgrade the memory to the aforementioned 32GB. Throw in a monitor as well and you can actually break the £10,000 mark quite easily.
Geekbench Results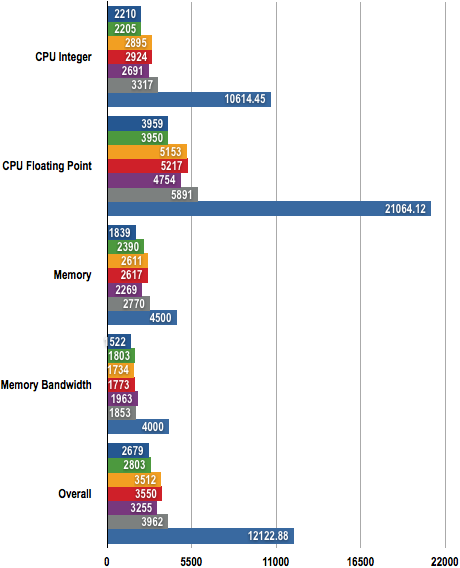 Longer bars are better

Xbench Results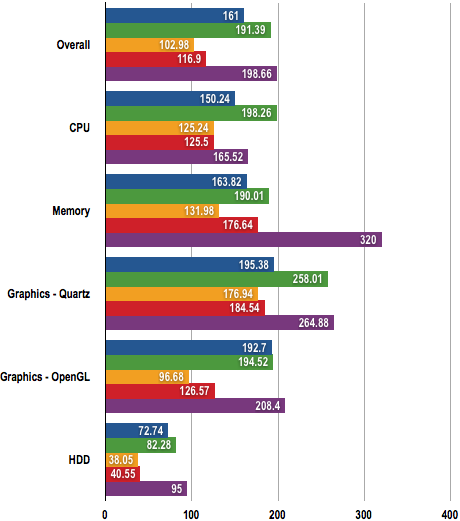 Longer bars are better

But while the Mac Pro's technical specifications are top-of-the-range, our suite of benchmark tests reveal the dilemma faced by potential buyers. The Mac Pro has the same GT 120 graphics card as the iMac we reviewed last month, and produces the same 120f/s when running Doom 3. That's because Doom 3 doesn't take full advantage of the twin quad-core Xeons in the Mac Pro.
The same is true of our Xbench test suite, which actually reports the twin 2.26GHz processors in the Mac Pro as running slower than the single 2.93GHz processor in the iMac. Time for an update, Xbench developers.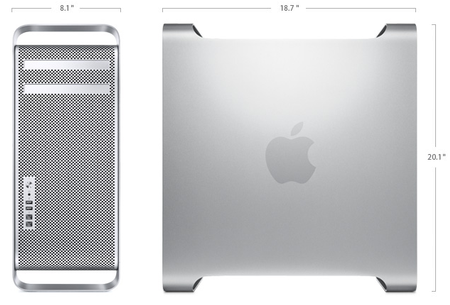 Not small
However, the multi-processor aware GeekBench indicates that the Mac Pro is around three times faster than the 2.93GHz dual-core iMac in terms of raw processor power. In other words, the twin processors with their eight processing cores - or 16 'virtual' cores if you take hyper-threading into account - provide very little benefit unless you're running 64-bit software that is capable of fully exploiting all that multi-core hardware.
Creative professionals have always been the most loyal of Apple's customers, yet they've taken something of a back seat in the last couple of years as Apple has increasingly focused on consumer-oriented gadgets such as the all-conquering iPod and iPhone. However, this Nehalem-powered upgrade should restore the faith of Apple's hardcore creative users and have them eager to upgrade their existing Mac Pro machines.
Verdict
The Mac Pro might seem expensive to most of us, but it's not going to faze people who have paid the best part of £1500 for high-end applications such as Adobe's Creative Suite or Apple's own Final Cut Server. Those users will jump at the chance to get their hands on a workstation as powerful as this. The only real question for those users is whether to go the whole hog with this eight-core, twin-Xeon model, or to opt for the less-expensive quad-core, single-Xeon version.
If you're running applications such as the Final Cut video editor, which is capable of juggling multiple audio and video streams simultaneously, then this twin-Xeon Mac Pro will be a godsend. However, lesser mortals who just want to run Photoshop really quickly will probably manage perfectly well with the single-Xeon version, or even one of the faster iMac models. ®
More Mac Reviews...
| | | | |
| --- | --- | --- | --- |
| Mac Mini | iMac | MacBook Pro 17in | MacBook Pro 15in (Late 2008) |