Original URL: https://www.theregister.co.uk/2009/04/01/review_phone_motorola_aura/
Motorola Aura
Worth the £1250 asking price?
Posted in Personal Tech, 1st April 2009 08:59 GMT
Review It's a moot point whether releasing an unashamedly style-led handset costing over a grand - yes, more than one thousand of your Earth poundingtons - at the present time is recession busting - or recession baiting. The kind of cash that's required to trouser this high-end, low-spec phone could well engender the sort of spending that will offset the credit crunch. Or it might just fuel the bonfire of toxic debt that has already brought us to this pretty pass.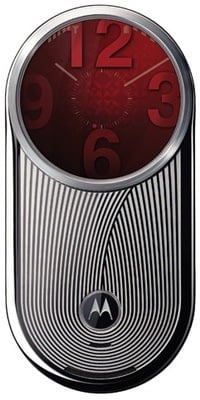 Motorola's Aura: the return of artistry, apparently
And by releasing it now is Motorola showing a canny insight into market trends, or blindly forging ahead with a decision that was probably made a couple of years ago, and must continue simply because it can't conceive of any alternative?
While Motorola is hailing the Aura as a breakthrough in phone styling, the design isn't really new, strictly speaking. Phone fans with long memories may recall Motorola's V70 which debuted in the last century and featured a circular screen and a similar swivel action to access the keypad.
Besides the unusual look, the V70 was pretty much a bog-standard handset and, ten years later, so is the Aura. It's quad-band GSM/GPRS/Edge, but there's no 3G, no Wi-Fi and only a 2Mp camera – nothing to detain tech-heads in other words.
But can there be method in Motorola's apparent madness? The Aura is undoubtedly a looker, thanks to its uniquely eye-catching screen. And it includes some very high-end components such as a polished stainless steel casing, which takes nearly two weeks to sculpt, etch and polish, apparently.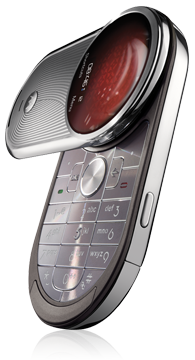 Razr-sharp keyboard
It's held together with nickel chrome-plated screws and includes a hardened steel gear mechanism for the swivel action too. This is a phone that's clearly built to last, and if you value a handset that will see you through the years in style, immune to the latest nips and tucks of technology, Motorola might just have something here.
The circular screen is the phone's centrepiece, and as promised, it's a stunner. Unlike the V70, this isn't a circular screen with a rectangular viewing panel in the middle – it goes all the way to the edge of its 40mm, 480-pixel diameter and is covered by a slightly raised grade 1, 62-carat sapphire crystal lens, which Motorola says is one of the most scratch-resistant materials on the planet.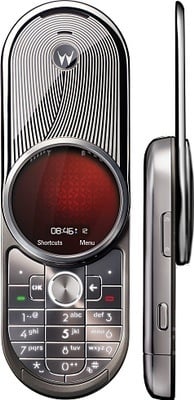 Timepiece inspired?
And it needs to be, since this is a screen that demands to be seen – even the supplied leather carry pouch leaves the screen exposed for maximum look-at-me-ness. Classic watches from the likes of Patek Philippe and Cartier are clearly the inspiration for the look, and the 16m-colour screen features a range of alternative watch faces for when the screen is in repose, from classic chronograph to up-to-the-minute digital displays. It comes with a microfibre cleaning cloth too, for regular buffing.
A sideways press to the front of the phone allows the face to swivel to the left in a 180° turn. Motorola makes a lot of the swivel mechanism, even to the extent of showing off the precision-built internal cogs it relies on through a window on the rear of the handset. It's certainly smooth, and feels sturdier than Nokia's style-conscious 7373, which had a similar action but without the fuss. Motorola claims it will be just as smooth at the 100,000th opening as it is on the first, and while we haven't had time to test that yet, if it's true, it might well be worth paying a bit more for.
The keypad is aluminium and looks similar to the flush metallic design of the Razr series. It's just as awkward to use too - even though the keys are reasonably well spaced, we still found our thumb skidding across them to make frequent wrong presses, especially when using the little OK button next to the small circular navpad. Sure, it looks classically minimalist, but did it really have to be so fiddly?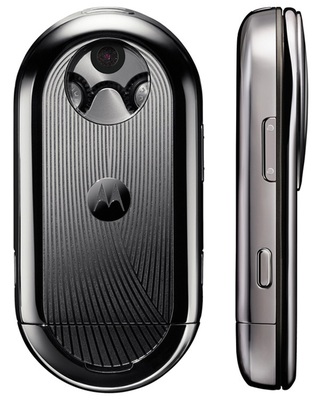 The 2Mp camera's not up to much
With all this quality casework and gorgeous screen, we could almost forgive the lack of 3G or Wi-Fi, and the fact that we can only get WAP access to the internet. But it really could have done with a decent camera, if only because pictures look great as wallpapers through the elliptical screen lens. But the 2Mp fixed-focus model with no flash is pretty much incapable of taking any pic that will show off the screen in the way it deserves. Maximum resolution is 1600 x 1200 pixels but you'll need excellent light, virtually no movement and the 4x digital zoom disabled if you want to avoid grainy shots.
After you've taken your pics, there are a few basic editing options such as cropping, resizing, rotating and adding colour effects. Video fares even worse, offering just 176 x 144 resolution, with very little depth and a tendency to get extremely blurry with movement. You can also view video in H.263, H.264 and MPEG 4 formats.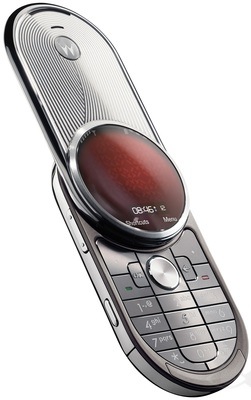 Sweet swivel action
The music player has little in the way of extras, though you can create playlists on the hoof, and it will play all the main compressed formats, including AAC, AAC+, enhanced AAC+, MIDI, MP3, WAV and WMA. There's 2GB of memory on board which isn't bad but you'll need to make the most of it as you won't be able to add any more via memory card – the Aura doesn't do them, dahling.
The largeish headphones bundled with the phone actually sound rather good, with a full, but not thumping bass sound and a pleasingly broad dynamic range. Adding your own is a problem, however, since there's no 35mm jack, though there is an adaptor to convert Motorola's power connection to mini USB, or you could take advantage of the Bluetooth A2DP connection to use some wireless ones. We tried it with a set of Sony Ericsson IS800s, though Motorola has its own sets available – set-up was easy and they worked a treat.
Additional features include an alarm clock, a calculator and a selection of basic games such as Sudoku and slot machines, though the presence of Java means you can download others. There's also a recorder for voice notes, plus appointments calendar and address book.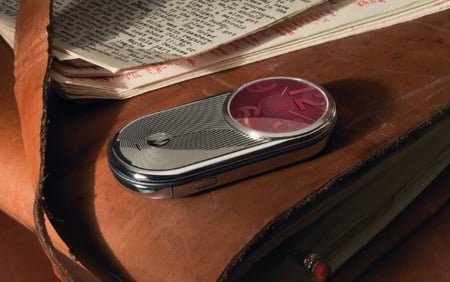 Available now for fashionable manbags
Battery life wasn't bad, and the Aura was still going after three days of moderate use – perhaps no surprise since it has so few data-hungry applications.
Verdict
The lens-covered screen is a stunner and the swivel action is sweet as nuts but considering its price, if we have to do without 3G or Wi-Fi, we'd have liked to have seen a better camera on there. No one will buy this phone with the intention of being at the cutting edge of telecoms technology, but in competition with other super-priced, tiny-tech handsets, such as Nokia's 8800 Arte or the Vertu, as a pocket-friendly status symbol, it's probably the best available. ®
More Fashion Phone Reviews...
| | | | |
| --- | --- | --- | --- |
| Samsung Emporio Armani Night Effect | LG Prada II | Sony Ericsson Xperia X1 | Nokia 8800 Arte |