Original URL: http://www.theregister.co.uk/2009/04/01/review_cpu_intel_xeon_5500/
Intel 'Nehalem' Xeon 5500 series
Breathtaking performance
Posted in The Channel, 1st April 2009 11:21 GMT
Review Intel's new Xeon 5500 series uses the chip giant's 'Nehalem' architecture to effectively put a pair of Core i7 CPUs on a workstation motherboard.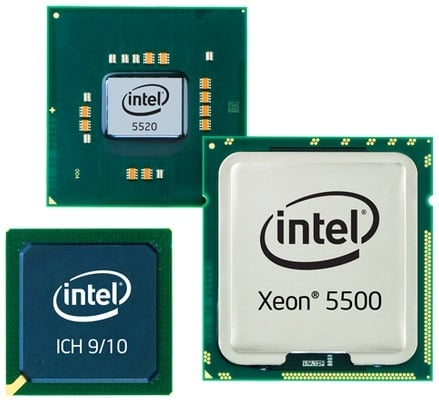 Intel's Xeon 5500: scorcher
That news should come as a pleasant surprise, but of course Apple ruined our fun when it launched its new Mac Pro a couple of weeks ago, which appears to be based on the new chips. And, try as we might, we can't think of another company that would so wantonly shred an Intel NDA without so much as a blush.
The speeds and feeds of the new Xeons cover a total of nine models, although we hear there will be other variants including dual-core and low-voltage models. There are five mainstream E5500 CPUs with a TDP of 80W and clock speeds that start at 2GHz and go up to 2.53GHz. Three X5500 models have a TDP of 95W, starting with the X5550 at 2.66GHz which makes it the equivalent of the Core i7 920. The X5560 runs at 2.8GHz and the X5570 runs at 2.93GHz, just like the Core i7 940.
At the top of the tree we have the Xeon W5580 with a clock speed of 3.2GHz and a TDP of 130W which is the equivalent of the Core i7 965 Extreme. Clock speed is a moving target with Nehalem as Turbo mode varies the speed of the CPU dynamically depending on heat, power draw and CPU load. It's quite likely that your 3.2GHz Core i7 965 Extreme or Xeon W5580 will run up to 3.6GHz when the going gets tough.
Intel has also announced a single-socket Xeon 3500 which is nothing more than a rebadged Core i7.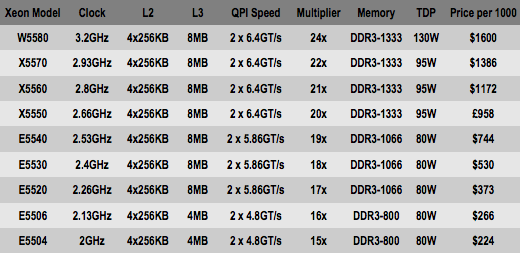 Intel sent us an S5520SC motherboard - estimated price £450 - with a pair of W5580s. That's jolly nice of the chip giant as the new CPUs have an official price of $1554 each in batches of 1000 which is about £1200 per CPU. That's the thick end of three grand for two processors and a motherboard. We didn't get a pair of CPU coolers in the package which would usually pose a problem, but the new Xeons use the same LGA1366 socket as Core i7 so you can employ regular desktop coolers in your Xeon 5500 workstation. No doubt there will also be low profile wind-tunnel coolers for rack-mounted servers with the new CPUs.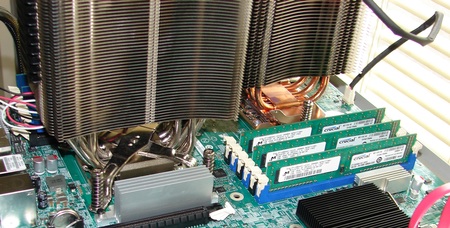 Intel's S5520SC: dare we say it: an uninspiring mobo?
The chipset on the S5520SC motherboard is an Intel 5520 - aka 'Tylersburg'. When we reviewed Core i7 we said: "In addition to the X58 chipset, we noted that the Intel INF driver also applies to chipset models 5520 and 5550 so it seems that there are more Nehalem chipsets in the works." That's the 5520 accounted for so we can only guess that the 5550 chipset will support 5500 Xeons in a four-way configuration.
The major changes from the Core 2 technology in 5400 Xeons to the new 5500 models are the adoption of QuickPath Interface (QPI) and the integrated DDR 3 memory controller, which has moved from the chipset to the CPU core. This means that one of the biggest jobs for Tylersburg is to supply PCI Express and it does this in spades, with six lanes of original PCIe and 36 lanes of PCIe 2.0 for graphics. We have no doubt that Xeon motherboards will appear from Asus, SuperMicro and Tyan with four graphics slots and full support for SLI as well as CrossFire.
The S5520SC motherboard has six DDR 3 memory slots for each of the two sockets and it did a solid job for us. But it's an uninspiring motherboard for a reviewer working with a new processor. The twin graphics slots support CrossFire but not SLI, the Bios doesn't have any overclocking features and some of the more funky features, such as the ServerEngines SM4210 KVM chip, played no part in the proceedings.
It may seem unfair for us to accuse a workstation motherboard of being dull but we almost inevitably regard the new Xeons and 5520 chipset as the natural successor to Skulltrail.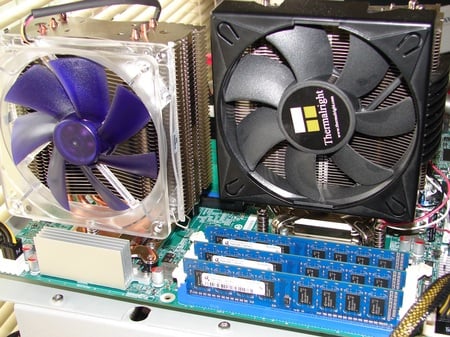 Nehalem has its fans
Skulltrail joined two processors with plenty of PCI Express and a choice of CrossFire or SLI to deliver what you might term 'an ultimate gaming experience' provided you could put up with the racket from all the cooling fans and the heat from the FB-DIMM memory.
With Xeon 5500 we were looking for a more civilised version of Skulltrail as Core i7 has superb power management features and requires minimal cooling. The same is true of DDR 3 system memory.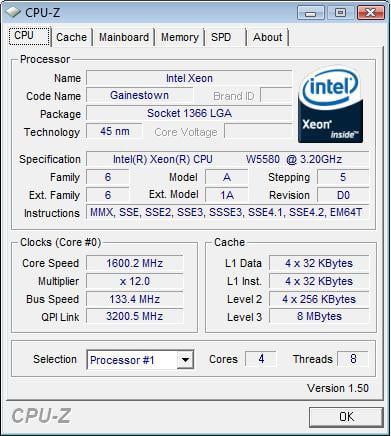 We plugged the two Xeons into the S5520SC motherboard with three 1GB sticks of 1066MHz DDR 3 Ram for each CPU, a GeForce GTX 280 graphics card and a WD Caviar Black hard drive running 64-bit Windows Vista.
The power figures that we quote are measured at the mains socket for the whole system. However, it's quite easy to work out the power draw of the W5580. We ran POV-Ray with one and two Xeons and can confidently state that the W5580 draws 70W when it's idling in Windows and 120W fully loaded.
We compared the single and dual Xeons with a Core i7 965 Extreme on an MSI X58 Pro as well as Skulltrail. For some reason, Skulltrail wouldn't POST with the GTX 280 installed so we used an - ahem - as-yet-unannounced Radeon HD which has very similar performance to the GTX 280.
The key point here is that all of the CPUs were running at 3.2GHz so we are comparing architecture and system design with the clock speed as a level playing field.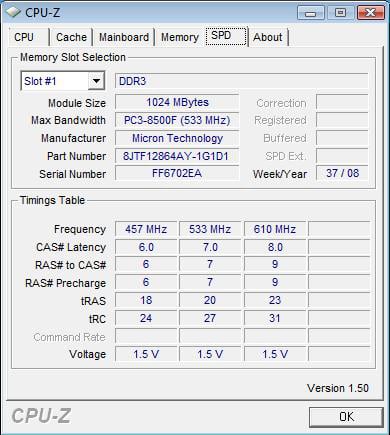 It came as little surprise that a single Xeon and the Core i7 delivered performance that was nearly identical. Adding a second Xeon was initially something of a disappointment as gaming performance in Crysis and Far Cry 2 wasn't helped one jot as the software can't use the extra eight cores.
It was the same story when we used DivX 7, iTunes 8.1 and CyberLink PowerProducer 5 as they clearly are not able to make effective use of multiple cores.
DivX 7 Video Encode
Single Xeon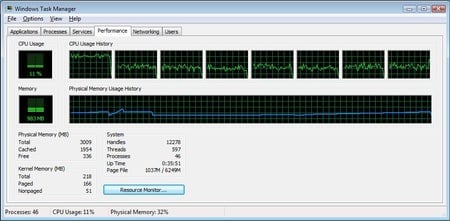 Click for full-size image
Dual Xeon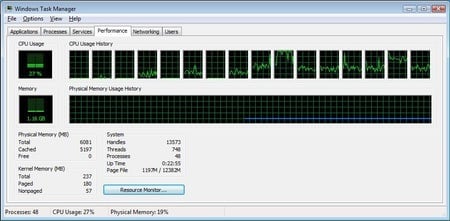 Click for full-size image
In iTunes, we converted 458 MP3 files - totalling 2GB - to AAC format, and in DivX we worked with six AVI movies that also totalled 2GB. In Power Producer we recoded a single 350MB AVI file to DVD format. We can illustrate the lack of efficient threading as a single Xeon that is converting files in DivX 7 uses all eight cores at about 50 per cent load. Installing a second Xeon drops the load to 30 per cent on each core.
Power Producer AVI-to-DVD Encode
Single Xeon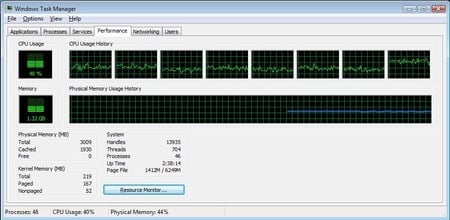 Click for full-size image
Dual Xeon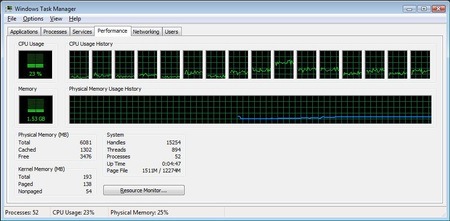 Click for full-size image
It's a similar story in iTunes 8 where the software fully loads a single core of the processor and lightly loads the rest to give a total load of 15 percent.
iTunes 8 MP3-to-AAC Transode
Single Xeon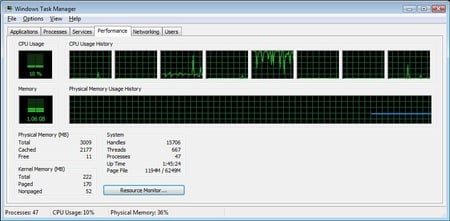 Click for full-size image
Dual Xeon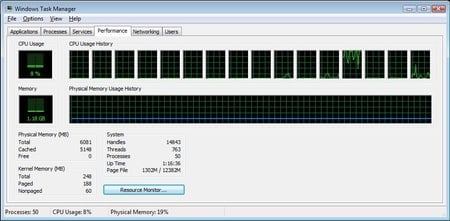 Click for full-size image
Core i7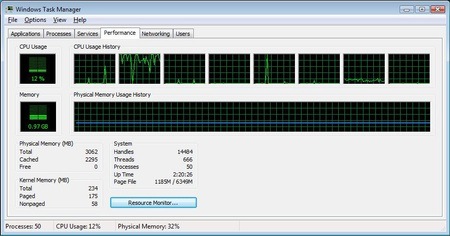 Click for full-size image
In Power Producer, a single Xeon runs at 40 per cent and dual Xeons run at 20 per cent load. The performance of Core i7 and the Xeons in these games and apps comfortably beat Skulltrail which is doubtless due to a combination of factors. The QX9775 CPUs in Skulltrail support SSE 4.1 whereas Core i7 and Xeon 5500 support SSE 4.2, and Skulltrail suffers from its use of 800MHz FB-DIMM memory.
POV-Ray Dual Xeon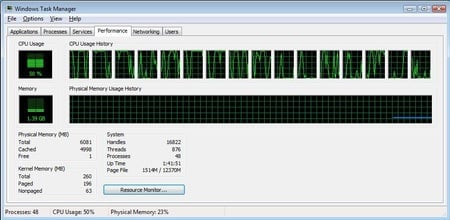 Click for full-size image
Far Cry 2 High Quality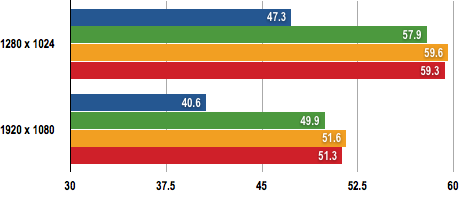 Average framerates in frames per second (f/s)
Longer bars are better
Crysis 2 Medium Quality @ 1920 x 1080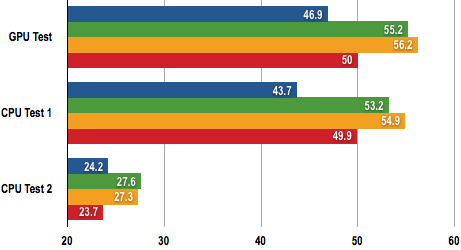 Average framerates in frames per second (f/s)
Longer bars are better
POV-Ray

Rendering time in Seconds (s)
Shorter bars are better

SiSoft Sandra 2009
Memory Bandwidth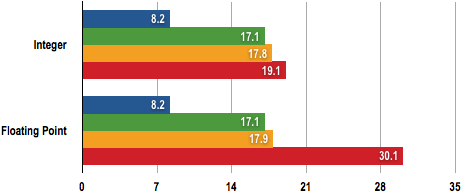 Bandwidth in Gigabytes per Second (GB/s)
Longer bars are better
Memory Latency

Latency in Nanoseconds (ns)
Shorter bars are better

DivX 7 Video Transcode

Time in Seconds (s)
Shorter bars are better
iTunes 8 Audio Transcode

Time in Seconds (s)
Shorter bars are better
Power Producer Video Encode

Time in Seconds (s)
Shorter bars are better

Of course, the choice of software is critical and we note that Apple lists four apps to show the merits of its new Mac Pro. These are Maxwell Render 1.7.1, Modo 302, Cinebench 10.1 and RealFlow 4.3.8.0123, so we downloaded the demo of Cinebench 10 and ran the CPU benchmarks. The figures for a single CPU render show that the new Xeon architecture has the edge over the Skulltrail to the tune of 12 per cent and in a multiple CPU render the gap jumps to 26 per cent.
Cinebench 10 Results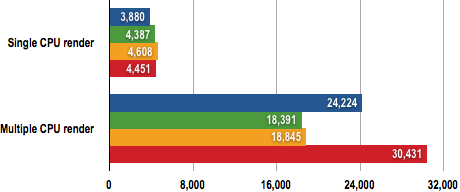 Longer bars are better

This leap in performance would doubtless also be observed in the Maxwell Render, Modo 302 and RealFlow, just as Apple claims. It's noteworthy that the rather aged POV-Ray (now on Beta 30) had exactly the same performance on Xeon 5500 as it did on Skulltrail.
That was the point where our opinion about Xeon 5500 changed from mild scepticism to an air of deep wonder.
By the end of our time with the Xeons, we were completely won over and are full of praise for every aspect of their performance. They deliver the goods in terms of raw computing power, DDR 3 memory bandwidth, SSE 4.2 instructions, Turbo dynamic overclocking and low power usage.
Power Draw Results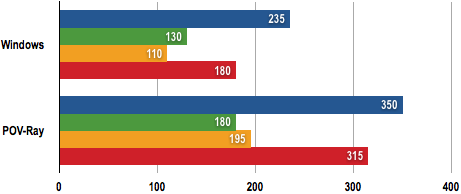 Power draw in Watts (W)
Throughout our testing the Xeon W5580s were amazingly cool and quiet, and the two CPU coolers barely reached 30°C.
Verdict
The new Nehalem Xeons deliver a level of multi-threaded performance that is breathtaking. And that pretty much describes the price too. ®
More CPU Reviews...
| | | | |
| --- | --- | --- | --- |
| Intel Core i7 | AMD Phenom II Socket AM3 | VIA Nano | AMD Phenom II Socket AM2+ |