Original URL: https://www.theregister.co.uk/2009/04/01/nokia_point_and_find/
Nokia releases mobile info app
Scan movie posters to get trailers, film times
Posted in Personal Tech, 1st April 2009 11:18 GMT
Getting the best price for in-store purchases or finding out what time a film starts is now as simple as Point and Find – Nokia's latest application for on-the-move info.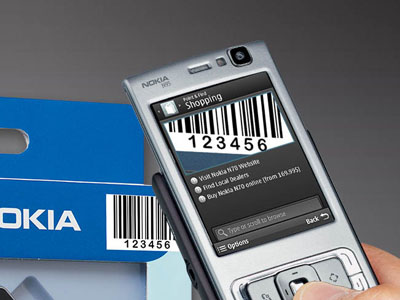 Nokia's Point and Find: recognises barcodes, film posters
The beta app has two uses. Firstly, it'll let you scan a product barcode to get more product information, and in time, the best available price.
Secondly, the app allows film posters to be recognised by your phone's camera, so that you can then watch an on-screen trailer or, in some locations, be told where and when it's showing.
Although barcode scanning apps are already available for the iPhone through Apple's App Store, the ability of Nokia's Point and Find app to also recognise cinema posters is cool.
The Finnish handset manufacturer has already created a tie-up the Body Worlds & The Mirror of Time exhibition at London's O2 dome. It allows users to scan posters about the event and have "a whole range of additional information" delivered wirelessly to their phones.
Nokia explained that Point and Find uses a combination of imagery, camera, internet and GPS technologies. These allow the app to evaluate the object in focus and to return any relevant information, having cross-referenced the object against a database of tagged objects.
The Point and Find application is available to online and is already compatible with a wide selection of Nokia devices, including the N82, N95, 5700, 6110 and E66. ®