Original URL: https://www.theregister.co.uk/2009/03/30/russian_macbook_netbook/
Russian mag teases with netbook MacBook specs
Does April come early over there?
Posted in Personal Tech, 30th March 2009 14:38 GMT
Is this the face of Apple's unannounced netbook?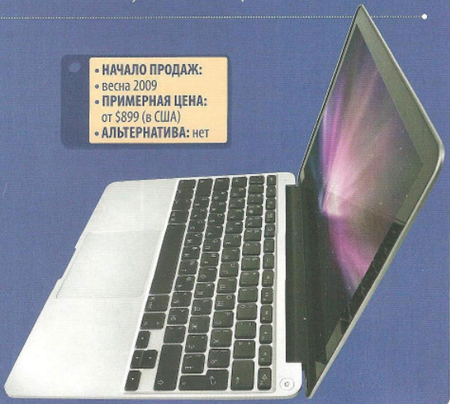 Russian mag's MacBook Mini
Image courtesy 9to5mac.com
According to one Russian magazine it is, and the title even lists specifications for the MacBook Air-like machine, website 9to5mac notes.
Well, kind of. There are some inconsistencies. The 10.4in, 1280 x 768, LED-backlit display seems reasonable enough, but a 1.83GHz Intel Atom Z740? The 1.86GHz Z540, more like, though it only has 512KB of L2 cache, whereas the Russians claoim 1MB for the mysterious Z740.
Faster Atom Z-series parts are expected next month, but it's anticipated they'll all have 5xx model numbers.
The specs continue with 2GB of 800MHz DDR 3 memory, though the chipset, named as the "Nvidia MCP79" and "Nvidia GeForce 9400M" - two known names for the same part - only runs a 533MHz frontside bus.
The "MacBook Mini" is said to sport a 64GB SSD, Bluetooth 2.1+EDR and 802.11n Wi-Fi. Like the Air, there's one USB port and a mini DisplayPort connector.
The 267 x 195 x 4-19.4mm, 1.03kg machine contains a 5100mAh lithium-ion battery.
Real or fake? Well, it's possibly no coincidence that April Fool's Day comes in a couple of days. It could certainly be a good piece of Photoshoppery, but we note that the function key line contains 13 keys. The Air has 14. Would a faker working from MacBook and MacBook Air snaps really think to take out a single Fn key? ®
Real Mac Reviews
Mac Mini
24in iMac
17in MacBook Pro
MacBook Air
15in MacBook Pro
MacBook