Original URL: http://www.theregister.co.uk/2009/03/30/review_netbook_hp_mini_2140/
HP Mini 2140 netbook
VIA out, Intel Atom in
Posted in Personal Tech, 30th March 2009 12:19 GMT
Review While most manufacturers seem happy to hurl out new netbook models at the rate of knots, HP is positively lumbering along. Back in May 2008, it released its first model, the Mini-Note 2133, and it's only just got around to releasing an updated version, the Mini 2140.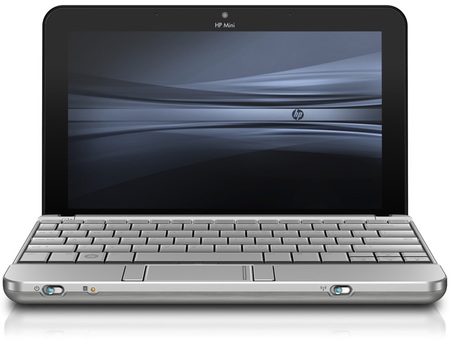 HP's Mini 2140: familiar, decent design
HP may have opted to drop the word 'Note' from the little laptop's name, but the Mini 2140 looks almost identical to the Mini-Note 2133. It features the same sturdy aluminium chassis, with two USB 2.0 ports, Gigabit Ethernet, VGA and 3.5mm audio in/out sockets dotted along the sides. You also get an ExpressCard 54 slot and an SD card reader. The silver power and Wi-Fi sliders at the front require a firm shove, and both will dazzle you as to their status with ultra-bright LEDs.
The keyboard on the 2133 was well received, and HP has, unsurprisingly, kept the same design with the 2140. With large, flat and ever-so-slightly concave keys, it makes full use of the space available. But with so little room between them, it's all too easy to accidentally slip your finger onto a neighbouring key when typing at speed. There's very little flex to the keyboard, and all the keys are where you'd expect them. However, the half-height arrow keys can be a pain to use if your fingers are feeling the burden of too many pizzas.
As with the 2133, the 2140's trackpad has its left and right buttons mounted either side of it. Although utterly frustrating at first, we actually grew to like this design as it means your thumbs only have to travel relatively short distance in order to bash the left or right button. These buttons also benefit from being chunkier than on most others netbook and have a decent amount of travel.
Size-wise, the 2140 comes in at 26mm tall at the front though 31mm at the rear. It's 261mm wide and 166mm deep. And with its three-cell battery, the Mini 2140 tipped our scales at just under 1.2kg. If you're going to be lugging the power adaptor around with you, the total weight increases to 1.6kg. A six-cell battery can be picked up for £79.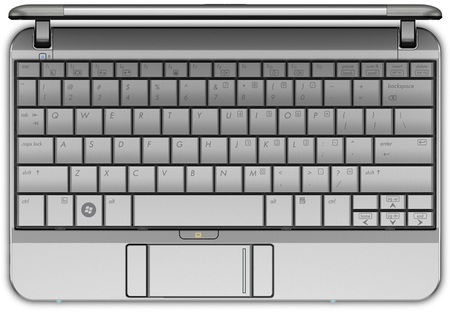 A well designed keyboard - despite the half-height arrow keys
Should you be fond of indulging in a bit of netbook hurling, you'll be pleased to hear that your data should remain intact thanks to HP's "3D DriveGuard" technology shutting down the drive when it senses a fall is on the cards. At least that's the idea – it didn't stop us copying files while simultaneously giving the Mini 2140 a rough ride, though.
Given the relatively high price of the Mini 2140, we expected to see features such as Bluetooth and 802.11n Wi-Fi included as standard, and they are. But with HP aiming the 2140 at businessfolk, we were hoping for an integrated HSDPA 3G module – sadly you'll have to stick to a dongle if you want mobile broadband.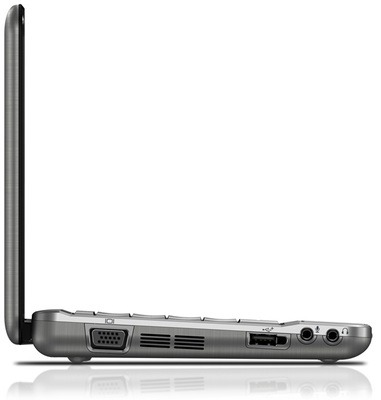 Standard netbook ports on the left...
Along with the switch to a larger, 10.1in screen, HP has dumped the 1.2GHz Via C7-M processor that struggled to keep the 2133 above water. In its place is a far more netbook-friendly Intel Atom. It's not the new N280 as found in Asus' Eee 1000HE, but the N270, which powers the vast majority of netbooks. This shouldn't leave you in too much of a cold sweat, though, since the difference between the 1.6GHz N270 and the N280 is a mere 60MHz.
HP currently offers three versions of the Mini 2140 to UK customers, with the major differences being the operating system and memory. Vista Business with 2GB of DDR 2 Ram costs £447. Vista Basic and 2GB come to £386, while XP Home and 1GB is the cheapest, at £361. In line with HP's statement earlier this year, there's no Penguin-flavoured version for the UK market.

...but with an ExpressCard 54 slot on the right
It's also worth pointing out that our review unit had a couple of anomalies. While all current UK models run off a 5400rpm hard drive, our sample had a 7200rpm HDD, rare enough on a laptop, let alone a netbook. It also featured 2GB Ram and XP Pro as the OS. Since you can't actually buy this configuration in the UK, our verdict is based on the 1GB XP Home version.
HP has gone with a glossy display for the 10.1in screen. It doesn't do much for outdoor use, but it's bright and, as is always the case, colours look far more vibrant than they are on a matte screen. Using HP's "Illumi-Lite" technology, it's LED backlit, which gives battery life a helping hand. There's also a webcam embedded into the screen's bezel, though being only 0.3Mp it won't produce a totally flattering self portrait.

More front than Blackpool
HP has opted for a 16:9 resolution of 1024 x 576, which is slightly below the netbook norm of 1024 x 600. Screen resolutions always provoke lively debates – some users enjoy cramming multiple windows into a high-res version, others hate squinting at minute icons. For us, though, a 10in screen should have a higher resolution than this. There is talk of a 1366 x 768 version hiding just around the corner, but no UK release date has been set as yet – a shame, since it would make the 2140 far more tempting.
PCMark05 Results
CPU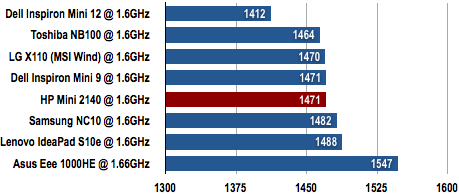 Longer bars are better
Memory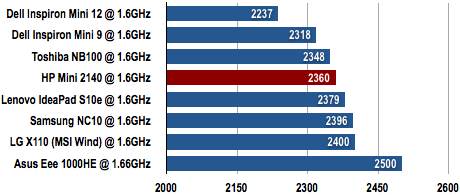 Longer bars are better
HDD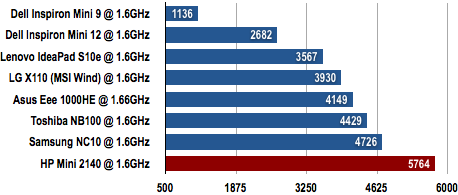 Longer bars are better
Note: HP 2140 tested with non-standard HDD
Battery Life Test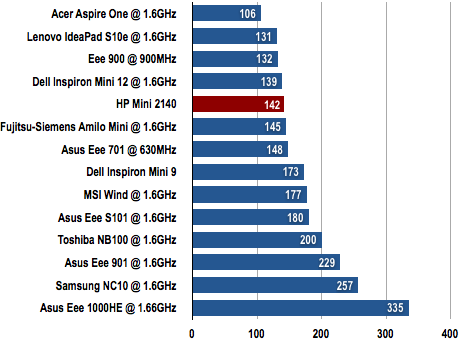 Battery life in minutes
Longer bars are better
Given the Intel Atom N270, the 2140's score of 1471 in PCmark's CPU test didn't come as a surprise – all other N270-based netbooks we've looked at posted a very similar score. Asus' N280-driven Eee 1000HE topped this by 76 points, but, benchmarks aside, you're simply not going to notice this difference during everyday use.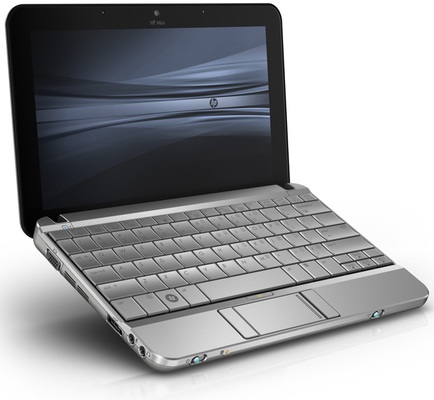 Shorter-than-standard glossy screen
HP's decision to send us a 2GB model didn't have any impact in the memory test, with the Mini 2140 actually coming in a little behind most 1GB netbooks with a score of 2360. In the HDD test that non-standard 7200rpm hard drive did make a difference. Clocking up 5764 points, the Mini 2140 we had on test clearly beats the 5400rpm competition. Of course, we should reiterate that, at present, you can't actually buy the Mini 2140 with a 7200rpm hard drive in the UK. We'll post updated results as soon as we get hold of the 5400rpm version, which will no doubt bring the 2140's HDD score in line with the majority of netbooks out there.
We also ran our usual Gimp test, with the Mini 2140 managing to apply the Gaussian Blur in an average of 5.2 seconds – pretty fast, and comparable with models such as the Samsung NC10 and Toshiba NB100.
Battery life with the included three-cell battery isn't great, with the Mini 2140 managing to play our standard-definition video for 142 minutes before crying out for the mains. This is a reasonably intensive test, with Wi-Fi switched on throughout, so you can expect a longer runtime during less strenuous use. That 7200rpm hard drive on the 2140 will also have had an adverse effect on battery life, though not a huge one – again, we'll post updated results with a 5400rpm drive as soon as we have them. One thing's for sure, the result doesn't compare well to the cheaper Samsung NC10 that managed 257 minutes with the six-cell battery that comes with it as standard.
Finally, a common complaint with the Mini-Note 2133 was that it ran far too hot on the underside. Thankfully, HP seems to have addressed this, with the 2140 managing to retain a delightfully cool posterior throughout our rigorous testing process.
Verdict
So where does the HP Mini 2140 sit in the netbook hall of fame? Well, pretty close to the top as it happens. We love the keyboard, its lightweight nature and robust design. It is, however, a little on the pricey side compared to the competition. Both the Asus 1000HE and Samsung NC10, for example, are similarly specified, yet cheaper and offer better battery life. And it's the Mini 2140's price tag and performance away from the mains that ultimately stops it scoring higher – at £361 we were hoping to get the six-cell battery included as standard. That said, those who adored the Mini-Note 2133's keyboard may find this more powerful version simply too tempting to resist. ®
More Netbook Reviews...
| | | | |
| --- | --- | --- | --- |
| Asus Eee 1000HE | Fujitsu Siemens Amilo Mini | Lenovo IdeaPad S10e | Samsung NC10 |