Original URL: https://www.theregister.co.uk/2009/03/30/review_media_player_samsung_yp_p3/
Samsung P3
iPod Touch worrier?
Posted in Personal Tech, 30th March 2009 10:19 GMT
Review After a little over a year as the standard bearer for Samsung's PMP range, it's time for the YP-P2, aka the Yepp P2, to retire. But is its replacement - the YP-P3 – an evolution or a revolution? And has it got what it takes to lure buyers away from the default purchases in the segment: the ubiquitous multifunction iPod Touch and the slightly esoteric but highly capable Cowon iAudio S9?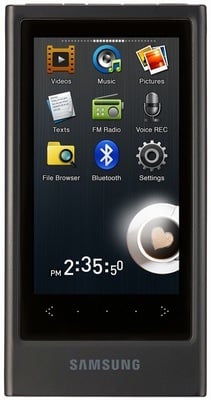 Samsung's P3: phone-style UI
Physically, there is very little to chose between the P3 and P2. At 102 x52 x 10mm, it's identical in size other than being 2mm taller. At 96g, it weighs a mere 11g more than its predecessor. Samsung's policy of 'if it ain't broke...' continues with the screen which, at 3in in size and 480 x 272 in resolution, is again exactly as per the P2.
One obvious improvement is build quality. The P2 was a rather plastic affair but the P3 feels altogether more solid, thanks mainly to its brushed metal casing and glass screen.
External controls on the P3 have been shorn to a bare minimum, with only a power/lock switch and volume control on the top of the device and a proprietary Samsung USB port and 3.5mm headphones jack at the bottom.
That curious looking area you can see directly below the screen consisting of three dots and two arrows is actually just a swipe bar to bring up the music "mini player", which allows you to stop/play or skip a track while the P3 is doing something else.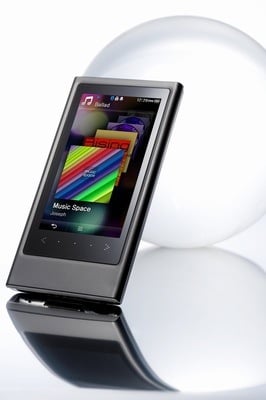 The dots and arrow icons
The P2's touchscreen UI was one of its weaker points. Not only did it not look particularly attractive but it was also a little clumsy and prone to either misinterpreting or ignoring commands. For the P3, Samsung has started with a clean sheet of paper - at least from a visual perspective - basing the UI on an icon and widget layout that will be immediately familiar to anyone who has used a Samsung Tocco, Pixon or Omnia phone. You even get the fully fledged haptic feedback system that Samsung fit to those same phones.
Basic file access is accomplished by touching one of 16 icons that can be spread about over three pages – you can apparently add another two pages, should the need arise, though we suspect it won't - while a selection of widgets can also be added to provide cutesy animated graphics such as a butterfly flying across the desktop, along with direct access to certain lesser functions, including screen brightness, text notes, and a selection of digital and analogue clocks.

Hold and volume controls on top...
Sadly, the capacitive screen is no more responsive than that it was on the P2, resulting in a lot of frustration when screen taps result in either nothing happening – despite the relevant icon flashing and the haptics buzzing – or the wrong thing happening. The last is a particularly common occurrence when you tap an icon at the edge of the desktop screen – often as not, rather than launch that icon, the P3 moves you to the 'next' desktop page.
Rather strangely, the UI's accuracy and responsiveness seem to improve dramatically as you drill down to actual media management, providing you're careful with your finger taps and drags. It's still a rather poor effort, though, and we say that using Cowon's S9 as the benchmark. You can't even begin to compare it to the touchscreen UI on the iPod Touch.
While those widgets may be all well and good, they are ultimately peripheral to the job in hand and moving/adding/deleting them – or moving the icons - is a rather slow and cumbersome task when compared to doing the same thing on an Android device like the T-Mobile G1. The bottom line is that we would gladly sacrifice all that glitz and secondary functionality in favour of more error-free access to our media files.
The failings of its UI aside, the P3's menu and command structure is well thought out. A quick tap at the top of the screen in any situation brings up a task bar that will let you navigate directly back to the desktop, adjust the screen brightness, open the Bluetooth control panel and adjust the speaker settings. A tap to the right will bring up the volume control while a tap any place else opens the navigation and status bars, the latter also showing the battery status and time.

...and, at the bottom, 3.5mm audio and Samsung's take on USB
Format and codec support is the strongest of any Samsung media player to date. The P3 will happily play MP3, AAC, WMA, Flac and Ogg audio files, along with H.264, WMV and AVI – DivX/Xvid – video files.
Unfortunately, that handy list of supported video files doesn't mean you get a Cowon-like ability to play near enough anything you throw at it. Files must be at the native screen resolution or lower – anything above you will find yourself looking at the words 'Format Not Supported' - while WMV files must be WMV 3 or better.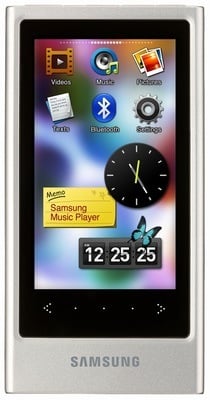 Widgets abound
At 185ppi versus the Cowon S9's 166ppi and iPod Touch's 163ppi, the P3's screen proved capable to showing bright, crisp and clear video though having what looks like only a 256,000-hue colour palette rather than the S9's 16 million does limit its absolute video fidelity.
Our P3 wasn't too happy with video files with a higher aspect ration than 16:9 either, presenting everything as full screen with no option to view in the original format which resulted in our 2.35:1-format videos looking squashed.
There's better news on the audio side of things, the P3 being the first Samsung music player we have encountered that actually recognises the ID3 tags on Flac files and so allows users to build a unified music library irrelevant of file format. As long as you load your Flac and Ogg files onto the device with the PC Connect set to USB Mass Storage, everything works swimmingly.
On the subject of matters UMS and MTP related, the presence of a switch for PC connection type means you can load content onto the P3 from Mac and Linux machines as well as Windows PCs, a hoop Samsung's recent Q1 media player wasn't capable of jumping through.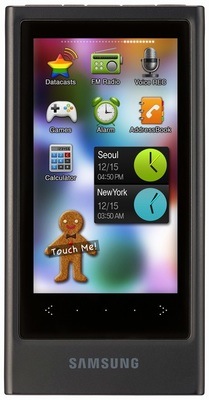 More widgets
The P3 also supports PlaysForSure DRM, so video downloads from BBC's iPlayer work as nature intended.
Apart from audio and video playback the P3 also supports JPEG, PNG and BMP image files, has a non-RDS FM radio with a record facility, a voice recorder and stereo Bluetooth. The P3 also supports Shockwave Flash (.SWF) files and games, though ours only came pre-loaded with, of all things, a virtual metronome.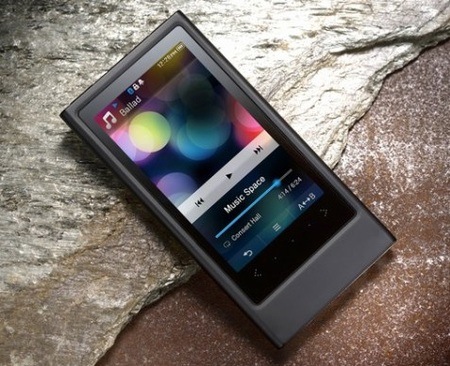 Not a bad music player
The P3's Bluetooth worked remarkably well, hooking up to a Sony Ericsson K850i phone - to swap content and work as a hands-free speaker - a Dell laptop and a pair of Sony Bluetooth headphones without any issues.
Finally, you can use the bundled EmoDio media manager software to convert text files into Text-To-Speech files that the P3 can then read back to you. This worked remarkably well if our experiment with a chunk of Northanger Abbey was anything to go by.
The P2 was always one of the better sounding PMPs on the market but Samsung has raised its game with the P3 to put it right up alongside Sony's S-series Walkman as one of the best sounding music players currently available. It's just a shame that, unlike Sony, Samsung didn't see fit to supply the P3 with a decent set of earphones, the bundled earbuds being rather cheap and dismal affairs.
The P3 is a loud one too. My God, but it pumps out some volume. Using the office Sennheiser HD-25s, our ear drums cried 'enough!' well before the P3 ran out of steam, making it a solid choice for anyone who regularly listens to their music while flying.
Like the Q1, the P3 comes with Samsung's DNSe3 sound modification software, which, if a little complicated – especially after the on/off simplicity of Philips' FullSound system – does allow you to mess about with the P3's sound profiles until the sun falls out of the sky and to put some of the life back into lower-quality lossy music files.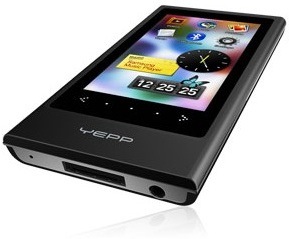 Plays Flash games too
When watching video you can access a simplified version of DNSe3 that lets you swap the sound profile between Normal, Drama and Action, each setting altering the balance between the various dynamic parts of the soundtrack.
The tiny 0.8W speaker is of higher quality than is usually the case on devices of this ilk and the P3 also comes with something called a "Vibe Woofer". No, that doesn't involve your girlfriend, a Labrador and a Rampant Rabbit, but is rather a system that uses the haptic feedback generator to cause the P3 to... ahem... throb and pulse in time to the video's audio track.
To briefly round up other things the P3 does and doesn't do: it doesn't support gapless playback, it doesn't have a memory expansion slot of any kind and - more surprisingly – doesn't support playlists loaded from MTP media players. While it does let you set up six playlists on board the player, the lack of MTP playlist synchronisation is a major drawback on a machine on this type, if you ask us.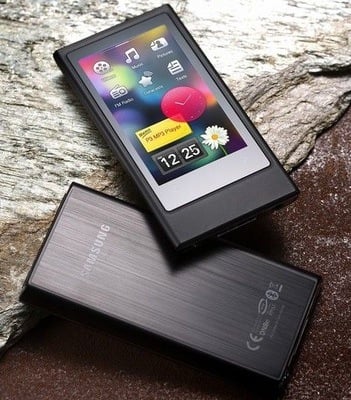 Solid as a rock?
In the 'plus' column, you get maps for most of the world's underground railway networks complete with handy illustrated Points-of-Interest details; an address book; calculator; calendar; alarm clock and support for podcasts/datacasts, though the last need to be loaded onto the P3 via EmoDio.
Samsung reckon the P3's 610mAh battery is good for 30 hours of music playback and five of video. The best we managed was 24 hours of music and 3.5 of video which is solid rather than spectacular. By using a less power hungry OLED screen, Cowon gets well over twice the video playback time from an S9.
The 8GB P3 can be found for around the £110, the 16GB version for £150. That makes it considerably better value than the P2 was at time of launch in terms of cost per gigabyte. It also compares favourably with Apple's 8GB iPod Touch and Cowon's 8GB S9, which will set you back £165 and £169, respectively.
Price aside, though, the Cowon is the better video player by dint of its superior colour palette and larger, 3.3in OLED screen, while the Touch comes with Wi-Fi, a top-notch web browser and an even larger, 3.5in screen though admittedly significantly poorer sound quality. But if it's a music rather than video player you're after - and you can live without Ogg and Flac support - it's hard to ignore Sony's 16GB S639F Walkman, which can be picked up for around the £120 mark.
Verdict
Imagine a Samsung P2 with the GUI from the Omnia phone and better codec support, and you have the P3. That's not really a massive leap forward, though, and while the UI looks better than the P2's, it suffers from many of the same basic problems in use. Lacking a web browser and Wi-Fi, the P3 isn't going to keep Apple awake at night. Despite having H.264 file support, the P3 isn't as good a pocket video player as Cowon's S9 is. ®
More Media Player Reviews...

Philips GoGear Spark

iRiver Spinn

Cowon iAudio O2

MP3 player head-to-head
Samsung U4 vs Sony B135F