Original URL: https://www.theregister.co.uk/2009/03/27/review_ipod_speaker_revo_blok/
Revo Blok
Can a block of wood sound this good?
Posted in Personal Tech, 27th March 2009 10:24 GMT
Review The sleepy Scottish market town of Lanark is best known for being the place where Mel Gibson William Wallace began his rising against the English is 1297 and as the home town of 1995 World Rally champion Colin McCrae. Well, Reg Hardware can now add to that list because it's also the home of Revo Technologies, a company that make some very interesting audio kit such as the Blok iPod dock currently sat on our desk.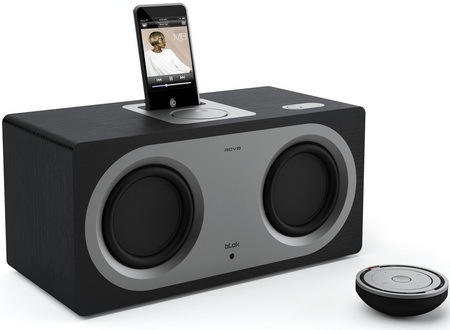 Revo's Blok: wood you believe it?
Pull the Blok from its box and you'd have to be blind not spot the fact that Revo has eschewed the industry standard black plastics, cloth speaker covers and faux chrome in favour of good old fashioned wood. American walnut veneer to be precise, though if you really must have one in black you can – in black oak mind, not black plastic.
The parts of the Blok not made from a tree, such as the switches, inlays and bezels, are all made from aluminium, further underlining the attention to detail that Revo has lavished on the design and build of the unit.
While we don't want to come over all Fred Dibnah, it has to be said that you don't often come across craftsmanship of this quality on electronics products of this type.
As well as not looking like other high-end iPod docks, the Blok is also smaller than the norm. In fact, at just under 2kg in weight and 316 x 148 x 153mm in size, it's a lot smaller.
External controls on the Blok itself have been kept to a minimum and comprise just a power switch and a large rotary volume control directly in front of the iPod slot. Tucked away beneath the unit, out of sight and mind, are the power socket and a 3.5mm stereo jack.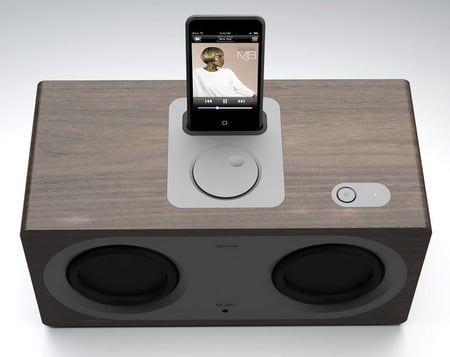 Minimalist controls
With no flashing lights or displays, the only tell-tale that the Blok is actually alive is a tiny white LED next to the power button.
If the design and build of the Block itself gets your juices flowing, just wait until you get hold of the remote control unit - or "kontroler", as Revo calls it. Made from a mixture of aluminium and rubber, it resembles a tennis ball cut in two with all the switches embedded in the open face.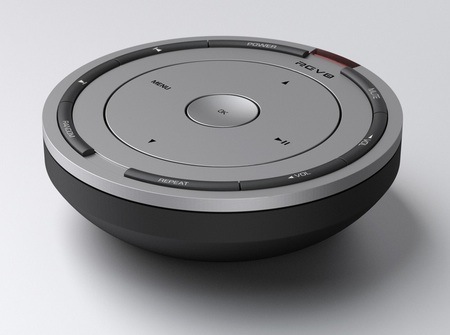 One of the oddest remotes we've ever seen
It's not an obvious shape for a remote control unit but in this case we'll forgive the emphasis on form rather than function. That's not to say it doesn't do the job - it does, allowing you to access and navigate your iPod's menu, adjust the volume, skip and scan tracks, set play to random or repeat and mute the sound. It's just that hitting some of the controls singled handedly can involve some serious thumb articulation.
Making do with a power output of just 2 x 20W, the Blok may not be the most powerful iPod dock in the world nor is it the most speaker laden – having just the two, as the power output suggests - but neither issue gets in the way of it producing a rather nice sound.
The two 4.5in speakers use something called Balanced Mode Radiator technology developed by Cambridgeshire-based NXT Sound. This is something rather complicated to do with the shape of the speaker cones, but since we're not speaker nerds, we'll confine ourselves to listening to the noise they make.
To be honest, we didn't expect something the size of the Blok to be able to compete with the likes of Edifier's Luna 5 or B&W's Zeppelin and at the end of the day it doesn't, but it does come surprisingly close and gives a very good account of itself.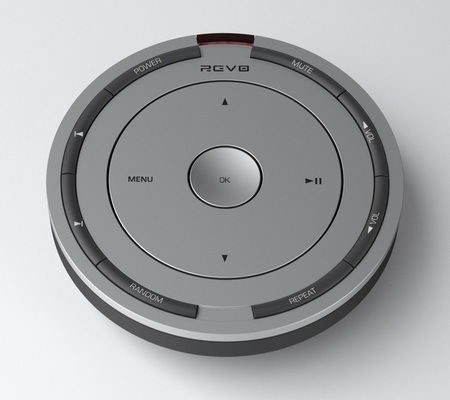 Form over function?
From Jennifer Warnes' collection of Leonard Cohen covers, Famous Blue Raincoat, and Beethoven's 9th by Gunther Wand and the NDR Symphony Orchestra to the Foo Fighters' Echoes, Silence, Patience and Grace and Howard Shore's soundtrack for The Return of the King, the Block always managed to generate a nicely balanced sound with ample bass, a highly commendable degree of clarity and separation, and all the volume most users are ever likely to need or want.
It was actually all rather inspiring - one member of the Reg Hardware staff having to be physically restrained from yelling "Go on! Go on, White Rider! Gandalf! Gandalf!" out of the office window when Minas Tirith started to play.
Plug a PMP or a netbook into the Blok and use it provide the audio for your video collection, and those small speakers really come into their own, once again providing crystal clarity along with superb definition and articulation.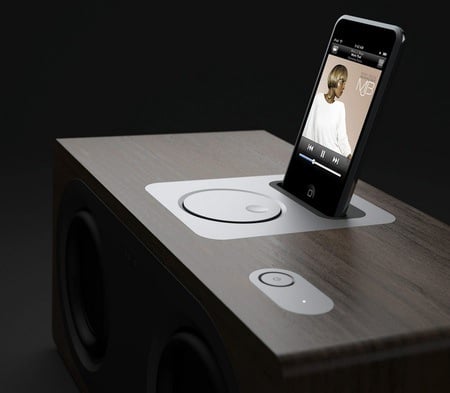 Is your lounge as dark as this?
If the Blok has a drawback, it's the lack of anything in the way of bass or treble adjustment. While we didn't find this to be an issue, some users may prefer a greater degree of control over their sound beyond that provided by their iPod's own EQ settings.
Incidentally, we found the Blok performed best with our iPod's EQ set to 'Off', giving a more natural sound. Like the Altec Lansing Octiv Air we tested recently, the Blok doesn't come with Apple's 'Works With iPhone' certification so you'll need to switch to Flight Mode to avoid any unwanted background interference from the cellular radio.
At £195, the Blok represents solid rather than exceptional value for money. Edifier's Luna5 can be had for a fiver more and, at the end of the day, it produces more volume, better sound quality and has an FM radio on board. But it's a lot bigger and heavier, and not quite as attractive, though admittedly this last is a matter of personal taste.
A word of advice: don't lose the remote - a replacement will set you back £30.
Verdict
Who knew something thing this good was lurking north of Hadrian's Wall? The looks and build quality are superb, the sound is top notch for the size and the remote control unit will provide a talking point at dinner parties. It may lack the absolute audio fidelity of some the bigger and more expensive competition but it 's still a worthy contender. ®
More Speaker Reviews...
| | | | |
| --- | --- | --- | --- |
| Altec Lansing Octiv Air | Intempo InSession | Logic3 Valve80 | Edifier Luna 5 |