Original URL: https://www.theregister.co.uk/2009/03/27/apple_orange_mobile_broadband/
Orange to sell MacBooks?
Rumours of MacBook Mobile Broadband packages
Posted in Personal Tech, 27th March 2009 16:13 GMT
Apple has already blessed us with white, black and aluminium MacBooks. But it's now rumoured that an Orange MacBook could be on its way, thanks to a tie-up with the UK network provider.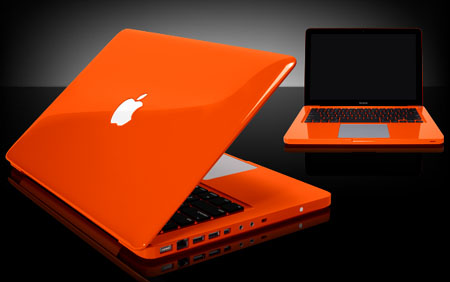 Apple could be on the cusp of signing a MacBook with Orange Mobile Broadband deal
According to sources unknown, the network provider's thought to be close to finalising a deal with Apple that could see Orange offer MacBooks as part of its mobile broadband packages.
A report by website Mobile Today has also stated that Orange has already tested the laptops with its mobile broadband dongles, and that a volume commitment has been made with Apple.
Orange already offers several laptop-plus-mobile broadband deals, so adding another make of PC to the mix – which already includes Asus and Toshiba machines – is no great surprise.
However, offering customers a free or subsidised Apple machine will surely sway many Apple fans to get online with Orange. Existing packages cost between £24 and £34 ($48/€36) per month, including the cost of the laptop.
However, many online reports have speculated that Apple's machines won't be offered for free on Orange's mobile broadband packages and that instead customers will get subsidised MacBooks costing between £200 to £300 ($429/€319) – a saving of around £500.
Punters may also be offered the plastic MacBooks rather than the more expensive aluminium-clad ones.
It's thought the deal could go online in the UK this summer, but we'll bring you any official news as we get it. ®