Original URL: http://www.theregister.co.uk/2009/03/26/review_storage_external_dvd_writer_lite_on_esau208/
Lite-on eSAU208-16
Very netbook friendly
Posted in Personal Tech, 26th March 2009 09:59 GMT
Review If you buy a netbook, you have to be prepared to live without an optical drive. You can add an external drive for reading and writing DVDs and CDs, but to make it as convenient as the mini-laptop, it needs to be self-contained and compact. Lite-On has one with a good spec.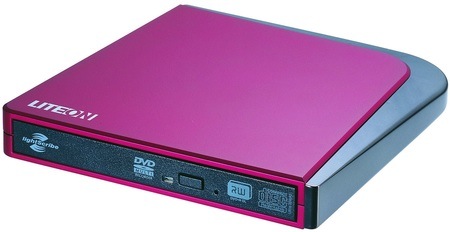 Lite-on's eSAU208-16: slimline but angular
Adding a DVD rewriter to a desktop or laptop isn't as awkward as it used to be, thanks to USB. There are plenty of external DVD readers and rewriters available, but many are built around 5.25in chassis and few have many trimmings. Korean maker Lite-On makes drives, so isn't just boxing and rebranding other people's.
Lite-On's excitingly named the eSAU208-16 comes in black, red, white and blue, so should blend in with most of the latest netbooks. It also comes with a slide-on stand, so you can mount it vertically, to save space. Like any laptop-style drive, CD/DVD discs are clipped onto the central spindle.
Styling is simple, with the main coloured case sculpted to reveal a matte black insert, trailing off from a rear corner. All cosmetic, of course, but a break from the usual small, black box. The drive has the usual push button tray release and emergency paperclip hole in its tray. At the back is a mini USB socket for data and power connection and a low voltage DC input, if USB isn't sufficient.
There are three ways of powering the eSAU208-16. For most purposes, a single USB connector should be good for power as well as data, as long as there is no other USB device drawing power from the same controller and as long as you're not using LightScribe.
If you only have shared controllers, you can plug the second of the two USB headers on the bundled cable into a second socket. If you want to use LightScribe, you should use the power supply bundle with the drive.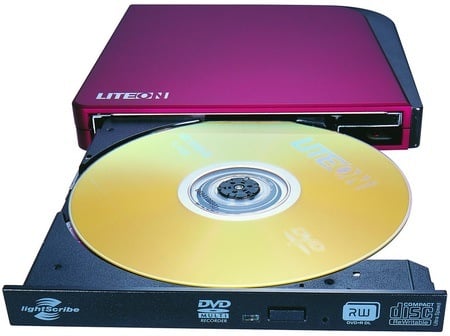 Netbook friendly
Lite-On offers a power test utility, to determine if the USB port the drive's connected to has enough juice, but the message reads: "The System can working fine, on the Power Saving of VBus Power." Alas, there was no mention of "VBus Power" and how or why i'ts Saving Power in the documentation - not exactly consumer friendly, is it? We connected the PSU for testing, in case it had an effect on performance.
Lite-On bundles Nero 7 Essentials, which isn't the latest version of the well-known Windows disc burning app and doesn't have all the extras, but is still a useful piece of support software. It does include Nero Express for disc burning, Show Time for video playback, Vision for video editing, Recode for file conversion and InCD for handling rewriteable discs. Lite-On makes no claim to Linux or Mac OS X compatibilty.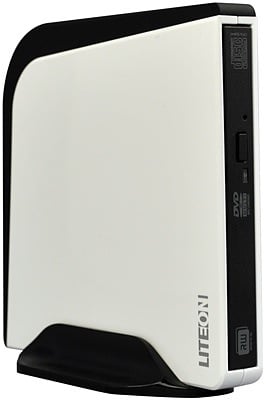 Can be mounted vertically
Mac users will probably want to check out LG's nicer-looking but LightScribe-less - who cares? Use a pen to write your labels - GP08.
This version of Nero 7 Essentials includes support for LightScribe writing. If you haven't used LightScribe before, the technique laser-etches a greyscale image into a special coating on the top side of LightScribe CD or DVD media. It's an HP technology, licensed to other drive and disc makers, and Lite-On has been an HP partner since the early development days.
In the same way you can add text and images to a CD/DVD labelling program, you can build up a design in Nero Cover Designer, then flip the disc over and burn the top side using the LightScribe option. Although the image is only greyscale, you can buy coloured disc blanks to brighten things up. LightScribe is an unusual option on a slimline drive.
Despite its model number, the eSAU208-16 is an 8x drive running DVD±R or DVD+RW discs, 6x on dual-layer DVD±R and DVD-RW, and 5x with DVD-Ram. It reads and writes CDs at 24x, irrespective of type.
Recording 4.5GB of data to DVD+R took 832s (13m 52s) on this drive, giving a real-world average record transfer rate of 5.36MB/s. Transferring the data back took 581s (9m 41s), equivalent to 7.75MB/s. The results from the DVD-R tests were very similar, with times of 859s (14m 19s) for writing and 588s (9m 48s) for reading.

Well portable
The DVD+RW write time is quicker, at 763s (12m 43s), than from either of the two recordable formats, but read back of the same material is quite a bit slower and takes longer than writing, at 772s (12m 52s). Overall, the performance of this drive isn't bad for a slimline drive, though it can be well exceeded by many 5.25in devices. Being bus-powered, it's a lot more convenient to carry around and will easily slip in most laptop bags.
Verdict
This is a neat, all-formats DVD rewriter with the bonus of LightScribe labelling, but without the bulk and extra cabling of a 5.25in device. Lite-On's eSAU208-16 shows a fair turn of speed for a drive based on laptop technology and would be an ideal adjunct to a netbook. ®
More Optical Drive Reviews...
| | | | |
| --- | --- | --- | --- |
| LG GP08NU10 | LG Super Multi Blue BE06-LU10 | Pioneer DVR-116D | LG GGW-H20L |