Original URL: https://www.theregister.co.uk/2009/03/26/hyundai_readies_blue_will/
Hyundai readies Volt-style hybrid
Blue Whale Will in-bound
Posted in Science, 26th March 2009 00:02 GMT
'Leccy Tech Due to be unveiled at next month's Seoul Motor Show, the Hyundai Blue-Will is the Korean take on the plug-in parallel hybrid.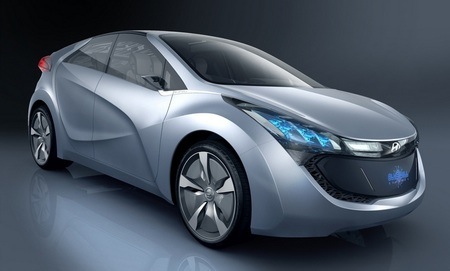 Hyundai's Blue-Will... must resist the temptation to add a 'y'
Odd name – what's the likelihood someone will scrawl a 'y' at the end of it? – and challenging styling aside, the basic underpinnings suggest Hyundai is working on a direct competitor to General Motor's Volt - aka the Ampera.
Motive power is supplied by a 152bhp 1.6l direct injection petrol engine and a 100kW (134bhp) electric motor both of which are connected to the drive wheels via a Continuously Variable Transmission (CVT) gearbox.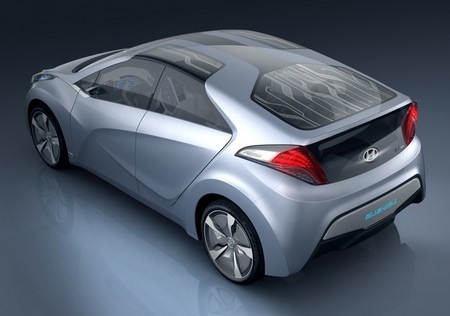 GM Volt-like spec
Unlike the Chevy Volt, which is always driven by its electric motor, the Blue-Will can be propelled by either the petrol engine, the electric motor or both.
Hyundai reckons a full charge of the car's lithium-ion polymer battery pack will be good for 64km (40 miles) of pure 'leccy motoring. That's exactly the same distance General Motors says a Volt will manage on a full charge. How's that for a coincidence?
As is common is today's eco-conscious concept cars, the panoramic glass roof has solar cells built in, and widespread use has been made of recycled materials. The headlamp bezels are in fact made from discarded drinks bottles while the interior is made from organically derived polylactide (PLA) materials.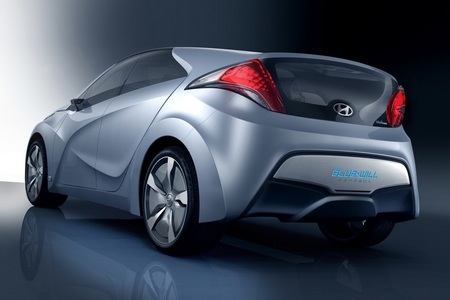 Propelled by petrol, electricity or both
For more details, we'll just have to be patient and wait until the Seoul Motor Show opens its doors on 2 April. ®