Original URL: https://www.theregister.co.uk/2009/03/25/review_ipod_dock_altec_lansing_octiv_air/
Altec Lansing Octiv Air wireless iPod speaker system
Tunes throughout your house
Posted in Personal Tech, 25th March 2009 14:37 GMT
Review iPod speaker systems have come on a-ways of late, with units such as Edifier's Luna 5 and B&W's Zeppelin both looking and the sounding the part of serious home audio kit. With wireless music networking being the other Big Idea at the moment it was only a matter time before somebody put the two together and came up with something like Altec Lansing's Octiv Air wireless speaker system.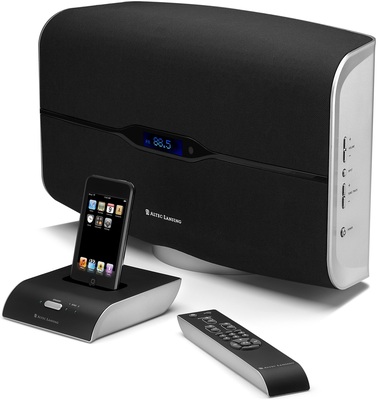 Altec Lansing's Octiv Air: music through the ether
The Air consists of a reasonably attractive and weighty – 4.8kg, so you won't want to drop it on your foot or the cat - 57 x 115 x 255mm wireless speaker unit and a small – 120 x 132 x 31mm - iPod dock. To work, both units need to be plugged into mains power.
Altec has always had a reputation for reasonably well made kit, and the Air is no exception. Both units feel solid and well screwed together, and lack any rough edges. The speaker unit isn't as attractive as the Luna 5, in our opinion, but neither will it have the other half yelling about 'not having that in here'.
If the Air has a design failing, it's the 60 x 15mm LED display in the middle of the speaker unit. It's simply not bright enough, making it a little difficult to read in even moderate or indirect sunlight.
Set-up is simple bordering on the non-existent. Just plug the two units in, plonk your iPod on the dock, hit the Standby button, press Play and - bingo - music comes out of the speaker unit no matter where it is. If you want to move the speaker to another location in the house, just unplug it, move it, and plug it back in.
On the subject of iPods and the like, Altec told Register Hardware that the Air is not officially iPhone compliant - the speakers will pick up the usual interference from the handset's cellular radio - so it suggests putting the phone into Flight Mode before hooking it up.
The speaker unit comes with a solid stand attached to it but this can be unscrewed so you can mount the unit on a wall using the supplied bracket. A switch around back can be moved between Shelf and Wall to optimise the units performance depending on your choice of location.

The display's basic - and a bit dim
So far, so simple, but the Air has a trick up its sleeve: its ability to drive multiple wireless speaker units, eight in total.
If the fancy took hold, you could spread those eight speakers throughout your house, one per room or you could set the system up with two per room in the lounge and dining room, and put the other four in your bedrooms and bathrooms. Why two in the living room? Each unit has a switch that allows it to set to Left, Right or Stereo, so you can put, say, two at either end of the room for some seriously spaced out stereo.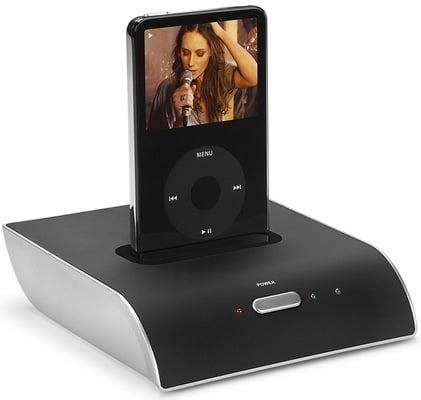 For full iPod navigation, you'll need to go back to the dock...
It also means that, rather than have a speaker unit running at 2 x 40W, it can be set to run at 1 x 80W.
Altec reckons the Air's wireless system will cover 30 metres, and you won't find us arguing with that. Certainly in a three-bed semi, we never had any problems with reception. It's probably worth stating in plain English at this point that an Altec Air will only let you play the same music through all the speakers – a cut-price iPod-based alternative to a Sonos Digital Music System it is not.
The Air's dock transmits its signal to the speakers over the 2.4GHz band and though Altec is vague about it, we suspect it uses an uncompressed 44.1kHz, 16-bit audio signal - CD quality, in other words. So even if you have a disc player plugged into the dock through the latter's 3.5mm auxiliary audio input, you shouldn't loose anything by way of quality between the dock and speakers.
Should you experience any interference from other wireless devices – or from other nearby Air docks - you can manually set the system to work on any one of three alternative channels to the factory default.
Each speaker unit contains two 4in full-range drivers and two silk-dome 1in tweeters which result in the Air producing a more than acceptable sound even when using just the one speaker unit. And that's not taking into account that nine-and-a-half out of ten users are unlikely to use the Air to play anything better than medium-quality MP3 files.
Even if the Air isn't what you'd call audiophile, it still pumps out plenty of volume, generates solid - if occasionally rather boomy – bass, bright treble and a decent sense of definition, detail and stereo separation.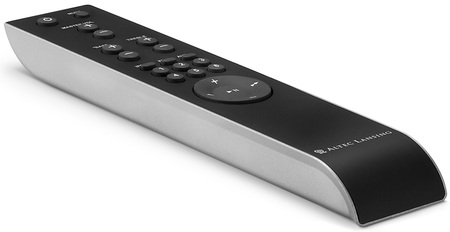 ...rather than rely on the remote
The Air doubles up as an FM radio, Altec even supplying a simple cable antenna that plugs into the back of the dock. It's not RDS, but the auto-tune works well enough and you can assign six station pre-sets. Reception proved pretty good too.
The Air's remote control is nice device but its abilities are a little restricted. While you can use it to switch the system on and off, adjust the volume, bass and treble, and select pre-set FM stations all well enough, actual iPod navigation is limited to pause/play and next/previous track. So if you want to change albums, artists or playlists you have to do it manually on your iPod.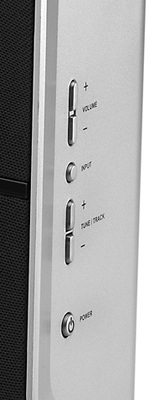 Lose the remote and you can still control the speaker unit
Of course, this is largely due to the fundamental design of the Air: the remote works through the speaker unit rather than the dock - reasonably, perhaps, since you're more likely to find yourself near a speaker than the dock - and the LED display on the speakers only displays the volume level, radio frequency and so on, not track information.
To navigate about your iPod, the speaker display would have to show pretty much the same information as the iPod screen. Frankly, we think it should – all it would take is an LED display similar to that on the Roku Soundbridge. Altec has dropped a bit of clanger by not allowing users to navigate through their music libraries from any room in the house with a speaker unit in it.
Incidentally, if the remote goes down the side of the sofa, there are duplicate controls for volume, input, track and power on the side of the speaker unit.
With an RRP of £299 – though we found it for £279 easily enough - the Air can't really be described as cheap, though at £100 more than the Edifier Luna 5 and the same amount less than B&W's Zeppelin, it,s pretty much par for the course for devices of its ilk.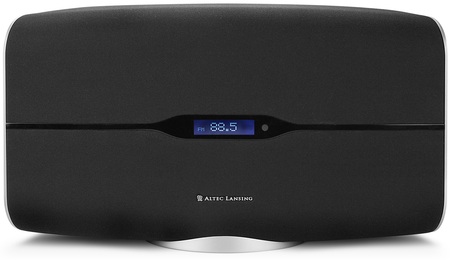 Sit on a shelf or stick it on the wall
If you want to add additional speaker units to your system you'll have a wait a wee while – or buy two complete Air rigs - as they're not available separately in the UK yet. Here's a suggestion for Altec: bundle two speakers together with a dock and call it £400 for cash.
Verdict
While it may be an answer to a question we hadn't previously asked, we rather like the Air, the slightly ill-thought out remote control issues notwithstanding. Cough up for an extra speaker unit and you have a pretty flexible system that can give you two-unit stereo in one room, or music in any two rooms. Buy seven units and you can quite literally have music wherever you go, within your house, at any rate. ®
More Speaker Set Reviews...
| | | | |
| --- | --- | --- | --- |
| Intempo InSession | Logic3 Valve80 | Edifier Luna 5 | Griffin Evolve |