Original URL: https://www.theregister.co.uk/2009/03/24/review_phone_samsung_bound_b2700/
Samsung B2700 Bound rugged mobile phone
Posted in Personal Tech, 24th March 2009 15:27 GMT
Review Anyone who's ever splashed a few drops of water on just the wrong bit of their pricey new phone can see the advantage of rugged design. It's rarely pretty, it's never svelte, but you don't need to venture into a war zone to appreciate the benefit of a more secure approach to portable electronics.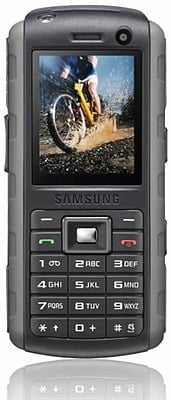 Samsung's Bound: outward
And in the case of the Samsung B2700 Bound, there's considerably more on offer, with 3G connectivity, quad-band GSM/GPRS, music and video player functionality, an FM radio, video-calling, a 2Mp stills and video camera, as well as a compass, pedometer and flash light.
The B2700 Bound is designed with the outdoor life clearly in mind, and is several steps up from its rather basic predecessor, the Samsung Solid SGH-M110. Rugged doesn't mean bullet-proof, of course, or anything like it. The B2700 meets the IEC's IP54 standard, which means it should keep out most of the dust and should be good against splashes, though strictly speaking it's neither dust- nor water-proof.
Measuring 152 x 52 x 18mm and weighing 115g, the B2700 is a chunky little number, slightly bigger than the Solid, with a tough rubberised plastic casing that includes additional hard plastic padding at the sides, top and bottom to protect against knocks. The sides and back also have easy-grip grooves to aid holding with frozen or gloved fingers, though the screen isn't recessed and there are no covers for the camera lenses.
The 1.9in, 176 x 220 display features a respectable 262,000 colours. Usefully, if you're out in the wilds, it's backed by one of the fastest operating systems we've seen, whizzing between menus in a twinkling.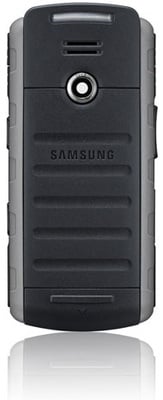 Easy-grip grooves
We made a point of handling the B2700 regularly with wet hands and sure enough, it does what it's supposed to, gripping well in both wet and dry. We didn't actually submerge it in water, but there were no signs of water ingress throughout its time with us. The keypad is of rubberised plastic but feedback from the buttons isn't very pronounced, so hands numb from cold may struggle a bit more than usual.
Around the sides, the power/headphone socket is covered by a sturdier than usual grommet, and there's a volume rocker, camera shutter button and a dedicated flashlight key. This isn't a camera flash – the bulb is in the top of the phone so you can use it like a torch. It's surprisingly bright, and more than enough for reading a map on a windswept moor at midnight. Also at the top is a strap loop that you can attach to your backpack or belt.

Has a handy backpack attachment
Battery security is tighter than normal, and we found the back impossible to remove with our fingernails alone, resorting to a coin to spring the back from its extremely tight clip.
The camera is perhaps a little less than we'd expect from a mid-range phone these days, with just two megapixels – though that's still much better than its 0.3Mp predecessors. Access speed is reasonable, taking about three seconds to launch with a prolonged press on the camera shutter button. The maximum resolution is 1600 x 1200 pixels, and there's a multi-shot mode that can take six, nine or even 15 shots. There's also timer - up to ten seconds - and mosaic effects.
Picture quality certainly isn't disgraceful but obviously limited by the low pixel count and a lack of autofocus. Good light is essential, especially since there's no flash, but even then, shots never seem to look particularly sharp, though it's fine for basic snaps.
Video, as usual, takes a step down from still picture quality, with the B2700 offering just 176 x 144 pixels at 15f/s – basic stuff, in other words. There's also a 640 x 480 (0.3Mp) camera on the front for video calling.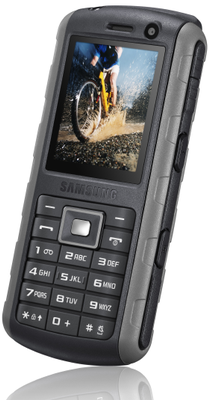 Well sealed against dust and water
The music player is the standard Samsung model and decent enough it is too, with options for podcasts as well as your most frequently played and most recently played tracks. It can handle all the major compressed formats, including MP3, AAC and WMA but with just 26MB of on-board memory it won't hold much, though you can add up to 8GB via Micro SD card - there's none supplied, however.
In keeping with the rugged theme, the memory card slots in snugly under the battery, rather than into an insecure hot-swap slot. Additional music can be obtained from the RDS-capable FM radio and its dozens of presets - we saved over 30 stations and there was still room for more.
The headphones are a disappointment, not just for their sound quality, which is a little shrill and distinctly lacking in bass, but also the fact that they don't fit as snugly as headphones which are designed specifically for active wear – the kind you'd expect to come with a rugged handset. There's also no 3.5mm plug or even an adaptor to add your own, though you could use wireless ones thanks to the A2DP stereo Bluetooth connection.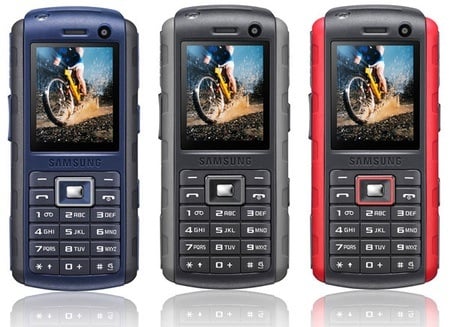 Multiple colours to match your Berghaus
The NetFront web browser is on the basic side but manages to be briskly efficient, helped greatly by the phone's 3G connection, though it's without that extra burst of HSDPA speed. Most pages displayed in one-column vertical mode without any problems and renewed quickly, though it sometimes had trouble rendering a few sites, declaring them to be "too large", and we had occasional timeout issues when trying to stream videos from Youtube.
Perhaps surprisingly for a handset so clearly aimed at the great outdoors, there's no GPS on the B2700, though we were able to download Google Maps to find our whereabouts using basestation triangulation, which won't tell you much if you're in the middle of nowhere.
The compass was impressively hassle-free, however. You need to jiggle the handset around to calibrate it, but then it found North painlessly every time. We wouldn't expect the pedometer on a phone to be the height of accuracy and it certainly didn't compare with our dedicated device, but its motion-activated sensor offered a ballpark figure that at least gives you a rough idea of how far you've walked.
Battery-wise, we were alarmed to see the counter drop to near bottom after a little over a day of use. However, it kept on keeping on for another couple of days of moderate use before throwing in the towel – which should be enough to see you comfortably through a long weekend in the wilds.
Verdict
There are tougher phones out there, such as the buildingsite-centric JCB ToughPhone, but the B2700 Bound offers a fair level of protection for work and play while still providing modern comforts like 3G connectivity, a decent browser, media player and a compass, making it an ideal companion for outward bound trips or in less than pristine work conditions. ®
More Rugged Phone Reviews...
| | | |
| --- | --- | --- |
| Sonim XP3 Enduro | Sony Ericsson C702 | Samsung SGH-M110 |