Original URL: https://www.theregister.co.uk/2009/03/24/iss_update/
Discovery crew prep for return to Earth
ISS mission accomplished, undocking tomorrow
Posted in Science, 24th March 2009 15:09 GMT
Space shuttle Discovery will tomorrow undock from the International Space Station ahead of a scheduled return to Kennedy Space Center at 13:44 EDT (17:44 GMT) on Saturday.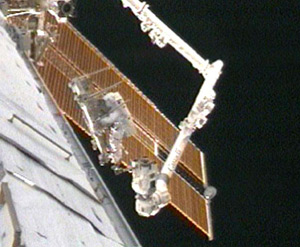 The shuttle's STS-119 mission to deliver and fit the final solar arrays to the orbiting outpost was done and dusted yesterday with a third and final spacewalk by mission specialists Joseph Acaba (pictured) and Richard Arnold.
On board, station commander Mike Fincke continued to address the troublesome urine-recycler space drinks machine and was finally successful in getting a replacement Urine Processor Assembly "up and running on a 'wet spin', the processing of the unit's first sample". The UPA apparently "continued working through the evening and completed its first cycle" without clapping out.
The recycler is, along with the extra solar arrays, part of the plan to to expand the station's crew to a permanent roster of six. As we previously reported, the ISS will "soon lose the option to take on water produced as an exhaust product of fuel cells aboard visiting shuttles, and lifting all the water requirements of the new six-person crews into orbit aboard Soyuz or private rockets would be extremely expensive".
The solar arrays now provide 84 to 120 kilowatts of electricity, enough to power the additional science planned for the expanded crew.
The Discovery crew are today enjoying a "breather" ahead of the shuttle's departure. Flight engineer Sandra Magnus, who's been on board the ISS on since arriving on Endeavour's November 2008 STS-126 mission, will return to Earth, replaced by Japan Aerospace Exploration Agency astronaut Koichi Wakata.
In Kazakhstan, meanwhile, Expedition 19 commander Gennady Padalka and flight engineer Michael Barratt are preparing for a Thursday launch atop a Soyuz to lift them to the ISS. They're joined by "spaceflight participant" (= tourist) Charles Simonyi, the billionaire software designer making his second trip to the station.
Simonyi will return to Earth on 7 April in the Soyuz TMA-13 capsule accompanied by Expedition 18 members commander E Michael Fincke and flight engineer Yury Lonchakov, who've been aloft since October 2008.
There are full Expedition 19 details here (pdf). ®