Original URL: https://www.theregister.co.uk/2009/03/20/review_netbook_asus_eee_pc_1000he/
Asus Eee PC 1000HE netbook
Nine-hour battery life? You betcha
Posted in Personal Tech, 20th March 2009 15:54 GMT
Review Asus was clearly stung by criticism last year that its Eee PC line-up wasn't providing the runtime punters had been led to believe netbooks would deliver. Couple that with the confusion caused when some countries got Eee PC 900s with one battery capacity, while other regions got better ones, Asus needed to look to its reputation as netbook pioneer.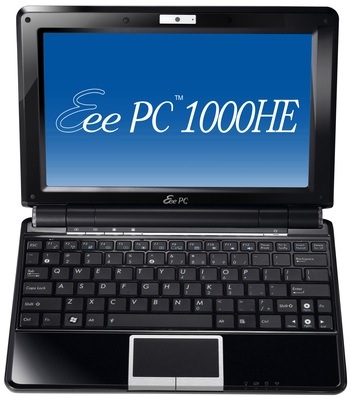 Asus' Eee 1000HE: claimed to run for 9.5 hours
It did, and began rolling out machines will higher-capacity power packs. In Register Hardware tests, Asus machines topped the tables for battery life. They still do, despite the introduction of the long-running Samsung NC10.
But Asus has rested on its laurels, and here comes the latest 10in Eee PC, the 1000HE, offering a claimed nine-and-a-half hour battery life, promoted on the machine with a gaudy "one-day computing" sticker.
Central to delivering that kind of battery life is, essentially, bundling a bloody big battery. Our 1000HE review sample came with a 8700mAh power pack that's quite chunky, but fits within the lines of the netbook itself. We expect all 1000HEs will come with this battery, not least because Asus is making such a big deal about the runtime.
Another factor in battery life is the power consumption of a netbook's components. The 1000HE comes with a 10.1in screen with the customary 1024 x 600 resolution. It's also matte, so it'll immediately appeal to all those folk who hate glossy screens. We prefer the latter, with the more vibrant, brighter colours they produce, and while the colours aren't bad on the 1000HE, we found it to be a surprisingly dark display, even with the brightness on max.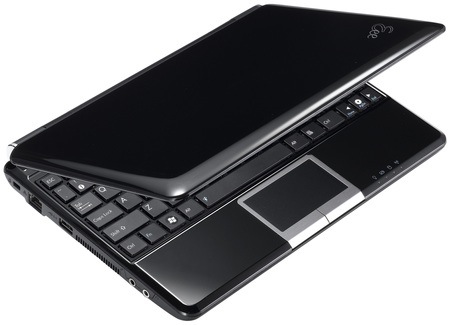 Shiny but chunky
To be fair, it's no darker than the nine-month-old Eee PC 900 we have on our desk too, but it's noticeably less bright than laptops and other netbooks we have here, such as the Acer Aspire One. We can't help but feel Asus is limiting the brightness solely to boost battery life. By all means set an advantageous default - say, 75 per cent - but we think the user should have the freedom to decide how best to balance brightness and battery life.
The 1000HE incorporates Intel's latest Atom spin, the 1.66GHz N280, which is clocked a mere 3.8 per cent higher than the N270 found in past Eee PCs. We'll see shortly if that makes any appreciable difference to the machine's performance.

Standard netbook ports on one side...
Once again, Asus provides four CPU speed settings: Super Performance, High Performance, Auto and Power Saving. Super overclocks the Atom to 1.75GHz, HP runs it at 1.66GHz, Auto varies the speed according to load, from 1.66GHz down, and Power Saving underclocks it to 1.25GHz.
Asus ships the 1000HE with 1GB of DDR 2 memory and a 160GB hard drive. The 945GME chipset provides the graphics - a GMA 950 core. No, there's no sign of the mysterious 1080p-capable 'GN40' chipset said to be shipping with the N280, at least not here - we tried a 1080p video, but it didn't play without dropping frames a-plenty. But the frontside bus does run at 667MHz, up from 533MHz.
Like all recent Eee PCs, the 1000HE has 802.11n Wi-Fi rather than 802.11b/g, and this model comes with Bluetooth too. Other specs are netbook-standard: three USB 2.0 ports - one on the right, two on the left - VGA output, 10/100Mb/s Ethernet, 3.5mm audio jacks, SDHC card reader and 1.3Mp webcam above the screen.
Cosmetically, the 1000HE is largely unchanged from previous 1000-series Eees. It's the same slightly curvy casing design clad in glossy white plastic and with a silver band around the touchpad. The band once more incorporates the mouse buttons. The touchpad is of a decent size and thankfully free of the rough textures that were applied to previous Eee 1000s, though it is matte, not shiny like the rest of the machine.

...and on the other
However, it is a multi-touch device, and while we've never found its pinch-to-zoom gesture useful, we really like using two fingers to scroll through documents.
The big change Asus has made to the 1000HE's look is the keyboard. The one here is of the lozenge variety - "open", Sony calls it; Americans call it a 'chiclet' keyboard. Whatever it's called, the keyboard has buttons that are spaced apart. It's an illusion, of course - the faces of the keys are no smaller than they are on an 'ordinary' keyboard, but with no sloping edges, each one is clearly defined and, we have to say, much easier to type on.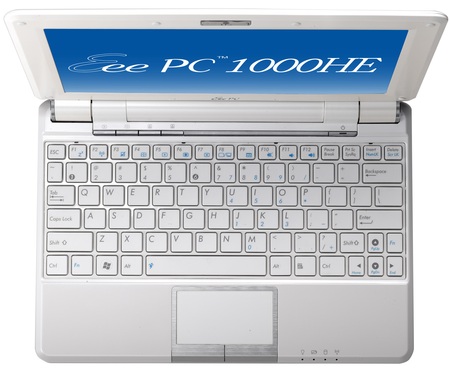 New style keyboard
That's not just because they're easier to locate but also because the board feels a lot more solid and certainly less rattly than past Eee keyboards, even those on the bigger models. It's the best keyboard we've seen on an Eee yet.
It's also one of the most accessible for upgrades. The base of the machine sports a hatchway that, when lifted, exposes the single (populated) Dimm slot and the 2.5in hard drive. To reach the Wi-Fi card and the Bluetooth module, though, you'll have to remove the entire lower casing.
Asus bundles the 1000HE with a zip-up case that's nice to have but awful to touch - it has a really peculiar feel that we didn't like, and neither did anyone else who touched it. A better bundle, perhaps, is the 10GB of online storage you get with the machine, linked through from a handy drive icon in the My Computer window.
So yes, this boy runs Windows XP rather than Linux, and we got the distinct impression from Asus that it'll only be offered with XP. Fear not, Penguin fans, the excellent Eeebuntu distribution is only a download and disc burn away.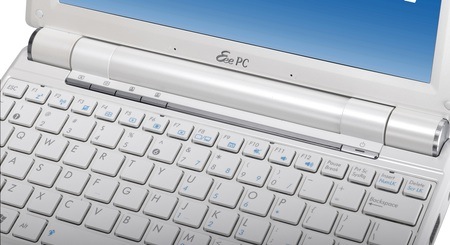 Extra, silver keys at the top are user-definable
So how does the N280-based 1000HE perform? Not at all bad, as netbooks go. PCMark05 didn't show much of a gain going up from the Atom N270's 1.6GHz to the N280's 1.66GHz - and no increase when the CPU's overclocked to 1.75GHz. Since GeekBench did show a small performance increase, we're minded to put this down to a PCMark05 quirk - like the suddenly high HDD rating in Power Saving mode - but either way, the conclusion is the same: the extra is nice to have but not worth replacing your existing netbook for.
PCMark05 Results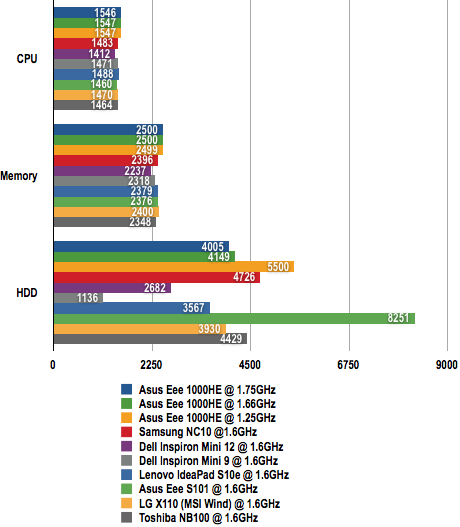 Longer bars are better
GeekBench 1.2 Results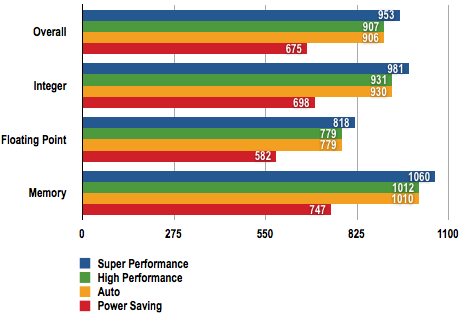 Longer bars are better
In everyday use, the new Eee didn't feel particularly nippier than any other HDD-fitted netbook we've tried. Quicker than some, yes, but not significantly so. If you're looking for your first netbook, the 1000HE offers no head-and-shoulders performance lead over rival machines.
Battery life is a different matter, though. Fully charged and with Wi-Fi on and the screen set of maximum brightness, Windows quoted an estimated 6h 35m of runtime with the 1000HE set to High Performance mode. Running our customary H.264 SD video loop test, the battery gave out after a staggering 5h 35m - more than a hour more than the Samsung NC10 and the best score a netbook has given us by far.
Battery Life Results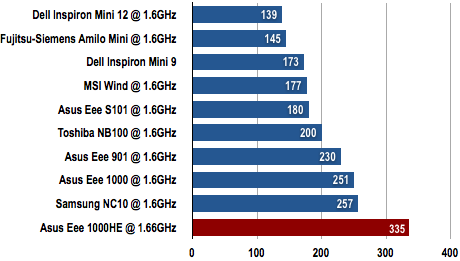 Battery life in minutes
Longer bars are better
More to the point, we tested the battery life of the 1000HE when it was running at 1.66GHz, so you can expect more runtime in Power Saving mode - and a lot more when running less CPU and GPU intensive apps with the backlight on max. Using the Wi-Fi and backlight judiciously, we don't see any reason why you couldn't get up to Asus' claimed nine-and-a-half hours.
That's bad news for the NC10. The 1000HE weighs in at 1.45kg (3.2lbs), not appreciably more than the NC10's 1.33kg and the two are as near enough the same size as makes no odds. Performance-wise, there's not much in it either.
Asus wants £329 for the 1000HE, which is what Samsung wants for the NC10. We've seen the NC10 online for around £300. All other aspects being equal, you can either save yourself 29 quid, or pay it and get a rather longer battery life and fast Wi-Fi into bargain.
Verdict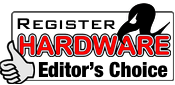 It's a nice mini-laptop, the Eee 1000HE: eminently capable, with a good keyboard, the latest Atom, 802.11n Wi-Fi and plenty of storage space for which you're not really sacrificing resilience - given the 1000HE's size and weight, it's inherently not the chuckabout netbook a 9in SSD model might be. The screen's a tad too dark but, crucially, it's got that enormous battery life. Asus retakes the lead - provided punters get the same battery reviewers do. Your move, Samsung... ®
More Netbook Reviews...
| | | | |
| --- | --- | --- | --- |
| Samsung NC10 | Dell Inspiron Mini 12 | Lenovo IdeaPad S10e | Fujitsu Siemens Amilo Mini |