Original URL: http://www.theregister.co.uk/2009/03/19/review_media_player_philips_gogear_spark/
Philips GoGear Spark MP3 player
The ideal iPod Shuffle antidote
Posted in Personal Tech, 19th March 2009 09:02 GMT
Review We've not looked at any of Philips' GoGear media players before, so the arrival of the new Spark seemed like a good opportunity a poke one with Reg Hardware's metaphorical sharp stick.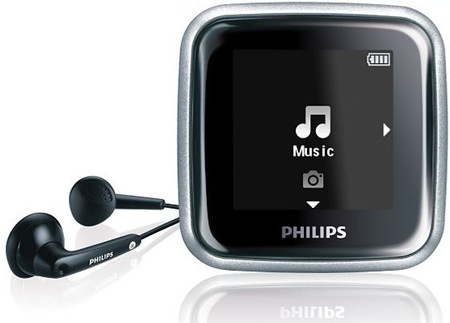 Philips' GoGear Spark: nice and smooth
The basic design of the Spark is a little reminiscent of iRiver's Lplayer, with the navigation controls being operated by pressing down on one of the four sides of the screen. The obvious benefit of this layout is that the screen – in this case a colour 1.46in, 128 x 128 OLED – can take up a substantial percentage of the device's frontal area so maximizing the screen-size to player-size ratio.
Philips doesn't quote a weight for the Spark, but in the hand it feels about the same as a SanDisk Sansa Clip, so we'd take a wild guess at about 25g. At 41 x 41 x 15mm it's a wee bit larger than the Clip, but then it has a much larger – and better – screen. The smooth and beveled design should ensure that snagging won't be an issue. It's a nice looking device too, with the silver screen bezel contrasting nicely with the black plastic body.
Around the periphery of the device you'll find a mini USB port, 3.5mm headphone jack, on/off/lock slider, volume control and menu options control. All other commands are issued by pushing down on the screen, an on-screen icon letting you know what each press will do in any given circumstance.
The Spark's menu layout is a model of common sense. Pressing the top or bottom of the screen lets you scroll through Music, Pictures, Recordings, Folder View, Personalize, Settings and Last Played/Now Playing. Simply push the right-hand side of the screen to move down a level or activate a function or push the left to move back. The screen press is nicely weighted with just the right amount of 'click', making for a pleasant tactile experience.
During playback, the screen can be set to show the relevant album art as background or you can dig about in the personalisation menu and set it to display a photo from your collection, which is a nice touch. Various plain colour backgrounds are also available if you just want to read the on-screen track information and are not concerned about pictures.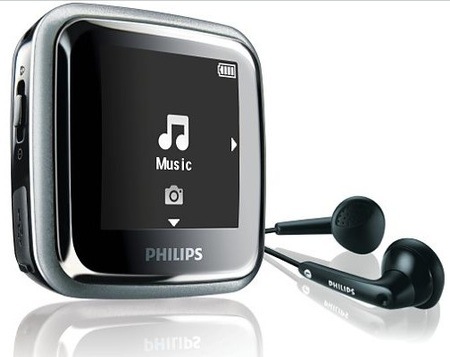 Controlled with screen-bezel clicks
The Spark comes fitted with something called "FullSound", Philip's latest take on sound modification technology and designed to make compressed audio files sound less like – you guessed it - compressed audio files.
After listening to a few albums, it became quite clear to us that FullSound is really rather good, giving a feeling of warmth and depth all too often lacking from cheaper media players such as the budget USB players from Samsung and Sony that we looked at recently.
FullSound also benefits from only having on and off settings rather than the dozen or so possible permutations that some systems offer and that, frankly, only serve to pad out the features list with ludicrous acronyms and confuse the living daylights out of most users.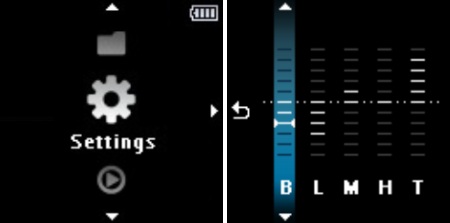 The Spark's settings include a five-band equaliser
As well as FullSound, you also get six pre-set five-band EQ settings and one which is user adjustable. What you don't get are any separate bass or treble controls, but during our time with the Spark we never once felt their lack nor the need to mess with the EQ settings. With Fullsound switched on, the Spark always produced a tight, well focused sound with solid bass along with good definition and separation right across the frequency range.
If we had to criticise anything about the Spark's audio delivery it would be the volume - this isn't the loudest player we have come across. The bundled ear buds are nothing to write home about either, but nor are they any worse that those supplied by the likes of Apple or Samsung at this price point.
The Spark will let you set up three separate on-board playlists but you can't copy any across from an MTP media player app, which is a bit of a disappointment. For Mac and Linux users, it's worth making the point that the Spark showed up just fine on the desktops of both to drag and drop tracks, though we didn't manage to get it to work as an MTP device on either.
As you might expect with a mass-market budget player, format support is nothing out of the ordinary and only stretches to MP3, WMA and WAV audio files, and JPEG and BMP image files. We don't think the absence of video support is much of an an issue - would you actually want to watch video on a screen this size?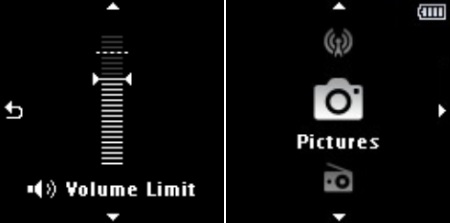 The UI's logically laid out and easy to navigate
As well as audio playback the Spark will let you make mono voice recordings which are stored as WAV files. Be careful how you hold the Spark when recording, though, as the microphone proved very susceptible to taps and knocks on the device body.
Our review device didn't have the optional FM radio fitted so we can't comment on its usability or quality, though, according to the spec. sheet, Sparks with an FM tuner can record off-air.
Philips reckons you'll get 27 hours from a full charge of the Spark's larger than average 320mAh power pack and though we only got 25 that's still not a half bad number and twice what you could expect from an iPod Shuffle or Sansa Clip.
Two admittedly minor niggles with the Spark are that every time you switch it on it updates the media library. This only took about ten seconds with just under 900MB of data on board, but we suspect it could become a little tiresome if you had the 8GB model loaded to the gunwales with music.
Show album art or your own pics
Our other concern centres on the music scan facility. While this ramps up smoothly and swiftly to the two-minute mark, after that it zooms off at a ludicrous speed rather than maintain a steady rate of x10 or x20. So if you want to scan through a long track – Dire Strait's 14m 22s Telegraph Road, for example – you have to do it in jumps of under two minutes or you suddenly end up at the start of the next track in the library.
Unlike the Shuffle or Clip, the Spark doesn't have an integrated clip, but you do get a rather fine silicone rubber sheath that has an belt loop attachment.
The most basic GoGear Spark – 2GB without an FM radio - will set you back around £39. That's about the same price as the 2GB Sansa Clip, which has a far less appealing screen and a much lower battery life. The 4GB version comes in at £50, a tenner less than the equivalent iPod Shuffle, which doesn't have any screen at all, doesn't sound as good and - in its latest iteration - has daft controls.
Philips says the 2GB FM-equipped Spark will retail for around £45, while the 4GB unit with FM radio will sell for £55. Come May, an 8GB version will show up costing £60 without FM tuner and, presumably, £65 with.
Verdict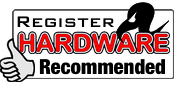 The Spark is Philips most convincing portable music player for quite some time. The sound is above par for the price bracket, the battery life is excellent and the device itself is easy and pleasant to use. If you're looking for a decent MP3 player for around £50 and aren't worried by a lack of Flac or Ogg support then you could do a lot worse. ®
More Media Player Reviews...
| | | | |
| --- | --- | --- | --- |
| iRiver Spinn | Cowon iAudio O2 | Cowon iAudio S9 | Sony Walkman S-series |