Original URL: http://www.theregister.co.uk/2009/03/19/review_blu_ray_disc_player_pioneer_bdp_51fd/
Pioneer BDP-51FD Blu-ray Disc player
Top-end performance at an affordable price
Posted in Personal Tech, 19th March 2009 13:56 GMT
Review It's not been easy for Pioneer of late, what with the painful withdrawal from the high-end plasma TV market that it had dominated with the Kuro, the best plasma family on the planet. However, life goes on and this spritely little Blu-ray Disc player should go some way to putting the spring back into Pioneer's step.

Pioneer's BDP-51FD: top-notch performance?
It'll also bring a level of performance to your living room not previously seen in a BD box at this price point.
The BDP-51FD feels well constructed and reassuringly sturdy sitting on its circular metal feet. Looks-wise, the player scores highly too, creating a dark and brooding presence in the stack with its black livery and little blue lights - just in case you forgot it was a Blu-ray player.
It presents a decent set of connectivity options, including HDMI (1.3a) output, eight-channel analogue outputs as well as a two-channel output for a CD deck. For pre-HDMI TVs, there are component-, composite- and s-video ports. Surprisingly, there's no Ethernet port, though.
That's enough to tell you it doesn't support internet-sourced BD Live content, but a look at the spec confirms this player is a Blu-ray Disc Profile 1.1 - aka BonusView - machine. So what it will do is display picture-in-picture content and some of the other HD extras. Given the price, this might seem a disappointment - other machines at or under the £350 mark, including the PS3, do BD Live, or have a network port that allows them to be upgraded to support it.

Plenty of ports - but Scart-fans are left out
That said, unless BD Live content gets much more widespread - and, indeed, much less rubbish - very soon, you're not going to miss the feature's absence, we'd say. Still, the lack of a network port means you won't be easily updating the software on board the BDP-51FD, either.
As with quite a few Pioneer remotes, the one that comes with the BDP-51FD has a layout that comes over a little fussy and busy, but after a while it proves itself to be easy to use, with useful little touches like a 'Home' button to get you out of trouble.

Busy
Navigation around a disc's menu structure and reviewing scenes is all reasonably rapid and as fast as you could want, but the BDP-51FD won't win any disc loading races - some of its rivals have it well beaten here.
But when it comes to picture quality, the Pioneer begins to leave the competition behind. We decided to be kind and give the BDP-51FD Casino Royale to get its teeth into. Detail is very good. In the opening scenes, you spot the scars that Bond has on his face from the fight that has already happened, but plays out in a gents' lav after the opening scenes.
But it's in movement that the BDP-51FD's most significant enhancement can be seen. The free-running scene through the building site has a renewed intensity and urgency. The player has an 8- to 12-bit colour depth converter which allows it to really squeeze all the potential out of the disc. Most Blu-ray master discs use 10- or even 12-bit colour, but this is then squashed to 8-bit on mass-market discs. During that process picture data is lost.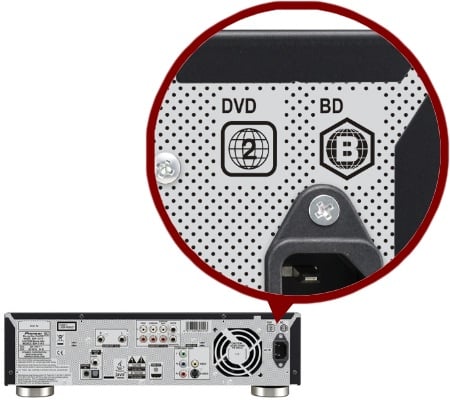 Region coded
Pioneer's up-convertor sniffs out the areas where data is most likely to have been lost and attempts to put it back. The machine certainly knows its onions - its colour reproduction has to be one of the very best at this price.
The machine also performs well with 1080p 24f/s playback bringing a genuine 'cinema feel' to the picture, if that's your bag.
Up-scaling standard-definition content is a key ingredient in any Blu-ray box that hopes to replace your DVD player. The Pioneer does this very well too. Up-scaled to 1080p, the flight scenes from Iron Man pop out of the screen, with Stark's wonderfully recreated suit looking great against the blues and whites of the Sky. Should you be extra picky about video quality, the BDP-51FD lets you send the picture to a standalone up-scaler should you wish.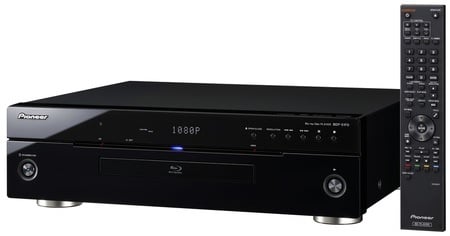 Looks good in your stack
One area that sometimes gets forgotten about when talking about Blu-ray is the improved audio performance. It's actually one of the best things about the format. 'Not available elsewhere' downloaded BD Live scenes from Walk Hard: The Dewey Cox Story - we kid you not - is never going to drive the format. But crystal clear 5.1 or even 7.1 sound just might.
Pioneer has gifted the BDP-51FD with high-end Wolfson DACs as well as jitter reduction circuits. Dolby Digital Plus, Dolby True HD, DTS-HD High Resolution and DTS-HD Master Audio can all be catered for. We tried a bit of AC/DC Live at Donnington - a regular favorite at Reg Hardware. This is a great Blu-ray Disc visually: the 25 cameras - one of them on a helicopter - that captured the event, really bring out the show's scale and complexity. Angus Young's trademark huge chunky riffs and manic guitar solos are given full flight here in a 5.1 mix.
Incidentally, it'll also play discs containing MP3 and WMA audio files, and HD content encoded in the camcorder-oriented AVCHD format. It'll play DivX content too.
Verdict
This machine does pretty much everything well. The GUI is easy to follow and gives quick and intuitive access to the unit's considerable power and surefooted delivery. The £350 price tag is about right for the machine's spec and performance level.
If you are going to buy into Blu-ray, the sound and video has to be different enough from DVD for it to feel worth the effort and cost of upgrading. That's not the case with some cheap machines, but the Pioneer delivers an experience which is a big enough step up from DVD to make the transition a worthwhile one. ®
Group Test
Blu-ray Disc players