Original URL: https://www.theregister.co.uk/2009/03/19/eds_global_town_hall/
HP streams 'confidential' town hall meeting to world+dog
All in the family
Posted in Bootnotes, 19th March 2009 23:17 GMT
When HP senior vice president and general manager Joe Eazor opened today's EDS "Global Town Hall" meeting, he gave employees a stern warning about the evils of sharing top-secret HP info with anyone outside the company.
HP employees have been known to share internal memos with the likes of, well, The Register. Just this week, we received a memo revealing a top-secret plan to boost prices in the company's canteens. Days earlier, the web was awash with a memo announcing a top-secret 10 per cent pay cut for employees in the US and Puerto Rico.
With this in mind, Eazor - who recently filled the EDS top spot vacated by Ronald Rittenmeyer - began his all-hands meeting with some extended finger-wagging.
"I have to make sure you know that what we talk about today is confidential," he said. "When we send memos out about actions we're taking, they're confidential. They're not to be shared outside the company. If they are, those are fire-able offenses. That's a breach of our basic policies inside this company.
"What we talk about today is in the family, and the communications we send out stay in the family as well. I need your cooperation about this. It's critical for all of us that we come together and make sure we're all on the same page...
"I really need you to take personal ownership of this confidentiality concept."
But it seems that Eazor's confidentiality message is still lost on at least some of his EDS employees. Just after the town hall meeting, one employee slipped us a web link where Eazor's message was streamed to EDS workers across the planet. And the company's internal IT staff hadn't shown the sort of personal ownership that would have resulted in password protection.
Here's the moment where Eazor says "what we talk about today is confidential":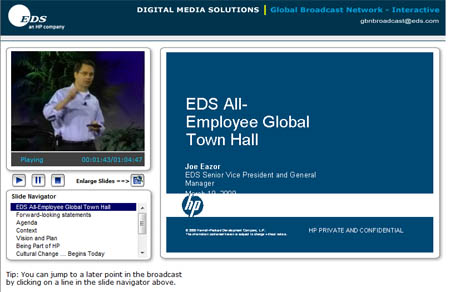 We'd share the rest of Eazor's monologue - but that was the only top-secret bit even remotely worthy of top-secret-ness. ®