Original URL: https://www.theregister.co.uk/2009/03/18/review_compact_camera_panasonic_lumix_dmc_fs7/
Panasonic Lumix DMC-FS7
Stand-out performance?
Posted in Personal Tech, 18th March 2009 11:49 GMT
Review The sub-£200 digital camera market is a cutthroat sector with big-name - and not so big name - companies launching a plethora of models that offer an impressive range of features and an even more impressive performance. In other words, if you want to be a winner, you're going to have to offer something that's just a little special.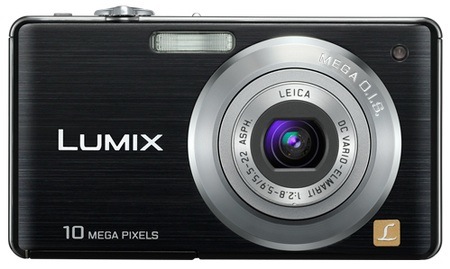 Panasonic's Lumix DMC-FS7: nice looks, good build quality
Enter Panasonic's DMC-FS7, a model aimed at point-and-shooters with discerning taste.
At this price range, compromises have to be made, and different manufacturers have opted for different forms of compromise. For some, it's about reducing the build the quality. You know the score: a plastic body with lots of plasticy bits.
But Panasonic has certainly not skimped on the DMC-FS7's build quality. It not only looks lovely, but its brushed metal finish and raised Lumix moniker give it an air – and feel – of a quality product. The only slight letdown is the large LCD screen, which juts out from the back rather than lying flush, but we can live with that.
At the top is a small on/off power switch, shutter button, zoom rocker and tiny intelligent auto button. The back is dominated by a large 2.7in LCD screen composed of 230,000 dots, next to which are a play/record slider, mode button, four-way rocker control, display button, and quick menu/delete button.
At the right hand side is a small cover for the mini USB port, and at the bottom, the compartment for the battery SD/SDHC card. And that's your lot when it comes to nooks and crannies.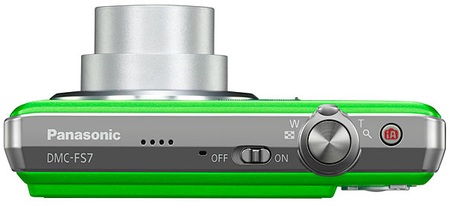 For the discerning point-and-shooter?
Feature-wise, the DMC-FS7 has a 1/2.5on CCD with 10.1 effective megapixels; a 4x optical zoom in the form of a 5.5-22mm f/2.8 Leica DC Vario-Elmarit lens equivalent to 33-132mm in the 35mm format; a top resolution of 3648 x 2736 pixels going down to 1920 x 1080; shutter speed range of 8-1/2000s; ISO range of 80-1600, with a high sensitivity range of 1600-6400; and AF metering for face, multi-point (nine-point) or one point.
The camera also has the now obligatory face detection, which works for up to 15 faces. There's a two-mode optical image stabilisation system; 25 scene modes; continuous shooting at 2.3f/s for a maximum of five frames at the highest resolution setting, or a high speed burst around 6f/s at 3MB file size or smaller; and VGA, QVGA and WXVGA resolution movie recording at 30f/s in Motion JPEG format.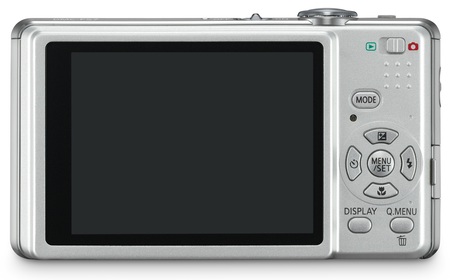 The LCD juts out a little
Physically, the FS7 has 50MB of internal memory and measures 97.0 x 54.4 x 21.7mm. It weighs 139g with battery and card in place.
Switch on is fast - around two seconds - and for simple, point-and-shoot recording, just set the camera to Intelligent Auto mode, a sort of automatic mode on steroids. Under IA's control, the DMC-FS7 automatically selects the relevant scene mode - such as portrait, macro or scenery - activates the optical image stabiliser and face-detection systems, and selects the optimum ISO and shutter speed.
For a little more user control, you can opt for Normal Picture mode, which lets you adjust a few more parameters, including "intelligent ISO". This lets you set the maximum ISO speed from three possible settings: 400, 800 and 1600. The camera will then adjust accordingly up to the value you choose.
It's very easy to find your way around the DMC-FS7. If you want to switch shooting modes, just press the Mode button and scroll down the list of options – Intelligent Auto, Normal, Scene and Motion Picture - presented on the screen. You can also add a frequently used scene mode to the menu list.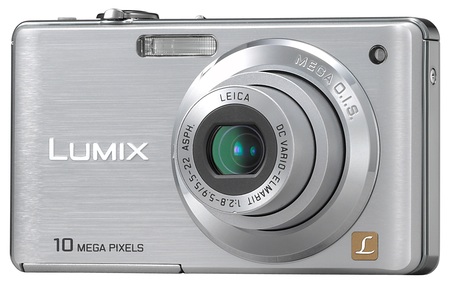 Even the most novice camera user will feel comfortable with the DMC-FS7
If you select Scene mode, you're presented with 25 icons, each with a text description. The options range from the usual - portrait, pet and food - to more exotic ones like aerial photo - for shooting through an aircraft window - self portrait and film grain, which, according to the instruction book, means: "Picture is taken with grainy texture as though blasted with sand."
Sample Shots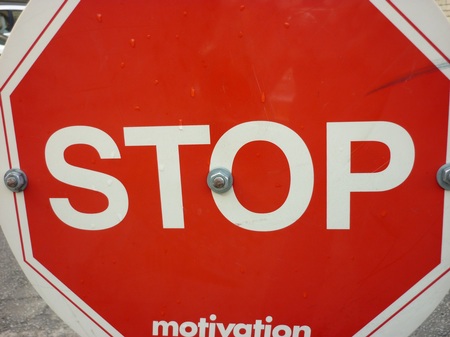 Click for full-resolution crop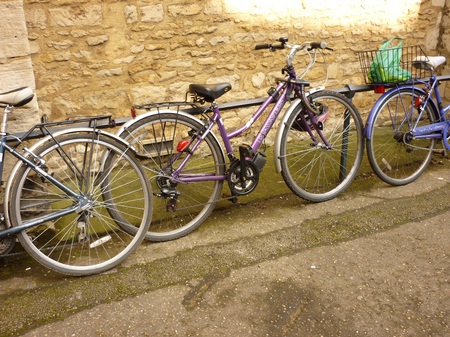 Click for full-resolution crop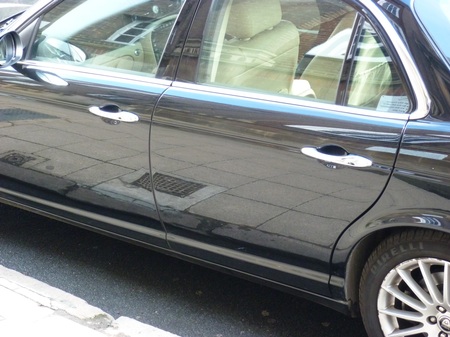 Click for full-resolution crop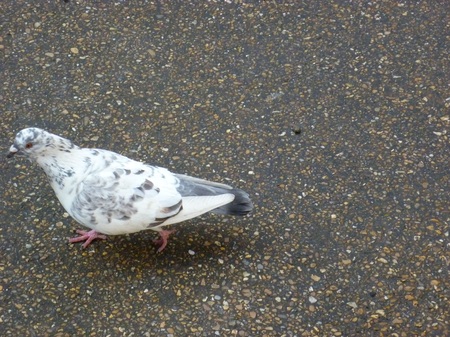 Click for full-resolution crop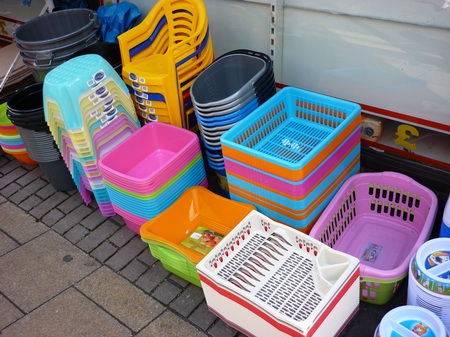 Click for full-resolution crop
Sample Shots
Despite the large number of pixels packed onto the FS7's 1/2.5-inch CCD, noise wasn't an issue at the lower ISO settings.
Sample Shots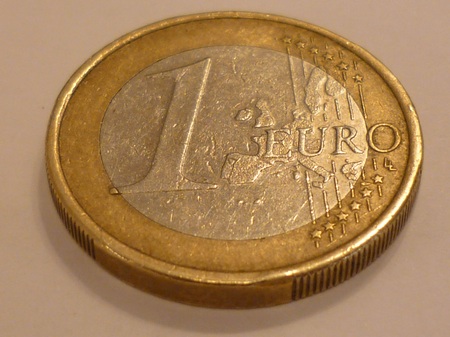 Click for full-resolution crop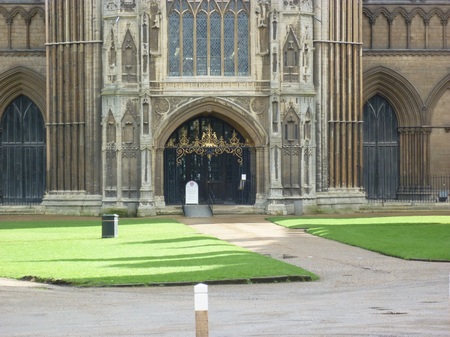 Telephoto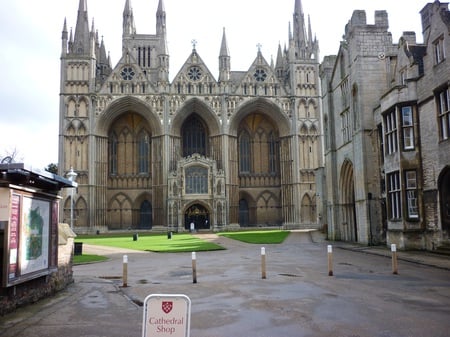 Wide angle
The DMC-FS7 has a 4x optical zoom in the form of an 5.5-22mm f/2.8 Leica lens, equivalent to 33-132mm in the 35mm format, so it doesn't quite squeeze in as much as some competitors with wider angle settings.
If you want to go back to Intelligent Auto at any time, just hit the small IA red button next to the shutter. The Menu/Set button takes you to record, playback or set-up menus, depending on the operating mode. Here you can adjust things such as the image quality, drive mode and aspect ratio. There are three aspect ratio settings: 4:3, 3:2 and 16:9, with the first being the default setting.
And if all that wasn't enough, the Q Menu button - for Quick Menu - gives instant access to parameters such as the image stabilisation mode, drive mode, AF mode, white balance, ISO speed and file size.
The set-up menu has an interesting LCD mode, with three settings: Auto, Power and High Angle. The Power setting brightens the LCD screen, making it easier to view the screen when outdoors. We tried this outside on a sunny day and it did have an effect, albeit somewhat marginal. The High Angle setting is supposed to make it easier to see when taking shots above your head, but we didn't notice any great difference.
We did, however, like the various delete options the FS-7 provides, including one that allows you to clear all shots stored on the card in one go – just be extra careful before you select the 'yes' option...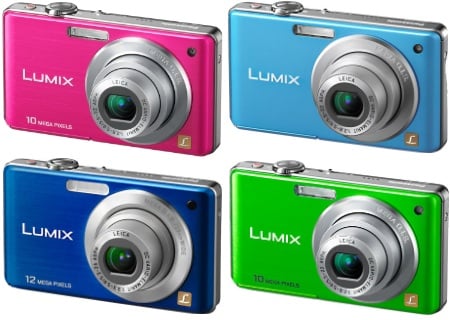 Plenty of lurid colours to track down
Overall, we think even the most novice of camera users would soon feel comfortable with the DMC-FS7.
In terms of performance, the DMC-FS7 delivers pretty good results when it comes to sharpness, colour and contrast. Noise wasn't too bad either. We were disappointed with the lack of a wider angle setting, although for those looking for a longer zoom, Panasonic offers something it calls Extended Optical Zoom. This enables the DMC-FS7 to offer the equivalent of a 5.7x optical zoom if the file size is 5M, or 7.1x if the file size is 3M or under. We tried the system, and as you can see from the sample shots below, it's pretty effective.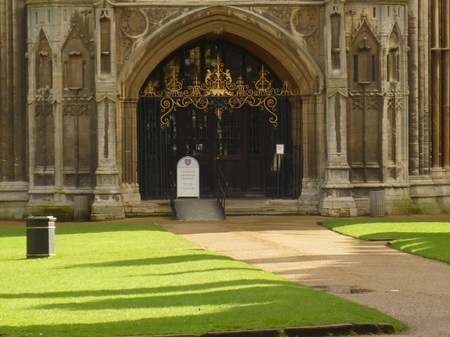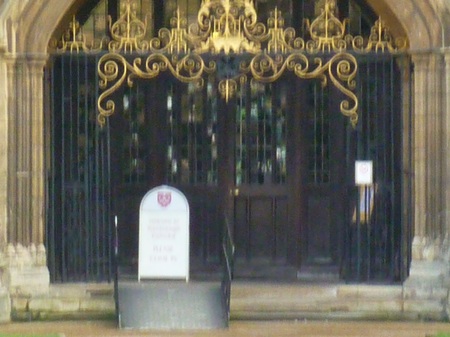 Extended Optical Zoom mode (top) and regular digital zoom (bottom)
The system works by cropping the central part of the CCD image rather than magnifying the whole image, as is the case with a conventional digital zoom. You could, of course, achieve the same effect by the cropping the image during post-production on your PC, but this is a simpler method.
The macro mode offers two settings, normal and zoom, which lets you get even closer to the subject and works well. Movie clips were clean and smooth, although you can't zoom whilst recording.
Verdict
In a crowded market, the DMC-FS7 certainly stands out when it comes to looks and build quality, but in terms of features and performance, it's pretty much par for the course. But it is very easy to use and many digital snappers will welcome this no-hassle camera. It's also got some rather handy scene modes. Performance while good, is not exactly jaw-dropping, but we think few casual snappers will be disappointed. ®
More Compact-Camera Reviews...
| | | | |
| --- | --- | --- | --- |
| Pentax Optio P70 | Canon PowerShot G10 | Fujifilm Finepix F100fd | Canon Digital Ixus 980 IS |