Original URL: http://www.theregister.co.uk/2009/03/17/review_phone_sony_ericsson_walkman_w705/
Sony Ericsson Walkman W705 music phone
Add GPS and it becomes the W715
Posted in Personal Tech, 17th March 2009 10:02 GMT
Review No mobile maker has been as prolific as Sony Ericsson at churning out music mobiles, largely because it commandeered the Walkman brand.

Sony Ericsson's Walkman W705: smart and stylish looks
That's meant plenty of Walkman models that remix familiar music phone functionality, adding extra features here and there, and reworking designs in an attempt to cover the bases for all potential music mobile buyers.
With the W705, Sony Ericsson has introduced a smart, stylish sliderphone into the Walkman repertoire, bringing Wi-Fi to the mix alongside high-speed HSPDA 3G connectivity. It doesn't have GPS built in, but if you need satnav tech on your phone, take a look at the Vodafone-exclusive W715, which is the W705 with Assisted GPS on board.
The W705/W715's bodywork is elegant, with a crisp brushed aluminium silver front panel, rubber-feel back panel, and a large 2.4in, 320 x 240 display. Subtle gold trim on the front and edges is surprisingly un-bling. In fact, the W705 speaks the same design lingo as the sharply-dressed W880 and more recent W890 candybars. It also has a hint of Nokia N95 about it. The controls are worked into the sort of circular design we've seen on previous Walkman phones.
The navpad is slightly raised for easy handling, while the usual bank of soft-menu keys, call and end, menu and Clear buttons are nicely contoured for hassle-free fingering.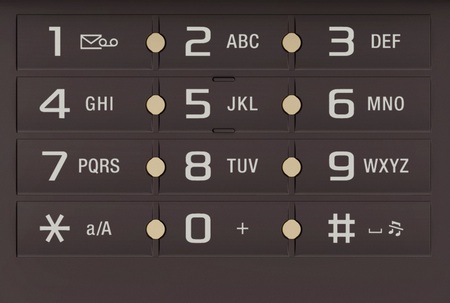 The keyboard's almost smooth
The numberpad too has some subtle contouring of its own, helping to differentiate individual keys on the almost smooth matte surface. It has a responsive action that's good for speedy texting, while the slider mechanism is smooth and seems sturdy, adding to the overall quality-built feel of the handset. At 95 x 48 x 14.3mm and 98g the W705 is well proportioned and, open or closed, nicely balanced in the hand.
Sony Ericsson implements its familiar user interface, based on a main menu grid which can be switched to a rotating carousel or single, scrollable icon views. Sub-menus and functions are arranged logically. In some apps, the W705's motion sensor will auto-flip the screen orientation depending how the phone's being held.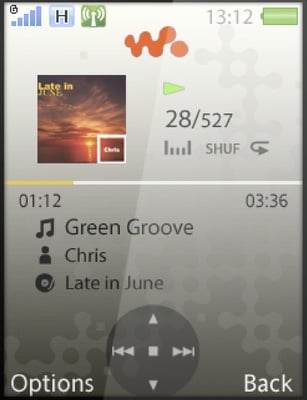 The Walkman app's as a good a music player as you'll find on a phone
The W705 has a camera key and zoom/volume rocker on the side. On top of the phone, a miniscule Walkman key provides a quick way into the music player. In tune-playing mode, it also works the motion-operated Shake Control: hold it down and shake the phone one way or another to fast-forward or rewind through tracks, adjust the volume or randomise the play order.
It's a gimmick and it adds little practical functionality to the phone. Apart from shuffling, the other controls are at hand anyway. Pushing buttons is also more reliable, with less danger of sending your phone flying.
The Walkman player is still star of the show. It has an easy to operate, attractive user interface, supporting cover art when available and SensMe mood-generated track selection. SensMe works by tagging tracks in Sony Ericsson's PC-based Media Manager software. On the phone, songs can be selected on a SensMe graph charting mood against tempo.
Sony Ericsson has also included a version of the BBC's iPlayer which can stream live and archived radio and TV programming straight to the handset over Wi-Fi, though 3G streaming isn't supported. It's a breeze to operate and plays well, and is a nice accompaniment to the bundled YouTube app.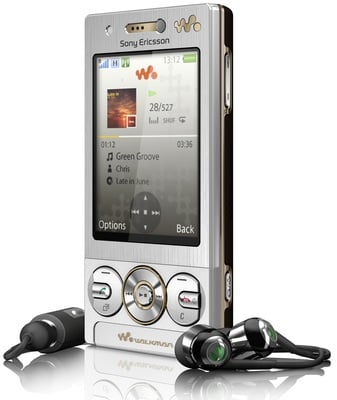 Comes with decent cans
The built-in RDS FM radio provides another serviceable source of entertainment. It can play through the loudspeaker even with the earphone cable connected as its antenna. Track ID software is part of the radio armoury as well as being usable for automatically identifying other tracks you hear around you.
An above-average set of in-ear earphone buds is supplied with the W705, enabling the Walkman music player to put in a high quality audio performance out of the box, with good tonal balance and plenty of presence at the low end. The phone has an equaliser if you fancy boosting the bass or fiddling with other frequencies.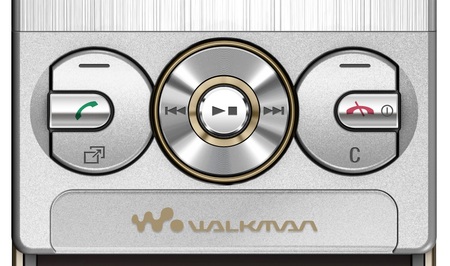 You can shake the W705 - but it's easier to control with the keys
Once again, Sony Ericsson has used a side-mounted multi-connector socket for the earphones rather than a standard 3.5mm socket. But there's a 3.5mm adaptor on the two-piece headset so you can upgrade the earphones.
With a bundled 4GB Memory Stick Micro card to go with the 120MB of on-board storage, Sony Ericsson has provided a decent amount of storage to kick off with. You can easily swap memory cards – the slot's on the side, under the back panel but not the battery.
For camerawork, the 3.2Mp shooter on the back is a limited device, with no autofocus, just an LED flash. It's not up to Cyber-shot spec, but the user interface is straightforward and easy to use. The usual cameraphone adjustments can be made – white balance, exposure, image size and so on, plus options for multi-burst and panorama shooting. The phone display auto rotates into landscape mode when the camera's activated, so you get plenty of viewfinder room.
Rough geo-tagging data can be added automatically to image files, with the W705 using basestation-based triangulation to get approximate geographical fixes on where shots were taken. The W715 uses GPS, of course.

The camera's picture quality is mediocre
You may not bother in any case. Image quality is mediocre, with limited picture detail, though in decent lighting conditions, colours are accurately portrayed. The LED flash has limited effect in dark environments. Video capture is unimpressive too, shooting low quality footage at maximum 320 x 240 resolution at up to 15f/s.
Sony Ericsson has expanded the options for uploading images and video clips. In addition to the Blogger option seen on previous Walkman phones, there are now links for MySpace and Picasa, and you can add other sites manually.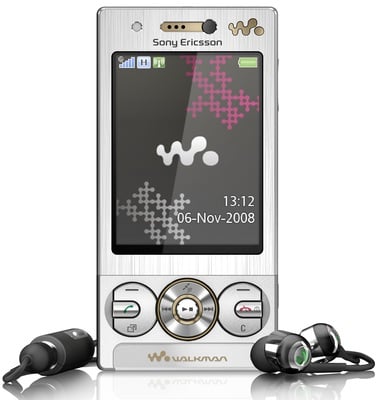 The W715: the W705 with GPS
Other sites are displayed speedily in the W705's web browser, which has the usual easy-to-follow Sony Ericsson home screen and the ability to reformat pages for the handset's small screen. It does an adequate job at rendering pages - there's no Flash support - but it's no iPhone.
Sony Ericsson includes plenty of other bits of software. Walk Mate, for example, is a pedometer for the more health-conscious user, who can check the climate using the AccuWeather app before heading out on a walk or run. There's a useful world clock, and a Bluetooth-based app for controling your PC's media player remotely.
Below that there are all the standard organiser tools, along with Sony Ericsson's VideoDJ, MusicDJ and PhotoDJ media-editing apps. The five pre-loaded Java games include motion sensing 3D car racing and bowling games.
When it comes down to the basics, sound quality making and taking calls is excellent, and we had no issues with connectivity. Battery life is reasonably good too. Sony Ericsson posts optimum performance figures of up to four hours' talktime or 350 hours' standby on 3G networks, or ten hours' talktime and 400 hours' standby on GSM networks. In our tests, with Wi-Fi activated and a typical phone usage pattern, we managed over two days between charges, which is par for the course these days.
Verdict
Sony Ericsson has got the stylish, sophisticated music phone look off pat, and its smart W705 slider has plenty of appeal. It has a good, solid selection of attractive features, with Wi-Fi connectivity and its fine music player particular highlights. It's no do-it-all phone, though. The camera is lame and if you pine for GPS, you'll have to go for the Vodafone-only W715. ®
More Phone Reviews...
| | | | |
| --- | --- | --- | --- |
| Sony Ericsson Cyber-shot C510 | Nokia N85 | Samsung Armani | Nokia 5800 XpressMusic |