Original URL: http://www.theregister.co.uk/2009/03/13/review_networking_solwise_mobile_router/
Solwise 3.5G plus WLAN Mobile Server Router
DIY networks, wherever you go
Posted in Networks, 13th March 2009 15:02 GMT
Review Compact travel routers are nothing new, but they're generally limited to linking Wi-Fi devices to a wired network. Here at Reg Hardware we use an old but still handy ciggie packet-sized Netgear WGR101 unit to connect our laptops and iPhones to hotel Ethernet feeds.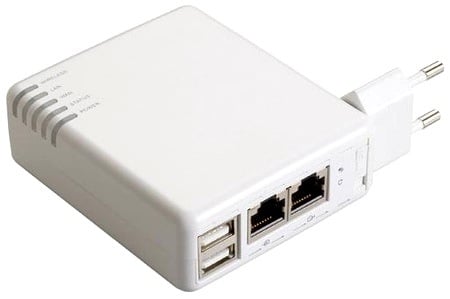 Solwise's 3.5G plus WLAN Mobile Server Router: small box, big name
Solwise's ungainly monikered "3.5G plus WLAN Mobile Server Router" does that too - and rather a lot more besides. In fact, so feature-packed is this gadget that, for once, the appellation 'Swiss Army Knife of...' really does seem appropriate. Indeed, we can't help wonder if it's not trying to do too much.
The MSR is about the size of a MacBook Pro power pack. It's 91 x 78 x 30mm in size with a three-pin plug attached to the side so it'll clip straight into a mains socket. It really resembles Apple's AirPort Express mini router in size and looks. There's a row of status LEDs toward the top. On what, when it's plugged in, is the bottom of the device, you'll find two Ethernet and two USB ports.
Our first niggle should be obvious to all at this point. What twit decided that the MSR's business end should face downwards, where it's least accessible, deserves a kick up the proverbial. Make sure you connect your cables before you plug the MSR into the mains, is our advice.
Like a travel router, one of the MSR's Ethernet ports takes the feed from a broadband modem or hotel network cable, while the other provides a way to hook up a wired device. Both ports are 10/100Mb/s rather than Gigabit, but this is a primarily mobile product, not something you'd install at home.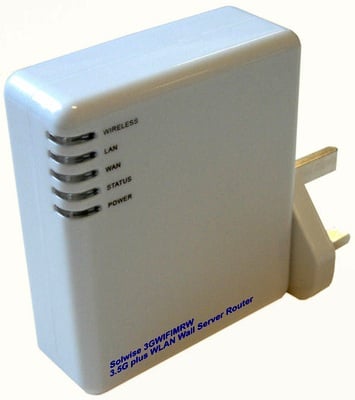 Compact
Then again, maybe you would. In addition to routing the WAN link through the second Ethernet port, the MSR will also tie it in to a number of wireless devices through its integrated Wi-Fi access point. It's only 802.11b/g rather than 802.11n, but its security extends to WPA - TKIP only, not AES - and will interface with a Radius authentication server if you have corporate ambitions.
Alongside the feed from your broadband connection, the MSR can talk to a USB HSDPA 3G modem and connect to the internet over the cellular network, a feature that sets it well apart from other travel routers. You can tell the MSR to use HSDPA as a fail-safe in case you lose your broadband link or as your prime method of internet connectivity.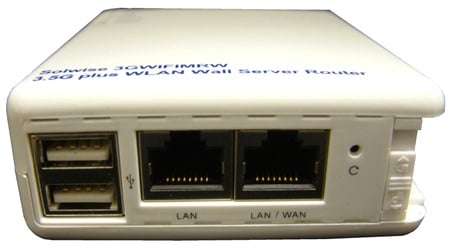 Why put these on the bottom?
That leaves the second USB port free for connecting a printer to be shared among the connected clients, for a storage device to be accessed by FTP or SMB, or for a webcam. The notion here is that you hook up a discretely placed USB camera to your MSR and, while you're away, use it to keep an eye on your home. Should Burglar Bill make off with your broadband router, the MSR can continue transmitting snaps over its HSDPA link.
The controls for all these servers are delivered through the MSR's browser-based management utility, which is surprisingly comprehensive for a device that's - nominally, at least - intended as a device you use only when travelling.
In addition to the various servers and network set-up options, the MSR will communicate with a quartet of dynamic DNS service providers so you can access the box and its connected resources remotely without having to check and remember its ISP-assigned IP address. It's UPnP compatible too.
Like a regular fixed-location router, the MSR provides network address translation (NAT) with support for a stack of virtual servers and one client exposed to the net as a DMZ. For all the other machines connected to it, the MSR runs a full firewall that's programmed against some 22 denial-of-service attacks as well as protecting network ports in the usual way.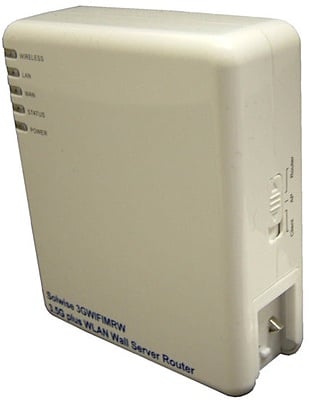 Flip the MSR between router, access point and wireless adaptor modes
Worried about the services clients are connected to? Then filter their target IP addresses and/or URLs, and limit usage according to MAC address. All three mechanisms can be controlled using the MSR's management utility, which will also let you create and oversee user accounts to manage access to shared resources, such as connected storage.
And if you really want to feel in charge, you can have the MSR email you log reports.
As we say, all this is largely what you'd expect a well-featured router to provide, either up front or tucked away under an Advanced Settings tab. But it's surprising to find all this stuff on a travel router. Incidentally, it'll also operate as a plain wireless access point or as a wireless pick-up for one Ethernet-connected device - just flip a switch on the side to set the mode you want.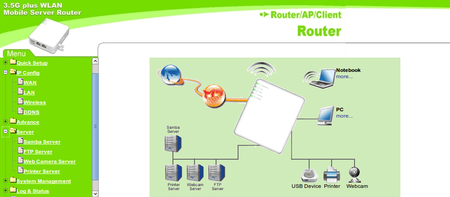 The web UI's basic but comprehensive
Could you use it as your main router at home? Possibly, but we found that its Wi-Fi signal wasn't as strong as the one in our own wireless router. It's hotel-room usable, we'd say, but it doesn't have the quite range of a regular router.
It seemed to operate more effectively with the unit set to Access Point mode, in which it simply acts as pipe connecting wireless and wired clients to a network's main router.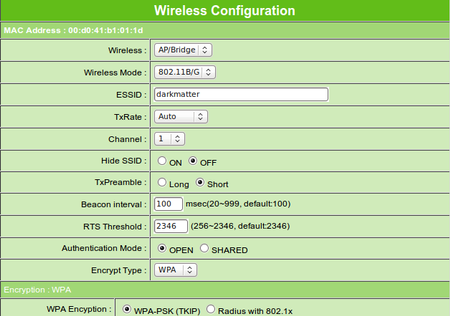 Create a WLAN or extend an existing one
HSDPA connectivity worked, but you should check with the Solwise website that the dongle you use is supported by the MSR, though every firmware update adds more to the list. Officially unsupported modems may work, but it's not guaranteed. Our Huawei E176 isn't listed, for example, but we could connect, and the MSR handed over to the modem when we yanked the cable connecting it to our broadband box. That said, it did have a habit of dropping the connection, but we can't, hand on heart, state that was certainly the MSR and not the 3G network.
We've already mentioned the positioning of the MSR ports as a niggle - others include the poor build quality of the mains plug mechanism and the fact the unit only comes with a UK plug. Solwise will sell you a European plug for two quid, but you're up the spout if you want a US or Australian one, say. Bit mean, that.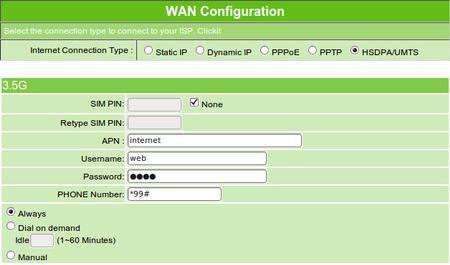 Enter your carrier's 3G dial-up details here
We also think the MSR's designer could have spaced out the USB ports a bit. You can get two standard USB plugs top to bottom, but anything thicker and you'll have to resort to extension cables.
You might want to think about an extension cable anyway, if you will be connecting a dongle. We're not convinced that plugging it into the MSR, where it's likely pointing down to the floor, is the ideal calculated to maximise 3G signal strength.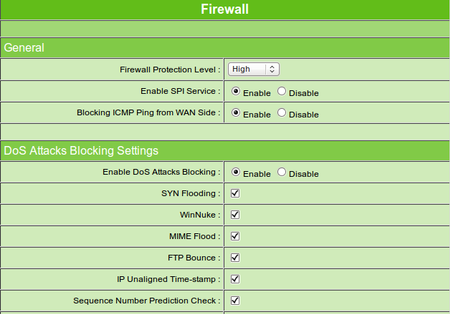 There's no shortage of security options
Solwise wants £60 for the MSR. From what we can tell from their websites, the likes of Netgear and Belkin no longer make travel routers, but you can find old ones still on sale for around £45. Cisco Linksys offers its WRT54GC 802.11b/g compact access point for a similar price. The aforementioned AirPort Express is £79, but brings you printer sharing, disk sharing and 802.11n.
The higher-speed Wi-Fi is nice to have, but by no means essential for ad hoc connections to hotel broadband links and the like. The AirPort Express' build quality is better than the MSR's though, and so is its Wi-Fi performance, but the Solwise box has a lot more functionality packed in. Both support up to ten connected users. We also like the fact that, unlike other products, both the MSR and the AirPort Express feature integrated AC adaptors so there's one less unit to worry about losing on your travels.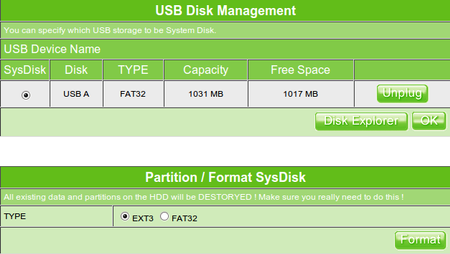 Add USB disks and share them
If you just want to quickly share a wired connection, go for the cheaper options. Take a look at the AirPort Express if it's fast Wi-Fi you want. But if you need 3G connectivity - on its own or as a fall-back - the MSR is the only real choice, especially if you want to share printers and hard drives while you're at it.
Verdict
Solwise's 3.5G plus WLAN Mobile Server Router is probably overkill for the traveller looking to share a hotel Ethernet connection among a number of wireless devices, but if you need something a little more heavy duty, with storage and printer sharing, and support for back-up HSDPA 3G connectivity - a small exhibition booth, perhaps? - it's well worth a punt. ®