Original URL: https://www.theregister.co.uk/2009/03/13/review_desktop_mac_apple_mac_mini/
Apple Mac Mini (Early 2009)
Is this modest upgrade enough to save the Mini?
Posted in Personal Tech, 13th March 2009 12:13 GMT
Review Someone at Apple must have a soft spot for the Mac Mini. Despite its superb design, the Mini has always been a bit of an under-achiever, and rumours of its poor sales and imminent demise have been going around for a couple of years now. Yet, as the song says, "good times and bum times, I've seen them all, and I'm still here".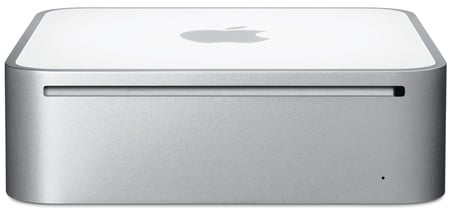 Apple's Mac Mini: never out of the iMac's shadow?
The good times followed its original launch in 2005. The Mini's ultra-compact design makes most so-called 'small form-factor' PCs look like the Incredible Hulk, and is ideal for home users who don't have much room to spare, or business users that just want a cheap machine for wordprocessing and spreadsheet work.
And with that original model starting at just £339 – albeit minus monitor, mouse and keyboard - it was far and away the cheapest Mac that Apple had ever come up with. It seemed ideally suited to its role as a tempting piece of bait for PC 'switchers' who were thinking about buying a Mac for the first time.
It also makes a darn fine media centre system. In fact, we currently have the last-generation Mini hooked up to a Samsung HD TV at home where it does sterling service as an all-in-one music system, DVD player and video recorder - with a little help from Elgato's EyeTV tuner.
Yet the Mac Mini had an evil arch-nemesis – and, lo, its name was 'iMac'. Apple doesn't do 'cheap' – never has, never will. It would far rather get you to buy an expensive iMac than ten low-cost Minis, so to prevent the Mac Mini from cannibalising iMac sales it has quite deliberately neglected the poor little thing over the course of its four-year lifespan.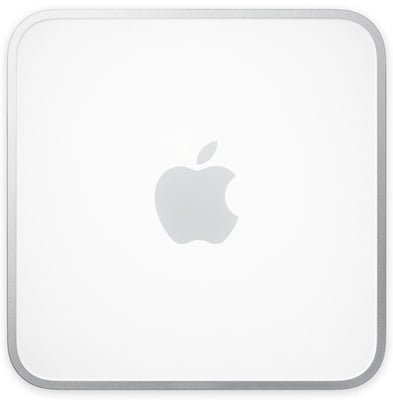 Makes for a rather nice media centre
The bum times arrived the following year, when Apple abandoned IBM's PowerPC processors and made its own 'switch' to Intel's processors. To prevent the Mini from treading on the iMac's toes, Apple saddled the little machine with the underpowered Core Solo CPU – and, at the same time, began to nudge the price upwards to the point where the all-in-one iMac actually seemed like better value for money.
The increasing popularity of laptop systems in recent years meant that the Mini was sidelined even further, and admirers of the Mini soon began to fear for its life. Yet, the Mac Mini is still here and has just received its first proper upgrade in almost two years. It's not the most adventurous of upgrades, but hopefully this means that game's not yet up for the Mini.

Externally, only the port array has changed with this update
Externally, the new Mac Mini is virtually identical to all its predecessors. The entire system is crammed into a square aluminium block measuring just 163mm (6.5in) wide and deep, and a mere 50mm (2in) high. However, there are a few interesting changes among the assorted interfaces and connected tucked away on the back of the unit.
There's an additional USB 2.0 port, which takes the total to five. We were quite pleased to see that the old Firewire 400 port has now been upgraded to Firewire 800, and interested to note that the Mini now has two separate video ports. The original DVI connector has been shrunk down to a Mini DVI – and, thankfully, there's a Mini DVI adaptor included in the box - unlike the pricey new 17in MacBook Pro - so that you can still connect it to an ordinary DVI monitor if you want to.
Apple has also found room to squeeze in the new DisplayPort interface that it uses with its new 24in Cinema monitor. You can even use both video interfaces to connect two monitors to the Mini at the same time. If you don't want to spend £635 on the Cinema monitor you can get a DisplayPort-to-DVI adaptor for £20, and use two DVI monitors, which might well come in handy in a few showrooms or boardrooms.
Gigabit Ethernet and digital audio input and output round out the connectors at the back, and there's also 802.11n Wi-Fi and Bluetooth 2.1 wireless tech built in as well.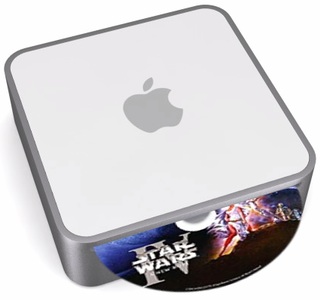 Movie time
The previous Mac Mini was available with either 1.83GHz or 2.0GHz Core 2 Duo processors, and cost £399 and £499, respectively. The £399 model has now gone altogether, while the £499 model remains in place with the same 2.0GHz processor, 1GB RAM and 120GB hard disk as before. That's not much of an upgrade, obviously, although the new model does increase the frontside bus speed from 666MHz to 1066MHz, and uses faster DDR 3 Ram.
The main change is the use of a new Nvidia GeForce 9400M integrated graphics processor to replace the feeble Intel GMA 950 integrated graphics used in previous models. As we've seen from its use in the new MacBook, it provides much better 3D performance than the GMA950. The improved graphics are welcome, but given that the 9400M grabs 128MB of system memory, this model really should have 2GB of Ram as standard – rather than as a £40 upgrade option.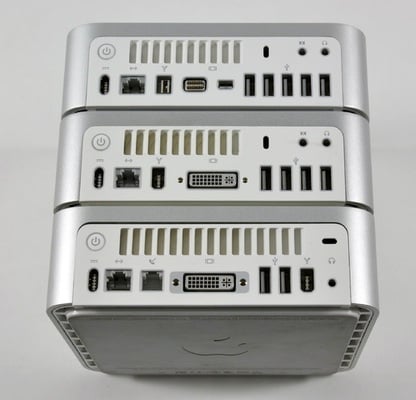 Three generations of Mac Mini
Photo courtesy iFixit.com
There's also a second model – which is the one we tested – that costs £649. The processor rather disappointingly stays at 2.0GHz, but the hard disk is increased to 320GB and the Ram to 2GB, which also allows the 9400M to use 256MB of system memory for graphics processing.
There's obviously no major change in processor performance, although our benchmarking tests do show that the DDR 3 memory produces a substantial improvement in memory performance. However, the 9400M graphics processor is the stand-out feature here, boosting the Mini's performance when running Doom 3 to 63f/s, compared to the mere 9f/s its predecessor could manage.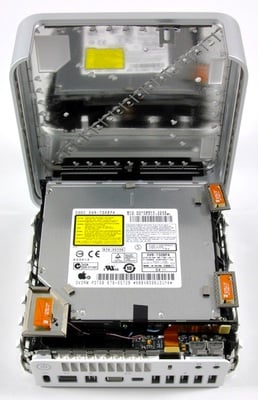 Accessing the innards
Photo courtesy iFixit.com
Apple also allows you to upgrade the processor to 2.26GHz for an extra £120, which would give you a pretty nice little desktop machine.
XBench 1.3 Results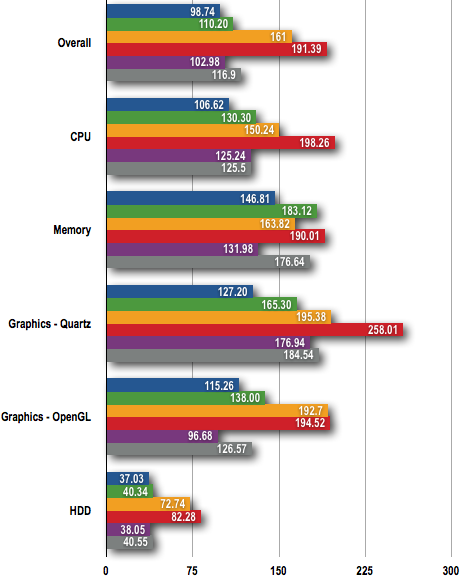 Longer bars are better

GeekBench Results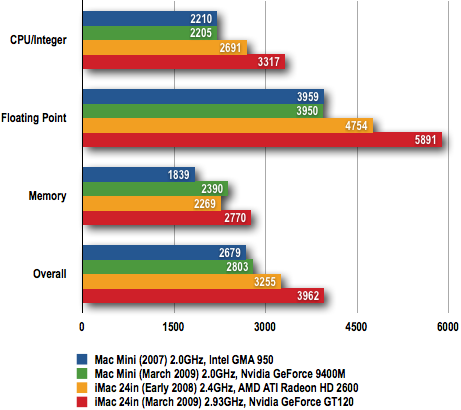 Longer bars are better
The only problem is that the price of the Mini is still steadily moving upwards, in exactly the same way as the prices of the latest MacBook and iMac models. A price tag of £649 for a 2GHz computer that doesn't even include a monitor isn't exactly a bargain these days, so the £499 model is probably better value for money, even after spending £40 to upgrade the Ram to 2GB.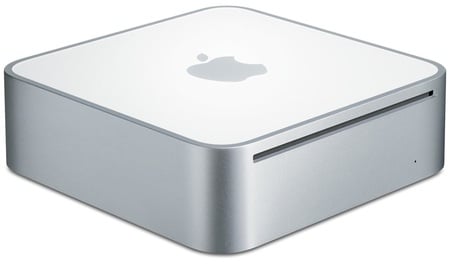 Looks good next to your telly or on your desk
That's still a bit more expensive than a small form-factor PC such as Dell's Studio Hybrid, which costs £449 with 2GHz processor, 2GB of Ram and a 250GB hard disk. However, the Mac Mini compensates with faster memory and frontside bus, as well as a more powerful graphics processor than the Studio Hybrid, so it's not outrageously over-priced.
Yes, how many Dollars you get for a Pound has changed, and that's largely responsible for Apple's price increases. But if the upshot - however benign the intention - is Apple kit looking rather more expensive than rival products, it'll put off many buyers who might otherwise have made the switch from Windows.
If you're thinking about switching from an old PC to a Mac for the first time, or have an ageing Mac that needs to be upgraded, then the £499 version of the Mac Mini is still a very good option – as long as you've got a decent monitor, keyboard and mouse that you can use with it. It's more than capable of running office software such as Microsoft Office or Apple's iWork suite, as well as handling a spot of video-editing in the bundled iMovie software.

Display, mouse and keyboard not included
The £649 model would be a lot more tempting if it had the 2.26GHz processor as standard. Let's face it – keeping the same processor speed for almost two years doesn't exactly suggest that Apple is putting its best foot forward with the Mini.
Verdict
Hopefully, this latest update will prove that there's still some life left in the Mac Mini. However, it's a shame that Apple doesn't really take off the brakes and allow the Mini to fulfil its true potential, even at the risk of challenging the almighty iMac. ®
More Mac Reviews...
| | | | |
| --- | --- | --- | --- |
| iMac 24in (Early 2009) | MacBook Pro 17in (March 2009) | MacBook Pro 15in (Late 2008) | MacBook (Late 2008) |