Original URL: https://www.theregister.co.uk/2009/03/12/totalise_warning/
Rogue international 'M&A advisors' target Brit ISP customers
FSA warns on 'Recovery Room' cons
Posted in Business, 12th March 2009 12:47 GMT
Exclusive Britain's financial watchdog has warned former customers of dotcom ISP Totalise to guard against "Recovery Room" share fraudsters, following a Register investigation.
Before going bust in 2002, Totalise PLC offered people who subscribed to its dial-up internet access the extra incentive of free shares in the company. Although Totalise stock sank rapidly on the Alternative Investment Market, London's junior stock exchange, thousands took up the offer.
When the ISP failed, its assets - including customers, brand and equipment - were bought from administrators by founder Peter Gregory. He quickly sold up to Brightview, an ISP group acquired by BT in 2007 for £15.8m. Today BT is the ultimate owner of the Totalise brand, but a spokesman said it has been dormant for years.
Meanwhile, Totalise PLC was dissolved and its stock rendered completely worthless.
Yet now, in 2009, Peterson and Jones Associates, a firm of "mergers and acquisitions advisors" purporting to be based in Bloomington, Illinois, is offering to pay more than £20 per share for Totalise PLC.
Register reader and former Totalise subscriber James Reader, a software developer from Derby, was targeted for the "deal" on Wednesday last week. A man from Peterson and Jones Associates rang his home phone, and identified himself as "Jacob Constantine" working in the firm's "acquisitions department".
"At first he sounded vaguely plausible," James said. "He claimed they were in Chicago and was reeling off a list of British financial services clients like Axa, Sun Life and Lloyds of London."
Constantine explained that Peterson and Jones Associates was acting for a private client who wanted to buy up the worthless Totalise shares at a considerable premium. "It was when he mentioned me paying an insurance deposit in escrow that my bullshit detector went off the chart," James said.
The unsolicited caller pressed on and out of curiosity James agreed to receive a Non-Disclosure Agreement (NDA). Constantine said all the details of of the deal would be revealed once he had sworn absolute secrecy.
Having already taken the view that Peterson and Jones Associates was a scam operation, James read the emailed NDA and then ignored it. Constantine persisted in a second call on Friday, whereupon James "told him where he can shove his cunning plan", and contacted The Register.
For a firm with such an impressive roster of major transatlantic clients, Peterson and Jones Associates kept a very low profile until recently. Its web address, petersonandjonesassociates.com was registered on February 9 this year, according to Whois records.
The website's "History" section contains no information about the company's origin. Instead, it notes that "helping business owners realize their objectives from the sale of a company is a complex process that requires specialized skill, knowledge, judgment and resources".
The entire site names no clients, executives or staff, but gives a contact address at 1256 East Empire Street, Bloomington. Microsoft's Live Search Maps service shows the address is located in a neighbourhood of residential and small commercial developments.
Meanwhile, the Illinois Department of Business has no record of the firm in its database. It acts as the Mid-Western state's equivalent of the UK's Companies House. All limited liability companies and corporations must register with the state, a state official explained.
Sole traders and partnerships must register with their County Clerk's office, which for Bloomington is McLean County. When contacted, the local office found no record of Peterson and Jones Associates in its database.
Companies and individuals dealing in securities in the US are regulated by Financial Industry Regulatory Authority (FINRA). Its database contains no record of Peterson and Jones Associates either.
A trawl of the web revealed James Reader wasn't the only former Totalise subscriber to be contacted by the phantom firm last week. In a forum posting at the share dealing website The Motley Fool, user "skodaman" reported a similar experience. Peterson and Jones Associates offered him more than £20 for each share he was once granted in the now-dissolved PLC, he wrote, adding: "On the basis that if it sounds too good to be true then it probably is, I have hung up on them twice."
A wise move, because The Register's investigation indicates Peterson and Jones Associates is operating a booming type of advance fee fraud known as the Recovery Room.
Welcome to the Recovery Room
In a Recovery Room fraud, scammers identify a collapsed or worthless company — in Totalise PLC's case a company that no longer exists. The fraudulent firm obtains a publicly available list of shareholders and creates the appearance of a credible company. A call centre filled with "brokers" then sets about contacting the people who thought their shares were worthless with the news a mysterious buyer wants them and is willing to pay a handsome price.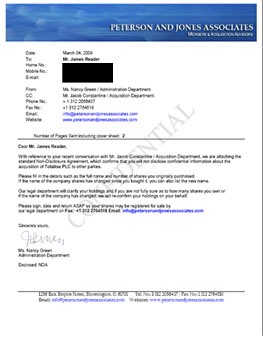 Top secret NDA
All the shareholder needs to do to capitalise, they're told, is pay an arrangement fee, or insurance deposit. Of course, they'll never see their fees or hear from their mysterious buyer again.
If the Recovery Room sounds familiar, it should. It is in essence a higher budget, more targeted version of a Nigerian 419 scam. It's also a sister con to the Boiler Room, which uses similar tactics to pump and dump junk stocks.
Often, financial investigators say, the Recovery Room is used as a follow-up by Boiler Room gangs to squeeze more cash out of their victims. Unlike the stocks typically promoted by Boiler Rooms, however, Totalise PLC was a legitimate venture, if misguided.
Reputable companies offering share-dealing services to UK customers from overseas are registered with the Financial Services Authority (FSA). Like FINRA, when contacted, the FSA said it has no record of Peterson and Jones Associates.
"Our advice if you're contacted would be to hang up straight away," Abi Jones, the FSA's spokeswoman on financial crime warned. "Our advice is that you don't deal with companies that aren't registered. There's a huge probability you're going to lose your money."
She said the fraudsters' addresses are typically fake and they use call forwarding services to obscure their true location.
When contacted by telephone on Tuesday, Peterson and Jones Associates declined to comment. The quality of the line was poor and there was high latency. The man who answered the phone asked us who was dealing with the purchase of our shares — when we explained we were making journalistic inquiries another man took over the call. Both men had Eastern European accents.
Asked repeatedly why the firm was not registered with US or UK authorities, and why no record of it exists in Illinois, the second man said: "Are you an educated man? Are you doing well in the market?"
He continued by suggesting we should do more research before calling Peterson and Jones Associates. Asked again why the firm was unregulated and unregistered he said, "I don't have time for this," and hung up.
Regulators expect the Recovery Room con to thrive as the recession takes down more publicly traded firms. The FSA wrote to 11,000 people in December warning them overseas share fraud gang activity was increasing. It seems the erstwhile shareholders of the mostly forgotten Totalise PLC were not on that list. ®
Update
Reg reader Owen writes (see comments) that the website of JR Hoffman and Associates, a "mergers and acquisition" firm purporting to be based in Montreal, Canada, is virtually identical to Peterson and Jones Associates' site.
Could the two be related? They certainly do appear to share a common ancestor. Marketing copy on both websites is the same as on that of Terranova Capital Partners, a legitimate New York investment firm.