Original URL: https://www.theregister.co.uk/2009/03/12/review_printer_kodak_esp_7/
Kodak ESP 7 all-in-one inkjet printer
Photo printing doesn't get much cheaper
Posted in Personal Tech, 12th March 2009 15:02 GMT
Review Not the best known name in all-in-one printers, Kodak now has a range of four machine. They all use the same print engine, but are differentiated by different levels of bell and whistlery. Among the claims Kodak makes for all of them is photo prints for just 7p each - cheaper than any other inkjet.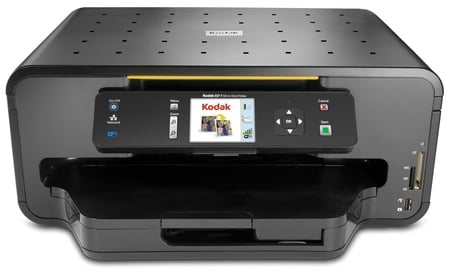 Kodak's ESP 7: promises cheap photo printing
The ESP 7 is the fourth release in Kodak's ESP range of all-in-ones and sits below the top-of-the-range ESP9, while still offering some of its sibling's best features. It's intended for the home, lacking as it does an automatic document feeder (ADF) and a fax facility.
Decked out in high-gloss and frosted black, the neat lines of the ESP 7 start with the curved edges to the scanner lid and finish with similar undulations in the paper tray bulge, which projects from its front. The lid has a simple pattern of small, indented squares and lifts to reveal a simple, A4 flatbed. In front of the scanner is a slightly empty looking control panel which lacks the fax number pad and touch-sensitive surface of the ESP 9.
The ESP 7 has the same size of colour display as its pricier sibling, though here it's a backlit LCD, rather than the brighter OLED. There's a square of navigation arrows, with an OK button in the centre, as well as dedicated Copy and Cancel job buttons.
Two paper trays bulge from the front of the machine, with the A4, plain paper tray holding up to 100 sheets of 80gsm paper and the separate photo tray taking up to 40 sheets of 15 x 10cm photo paper. When you request a photo print on small format paper, the photo tray slides into place automatically.
To the right of the paper trays are two memory card sockets which between them take most of the current types, including Microdrive in the CompactFlash socket. There's also a PictBridge-enabled USB socket at the bottom, for printing directly from cameras and USB Flash drives.

The control layout's straightforward if empty looking
The ESP 7, like all of Kodak's all-in-ones, uses two cartridges, one containing regular black ink and the other containing cyan, magenta, yellow and a "photo" black, together with a colourless overlay to protect the print. Lifting the scanner section up gives easy access to plug these two cartridges in and, apart from loading paper, this is the only physical set up the machine needs.
Kodak provides drivers for versions of Windows back to XP SP2 and to Mac OS X 4.8, but there's no specified support for other operating systems. The ESP 7 supports wireless networking and can be set to spot and adopt a network from the front panel. Application software is provided in the form of Kodak's AiO Home Center printing and scanning app.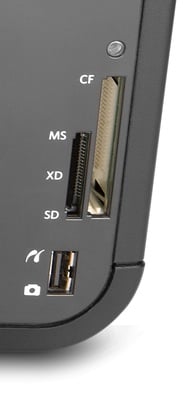 The standard mix of memory card and PictBridge sockets
Kodak quotes print speeds of 32ppm for black and 30ppm for colour, but for all practical purposes you can forget these. Our five-page black text document, printed in normal mode, took 1m 12s, equivalent to 4.2ppm, and the longer, 20-page test took 3m 58s, still only 5.0ppm. A five-page black text and colour graphics document took 2:28, a pretty slow 2.0ppm.
This machine can print duplex, and running the 20-page document through as a ten-page duplex test produced 3.9 sides per minute, or 1.9ppm. None of these speeds is very exciting, but they're not unduly slow for an all-in-one in this price bracket.
Best time for a 15 x 10cm photo print was 48 seconds, from an SD card, which is pretty respectable and the slowest was just over a minute, from a PC, which is still acceptable. A full page, colour photocopy took 41 seconds and this is, again, reasonable.
Print quality divides down into plain paper and photo paper prints, with black text on plain paper looking generally clean. There's a hint of minor feathering around some emboldened headline characters, but generally it's decent.
Colour graphics are usually OK, too, though large areas of fill can look mottled, which normally implies insufficient ink to saturate the paper fibres. Black text over colour isn't brilliantly registered and an unusual problem reproducing a section of WordArt in our test page meant that coloured fills broke the bounds of their character outlines. We suspect this is a driver problem.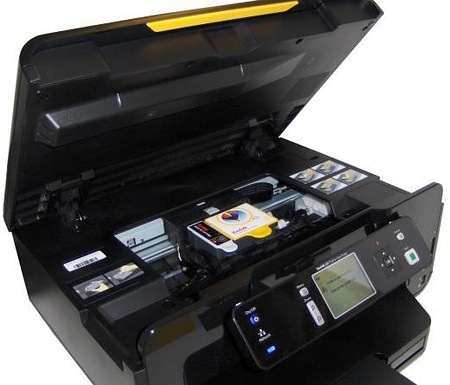 Maintenance is easy, with just two cartridges to fit
Photo output, on the other hand, is pretty good, with high levels of detail in the foreground of our test image and viewable detail in the shadows, which isn't always the case. Colours are natural and variegated areas of sky are handled smoothly.
The device can scan at up to 4800 x 9600ppi, so is more than capable of scanning photos for enlargement and grabbing text for optical character recognition. Scan quality is fair, with some lightening of colours, but nothing that can't be compensated for through software.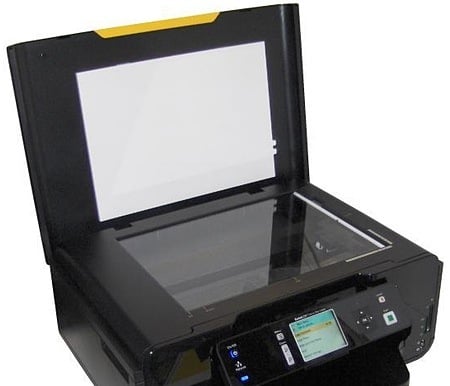 The ESP 7 delivers good scanner quality
One thing not normally noticeable in an inkjet all-in-one is a high noise level. While the ESP 7's print engine is quiet enough, its paper handling is another matter. Although there's no ADF, paper feed from either of the two trays generates a lot of noise. We measured peaks of 68dBA at half a metre, louder than many laser printers. It's all the more noisy because it will often be used in a quiet home office, where it hasn't got general background noise to mask it.
The only running costs are the two cartridges and if you shop around you can find these for about £5.60 for the black and £8.20 for the colour. This gives a cost per ISO black page of about 1.6p, with 2.2p for a colour one. These figures are low, compared to, for example, the HP Photosmart C6380 which, on the same calculation, produces figures of 1.9p and 6.1p, respectively
So what about that 7p headline figure for a 15 x 10cm print? It is possible to achieve this, by buying your consumables in one of Kodak's Photo Value Packs. Each of these packs contains a five-ink cartridge and 180 sheets of paper. There's the Photo Value Pack and the Premium Photo Value Pack, the difference being the quality and thickness of the paper. The base level Photo Value Pack can be had for around £11, giving a cost per print of just over 6p.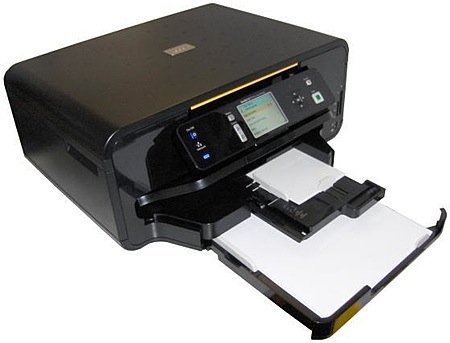 Two paper trays: one for photos, one for plain
Kodak resolved to sell on price when it first launched its 5000 series of all-in-ones a couple of years back. It has continued to keep its consumables prices low, so maintaining the lowest range of running costs for small office and home office all-in-ones currently on the market.
Verdict
This is generally a good all-in-one, with reasonable print quality on plain paper, excellent photo quality and very low running costs for a comparatively low-cost inkjet. True, it's slow and noisy, but these two attributes are outweighed by the main things most people buy a printer for: good print quality and low running costs. ®
More All-in-One Printer Reviews...
| | | |
| --- | --- | --- |
| Brother MFC-990CW | Epson Stylus Photo PX800FW | Brother MFC-5890CN |