Original URL: http://www.theregister.co.uk/2009/03/12/review_desktop_mac_apple_imac/
Apple 24in iMac (March 2009)
Not enough of an upgrade?
Posted in Personal Tech, 12th March 2009 09:02 GMT
Review Having given its entire laptop range a thorough overhaul in recent months, Apple has now turned its attention to its desktop machines, starting with the iMac and with the Mac Mini and high-end Mac Pro to follow.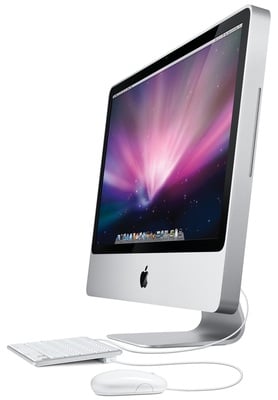 Apple's 24in iMac: what's new is largely under the bonnet
However, the new iMac is a more modest affair than many of us might have hoped for. To be fair, it is a perfectly respectable update, but the iMac hasn't received anything like the complete redesign that the MacBook range enjoyed back in October.
The basic design remains unchanged – which, in itself, is something of a disappointment for those of us that have watched the ever-changing shapes and colours of the iMac over the years. It retains the slimline, all-in-one aluminium design that it has been using since 2007, with only a handful of minor cosmetic alterations.
There's an extra USB 2.0 port tucked around the back of the unit, giving a total of four ports altogether, and the stand seems to be slightly narrower. In fact, the biggest external change is the arrival of yet another new Apple keyboard.
This, it has to be said, is little more than a toy. It does look very neat, being constructed out of a single sheet of aluminium as seems to be de rigueur for Apple products these days. But it's far too small for a proper desktop keyboard. It's actually a wired version of Apple's compact wireless keyboard, which is only really suitable for balancing on your lap while you do a spot of web browsing or using the machine to play music and videos. It's not much use if you want to do anything as mundane as typing in Word or Apple's alternative, Pages.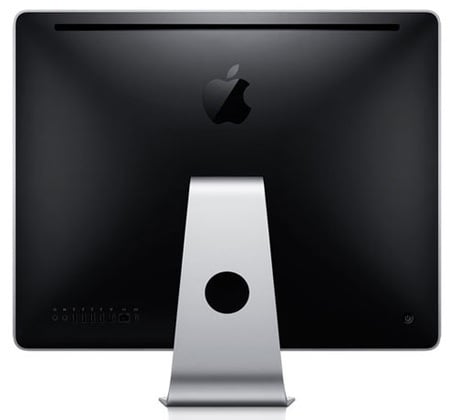 Still no height adjustment
There's no numeric keypad either, so forgot about doing boring old spreadsheets in Excel or Numbers. Apple does sell a larger keyboard for £38, but if, like us, you actually use your iMac at work then you're better off with a decent Mac-compatible keyboard from Logitech or - dare we say it - Microsoft.
Oh, and that reminds us of our other long-standing complaint about the iMac: you can't adjust the height of the monitor. When it comes to monitors, mice and keyboards, Apple still puts form ahead of function. Apple's designers might want to bear in mind that balancing your iMac on top of a stack of telephone directories – as we do to adjust the height of the screen – doesn't really help the look of the machine.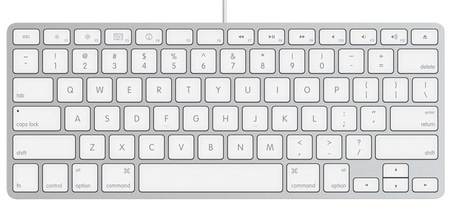 The iMac's new keyboard: nice design...
With that off our chest, let's glance across the new iMac range. There are four models available now, starting with a solitary 20in model with a 1680 x 1050 screen resolution, priced at £949. This is equipped with a 2.66GHz Core 2 Duo processor, 2GB of DDR 3 RAM, a 320GB hard disk running at 7200rpm and an Nvidia GeForce 9400M integrated graphics chip that takes up to 256MB of system memory. Other features that are standard on all iMacs include four USB 2.0 ports, Gigabit Ethernet, 802.11n Wi-Fi, Bluetooth, a built-in webcam and the latest – and rather impressive – version of Apple's iLife software suite. There's also a Firewire 800 interface, as before, but the additional Firewire 400 interface found in previous models has now been replaced by the fourth USB port.
That's the entry-level model for the iMac now, and while it's certainly more powerful than its predecessor, it also bumps up the entry-level price-point from £782, mirroring the creeping price increases in the MacBook range. This 20in model is still cheaper than copy-cat rivals such as Dell's all-in-one XPS One machine, which costs £1099 for a 20in model with 2.33GHz processor, but it's a shame that the entry-level point for the iMac is now so high, as this could deter some of the PC 'switchers' that have been swelling the ranks of Mac users in recent years.
Or possibly it's a cunning ploy to boost the sales of the less expensive Mac Mini – you never know with Apple.
There's also a 24in model with 1920 x 1200 resolution that runs at the same speed and doubles the RAM and hard disk space and costs £1199. However, the model that we tested was the next step up in the range, priced at £1499 and equipped with a 2.93GHz processor, 4GB of RAM, a 640GB hard disk and a more powerful GeForce GT120 graphics processor with 256MB of dedicated DDR 3 video memory.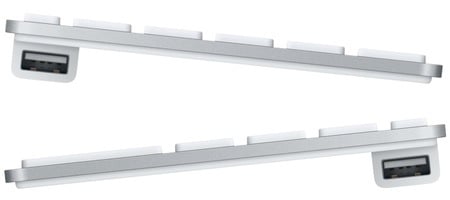 ...unless you're a typist
As we anticipated from the processor speed and use of DDR 3 memory, the 2.93GHz iMac outperformed all the other Mac models we've seen in so far. The GT120 graphics processor was a bit of an unknown quantity, but it helped the iMac hit 120f/s in Doom 3, which is the highest score we've seen from any Apple machine other than the high-end Mac Pro.
This iMac can also be upgraded using Apple's build-to-order store to 3.06GHz for a further £100 – which hardly seems worth it – and we were mightily amused to see that Apple will charge you an extra £800 to upgrade the memory from 4GB to 8GB. It'd be cheaper just to buy two 4GB iMacs and stick them both on your desk...
Alternatively, if you've got that much cash burning a hole in your pocket there's one last model, a top-of-the-range boy which costs £1799 and includes a 3.06GHz processor, a 1TB hard disk and a GeForce GT130 graphics processor.
GeekBench Results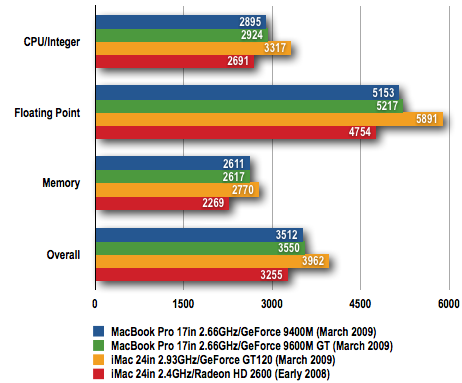 Longer bars are better
XBench Results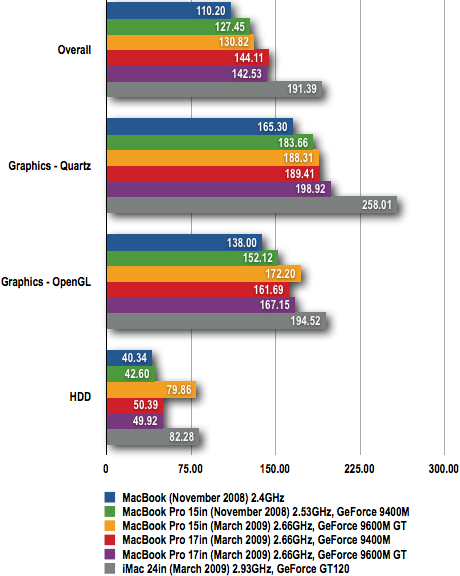 Longer bars are better
Again, the prices of all these models seem to be slowly creeping upwards when compared to their predecessors, and it's both disappointing and puzzling that Apple is increasing its prices during a recession. Apple's pricing has been a lot more competitive since it adopted the same Intel processors as all its PC rivals, and it would be a shame if it risked losing its recent market share gains by returning to its high-priced habits of old.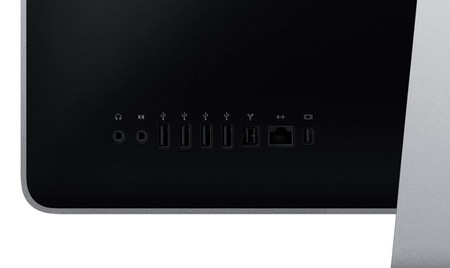 Bye-bye, Firewire 400...
And, of course, there's the little matter of Intel's new Core i7 processor, which is nowhere to be seen in the new iMac range. We wouldn't expect to see the i7 in the lower-end models, but its omission in even the high-end £1799 model looks like a missed opportunity. At the moment, the i7 is still mainly being used in high-end gaming machines, and that's a market that Apple just doesn't operate in, so they're not risking too much by passing it up for now.
Even leaving the i7 aside, there's still no quad-core option available, even to folk wanting a build-to-order machine. All three speed grades of iMac still use a Core 2 Duo processor. Yes, they're laptop CPUs, but Intel does make a four-core chip for notebooks. Cooling shouldn't be that much of an issue, surely?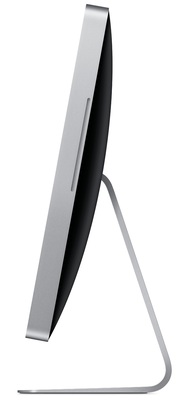 A laptop on a stick
Verdict
If you're looking for a compact and stylish desktop machine then the new iMac will fit the bill very nicely. The 24in, mid-range model reviewed here is certainly the most powerful iMac we've ever seen. But nobody buys a Mac just because they want an extra few MHz here or there. We can't help remembering that the original iMac was a low-cost machine with an exciting design that sold like hot cakes and rescued Apple from oblivion in the process. You do get significantly more bang for your buck with the latest models, but it's a little worrying that you now have to budget the best part of £1000 even for the cheapest model.
But more than anything else, this latest update just seems rather unadventurous. Mac fans are used to seeing exciting new designs from Apple on a regular basis – and they got that just a few months ago with the totally redesigned MacBook. At the moment, it's the MacBook that is really Apple's flagship product and we'd like to see a more ambitious iMac upgrade that restored it to its former glory once more. ®
More Mac Reviews...
| | | | |
| --- | --- | --- | --- |
| MacBook Pro 17in (Early 2009) | MacBook Pro 15in (Late 2008) | MacBook (Late 2008) | White MacBook (Early 2009) |