Original URL: https://www.theregister.co.uk/2009/03/12/crazy_car_designs/
Designers mock up bonkers 'leccy car concepts
The future of motoring?
Posted in Science, 12th March 2009 11:00 GMT
'Leccy Tech "When I was a child I spoke as a child, I thought as a child, I reasoned as a child. But when I became a man I put away childish things."
So saith the Good Book. Doesn't say anything about putting away the sort of cars you though were cool when you were 12 years old, though, and with that in mind lets have a shoofty at what what some folk reckon the future of the 'leccy car should look like...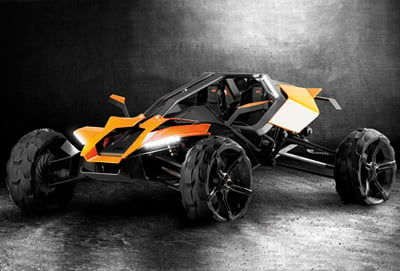 The KTM AX: another Halo-inspired EV?
First up, is the KTM AX, a design concept created by students and staff at FH Joanneum University in Austria with the support and approval of KTM. It features four in-wheel electric motors, individually steerable wheels and a lightweight aluminium space frame chassis.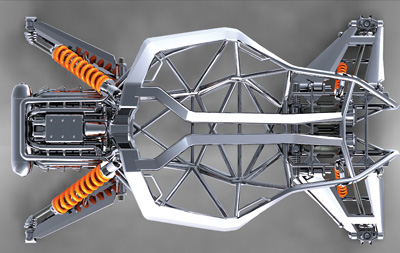 Designed by students...
The phenomenal ground clearance shouldn't so much give good off-road performance as allow drivers to ford large rivers and cross mountain ranges.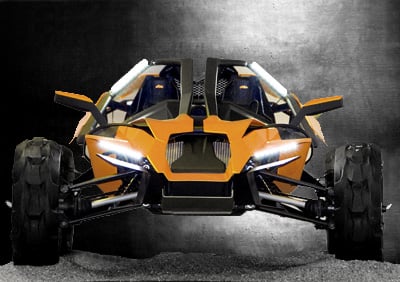 ...driven by the Master Chief
If snow and ice rather than rough terrain is the issue on your daily commute then you'll be wanting a Th!nk Frost, the crazed imagining of Norwegian designer Anders Gloslie who is currently studying at the IED Torino in Italy and reckons Th!nk should be building something rather more interesting than the wholly awful plastic City – a viewpoint Reg Hardware heartily agrees with.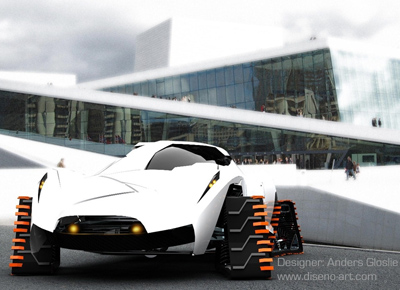 Anders Gloslie's Th!nk Frost: radical tyre design
The tracked wonder is electrically propelled and like the AX features all-wheel steering. Those vast fans at the back are to help cool the battery pack and leccy motors – it would be churlish of us to point out that in the Frost's natural habitat keeping the lithium-ion batteries warm will be the problem, not keeping them cool.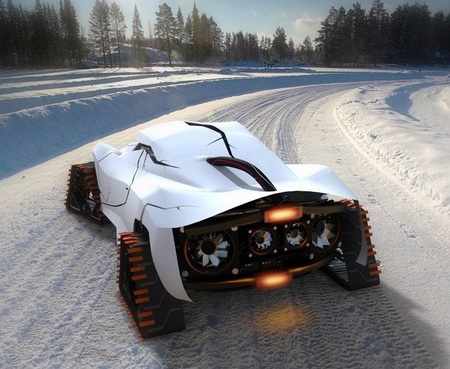 Skid rock
That odd looking 'carry handle' over the rear bodywork is apparently an "information hose" that takes measurements of the wind speed and temperature and relays the information to screens both inside and outside the vehicle. Why, we;re not sure – surely all the white stuff tells you what it's like outside: bl**dy cold!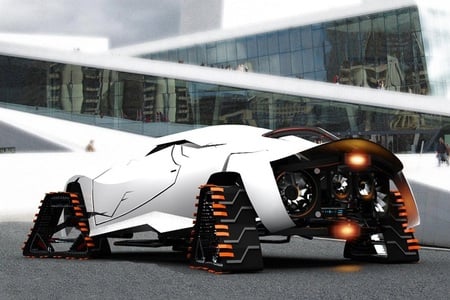 Snow detector included
The asymmetric bodywork is supposed to mimic natural ice formations with the lighting system hidden in the resultant gaps. Could make the thing a bit of a bugger to find in a dark Stavanger pub car park in the depths of winter after a few pints, though...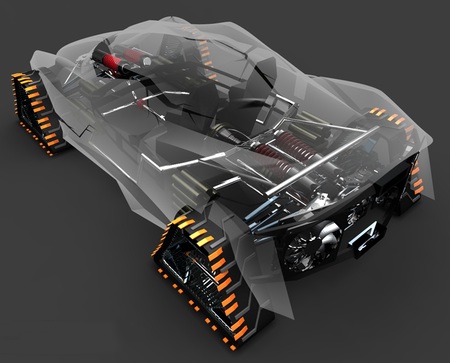 'Mr Wayne is very interested in your design, young man...'
Of course neither the AX or the Frost will ever get beyond being student CGI hallucinations, alas. Even KTM wouldn't be mad enough to build the AX... ®