Original URL: https://www.theregister.co.uk/2009/03/10/review_phone_sony_ericsson_cyber_shot_c510/
Sony Ericsson Cyber-shot C510
Who says Cyber-shots have to be high end?
Posted in Personal Tech, 10th March 2009 09:02 GMT
Review Like the rest of the mobile big boys, Sony Ericsson has been upping its cameraphone firepower, with top-of-the-range, multi-megapixel sharpshooters like the 8.1Mp C905 and the forthcoming 12Mp Idou flying the flag for its photo-centric Cyber-shot line-up.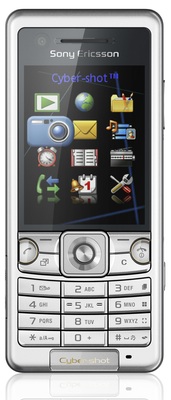 Sony Ericsson's Cyber-shot C510: a nicely proportioned, slimline handset
But as well as these flagship mobiles, Sony Ericsson has been taking care of business lower down the Cyber-shot phone ranks, by introducing the C510 as its most affordable Cyber-shot handset yet.
The C510 doesn't flex the big megapixel muscles of its more upmarket sibling - it packs a modest 3.2Mp camera - but it does cram in a decent range of camera gadgetry to go with it, including face detection and Smile Shutter software.
Sony Ericsson has also loaded up this HSDPA 3G phone with a familiar roster of mid-range features and media applications. As well as standards like the YouTube viewer, Google Maps and picture-sharing apps, on its version of the C510, UK operator 3 has also added a Facebook application, Skype and Windows Live Messenger to the mix.
Sony Ericsson doesn't veer too far out of the ordinary with the C510's candybar design. It's a nicely proportioned, slimline handset that resembles the C902, albeit without any of that model's touch-control.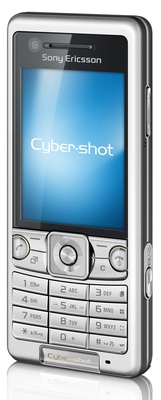 Easy on the pocket and the hand
Measuring a reasonable 107 x 47 12.5mm and weighing 92g, it's easy enough on the pocket and feels robust in the hand. Its bodywork is finished in black with silver and steel-blue trim, or silver with grey edging. It's an understated but classy look.
The numberpad keys are ample, slightly angled and well separated for easy tapping. They have a pleasingly responsive action for fast texting and number dabbing. A slightly raised square navpad tucks up close to soft-menu keys and control buttons, which are subtly curved for more reliable finger guidance. All in all, a sensibly arranged bunch of buttons that are a breeze to use in regular phone mode.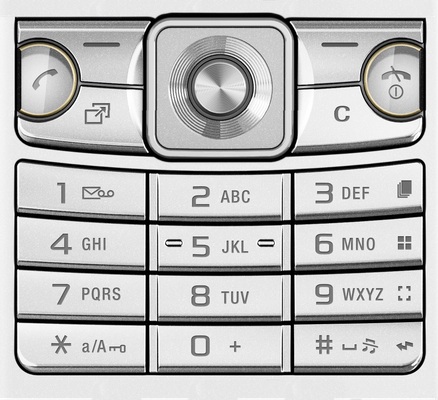 Ample keys and a decent control layout
The soft-menu key design does become problematic in landscape camera mode, where the positioning of on-screen soft-menus can get you straying onto the adjacent call end button when making adjustments. They're squeezed very close, so careful pressing is required.
The scratch-resistant display is a fine-looking 2.2in, 240 x 320, 262,144-colour TFT that's bright and clear. A motion sensor is built in for flipping the screen between sideways and upright, depending on how the phone's being held.
Operating the menus is straightforward, with a grid of icons on the main menu leading to tabbed lists as you delve deeper into the system. Options are mostly intuitively arranged, while the navpad and soft-menu keys, plus the Activity Menu key on the control panel, offer additional shortcuts to often-used applications.
The most distinctive design touch, though, is around the back, with a neat up-and-over sliding panel protecting the camera lens and LED flash. Closed, the back panel is flat and flush, with no sign of a camera apart from the Cyber-shot branding. Slide the top section down a centimetre or so, and the camera is revealed, automatically switching the phone into Cyber-shot mode.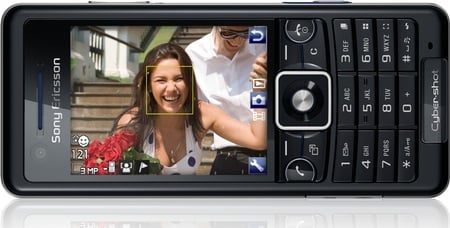 The camera UI is standard Cyber-shot fare
The camera app has a similar user interface to the more up-market Cyber-shot handsets, presenting an intuitive way of working the shooter and making adjustments to the settings.
You can get up and snapping quickly - the camera fires up from standby in a couple of seconds. A dedicated camera key on the side becomes a shutter button that provides a two-step autofocus trigger, with a narrow focus finder on screen.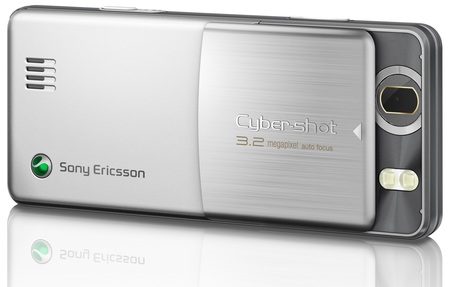 The 3.2Mp camera: now you see it...
Sony Ericsson's excellent BestPic multi-shot technology isn't included on this particular model, but face detection allows the camera to automatically identify up to three faces when taking an image, and focus on the one you want, even if it's off-centre.
The Smile Shutter option goes a step further: press the camera button halfway and it can detect those three faces, but press it to capture and it snaps only when it sees the subject is smiling. Both work remarkably well within a reasonable range of around two to three metres.
There's a variety of shooting scene options for different shooting conditions, plus auto white balance overrides to cope with various indoor and outdoor lighting situations. The usual colour effects and frame gimmickry are to hand too. Although there's no satnav functionality on board the C510, images can be tagged automatically with positional information using approximate basestation triangulation. Images can be viewed on maps showing where they were taken, either in Google Maps on the phone or on other suitable apps.
Shooting quality is pretty good for a 3.2Mp camera. In decent lighting conditions, you can capture images with a reasonable level of detail and sharpness, and colours are bright and accurate, with good reproduction of subtle tones. Contrast and auto exposure are adequately responsive too. The auto metering system works efficiently, focusing swiftly and accurately, while the macro mode allows for pleasingly crisp close-ups.
In parts of images with lower illumination, picture noise is apparent. The dual-LED flash has only limited effect in low light situations. We were disappointed by the darkness of some of its shots, even those just a metre or so away from the subject.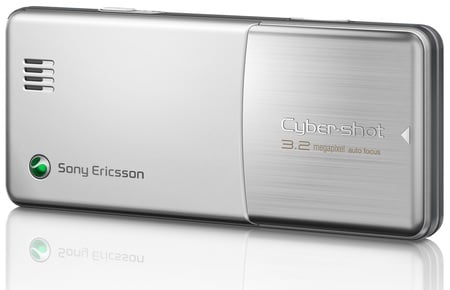 ...now you don't
If you need to tweak shots, there's Photo DJ editing software on the phone or Adobe Photoshop Album Starter Edition, which Sony Ericsson bundles with the handset. Shots can be uploaded to any suitable web site, though the phone's pre-configured for Blogger, MySpace and Picasa.
Video clips can be uploaded to websites just as easily. The C510 can capture footage at limited 320 x 240, though its 30f/s recording rate provides smooth playback.

There's no bundled M2 memory card here
The C510 doesn't come with a memory card, although it does support Memory Stick Micro card expansion. The 100MB of on-board memory will need supplementing if you want to make the most out of the phone's media apps.
The music player may not be Walkman-branded, but it still delivers a very respectable audio performance. The UI is very intuitive and simple to operate: it's configured with track categories set up for artists, albums, tracks, playlists, audio books and podcasts. Tunes can be synced using Sony Ericsson's supplied Media Manager software, dragged and dropped in USB mass-storage mode, or transferred wirelessly using Bluetooth.
Sony Ericsson has again chosen to hook up its earphones using a proprietary plug on the side, and unlik Walkman earphones, the supplied headset doesn't feature an in-line 3.5mm adaptor. The C510's earphones are of average quality but they do an acceptable job. Wire-free A2DP Bluetooth stereo headphones can be used too.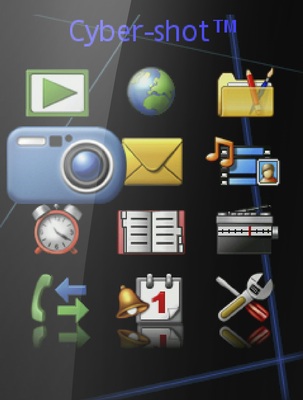 Sony Ericsson's standard menu layout
Listening to the on-board speaker isn't too harsh on the ears – it can be cranked up loud without excessive distortion, though it's typically short on bass frequencies. The functional FM radio can be piped through the speaker too. Sony Ericsson's TrackID song identification software can be used with the radio, as well as for getting details of tracks you hear around you.
Alongside TrackID, Sony Ericsson stocks the C510 with plenty of other familiar mid-tier applications. An won-brand web browser delivers pages quite speedily over HSDPA, optimising pages to the C510's screen and providing Sony Ericsson's more-intuitive-than-most home screen layout with Google search and address bars. There's no Flash support, though.
A neat Bluetooth remote control app is included to drive suitably equipped PCs. Three games are slotted in too, including a motion-controlled car racer.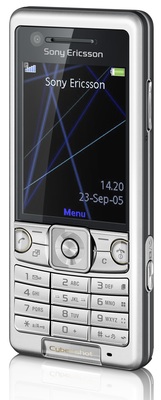 YOUR_CAPTION_HERE
The C510 handles messaging capably, with email and instant messaging support, plus the facility to link messages from particular users in 'conversations'. Other organiser functionality and tools include a calendar, tasks and notes functions, timer, stopwatch, calculator, a code memo store for PINs and passwords, and a sound recorder.
Clear and reliable communication is always a basic requirement on any handset, and the C510 managed a first class, no-nonsense voice call performance. It put in a healthy battery performance too. Sony Ericsson rates the C510's battery pack as able to last for up to 350 hours standby on 3G networks, or 400 hours within GSM coverage. Optimum talktime is estimated at up to four hours on 3G, or up to ten hours on GSM. We managed two to three days between charges, with average levels of usage.
Verdict
The Cyber-shot C510's camera credentials may not be up there with the latest, greatest cameraphones, but it takes a decent picture within its limitations – although low-light shooting performance isn't pretty. This isn't a Cyber-shot phone to pick off any of the high-end cameraphones, but it still has a decent amount of features for a mid-level handset, offering good value for money. Familiar territory for Sony Ericsson, in other words. ®
More Cameraphone Reviews...
| | | | |
| --- | --- | --- | --- |
| Sony Ericsson C905 | LG KC780 | Nokia N85 | Samsung Pixon |