Original URL: https://www.theregister.co.uk/2009/03/10/review_laptop_apple_macbook_pro_17in/
Apple 17in MacBook Pro
How much battery life? How big a price tag?
Posted in Personal Tech, 10th March 2009 13:02 GMT
Review When Apple overhauled its laptop range towards the end of 2008, the 17in version of the MacBook Pro got the short end of the stick. While both the consumer-oriented 13in MacBook and the more expensive 15in MacBook Pro were revamped with Apple's new 'unibody' aluminium design, the 17in model was left with the same 'titanium' design that it's had for the last few years.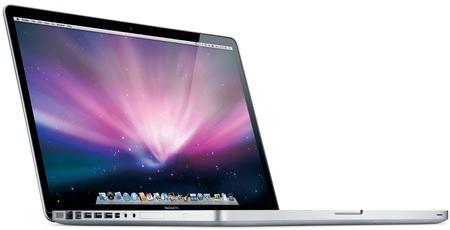 Apple's 17in MacBook Pro: a unibody, at last
There were some minor improvements: the screen resolution was bumped up from 1680 x 1050 to 1920 x 1200, while the Ram was increased from 2GB to 4GB and the hard disk from 250GB to 320GB. Those relatively minor changes resulted in a price increase of about £100 over the previous model, yet the machine's 2.5GHz Core 2 Duo processor was left unchanged, as was its aging GeForce 8600M GT graphics processor.
In contrast, the 15in MacBook Pro models boasted a new graphics system that includes both an integrated GeForce 9400M and a more powerful – and battery-hungry – GeForce 9600M GT with its own 512MB of video memory.
It was fairly obvious that the 17in model was due for the full unibody upgrade treatment in the near future, but Apple simply wasn't prepared to commit itself to a date.
Now, three months later, the 17in MacBook Pro has finally received the proper overhaul that we've all been expecting. The unibody design is present and correct, and its minimalist style makes the unit look about as neat and compact as is possible for a 17in notebook to be.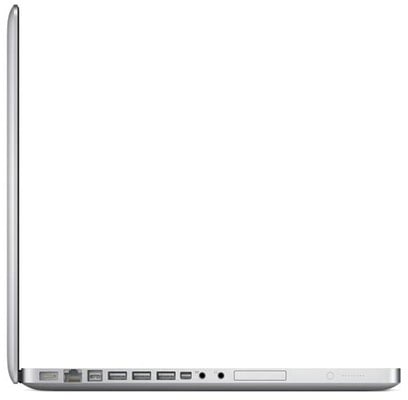 DisplayPort in, Firewire 400 out
It also allows Apple to shave a tiny amount off both the size and weight so that it can claim that the 24.5mm (0.98in) thickness and 3kg (6.6lbs) weight make this "the world's thinnest and lightest 17in notebook". You still need two hands to lift it – or at least we did – but it's certainly a more compact affair than our 17in Dell XPS laptop.
Take a sideways look at the slim profile and you'll see all the machine's interfaces and connectors sitting in a neat row on the left-hand side of the unit. There are three USB 2.0 ports and a Firewire 800 port, Gigabit Ethernet, DisplayPort, digital audio input and output, and an ExpressCard 34 slot.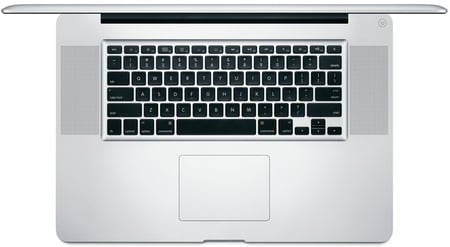 A really big - 5in - trackpad
Oddly, though, the thing that we noticed most about the outer appearance of this model was that it has a really big trackpad. It has the same button-less glass trackpad as the other new aluminium models, which allows you to 'click' items simply by pressing down on the surface of the trackpad itself, rather than using a separate button. But on this model the trackpad measures a full 125mm (5in) diagonally – an increase of 39 per cent, according to Apple – which means that you can click on it with one finger to select an item, and then still have plenty of room to use another finger to drag the item around the screen.
It's one of those things you have to try for yourself to appreciate properly, but we felt that this works particularly well with the increased size of the trackpad. The same applies to the option to set aside one corner of the trackpad to act as the 'right-click' button, as there's less chance of accidentally tapping the right-click corner by mistake now. The slightly concave shape of the keys on the keyboard feels very comfortable too, and you've even got the ability to adjust the brightness of the backlit keyboard when you're in a darkened room or aircraft cabin.
The most eye-catching feature, of course, is the 17in display. This LED-backlit screen certainly provides admirable image quality – bright, sharp and colourful - "60 per cent more colour!" Apple's executives told us gleefully, though on further questioning it appears that this was a reference to the display's colour gamut - and it has the glossy, reflective finish that is now standard across Apple's laptop range.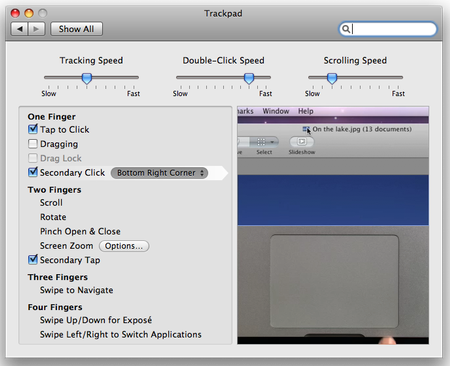 Earmark a section of the trackpad for right-clicking
We know that this drives some people to distraction – though we've never been overly concerned by it ourselves – and also annoys some professional users for whom colour consistency is an important issue. Apple used to provide an 'anti-glare' screen option at no extra price, but it claims there has been relatively little demand for it and now charges an extra £35 to have it installed.
And, while you're noting down the cost of various added extras, you may need to earmark another £20 for an adaptor that will allow you to connect the MacBook Pro's DisplayPort connector to an external DVI monitor. Previous models included a number of display cables convertors, but this latest model includes nothing but its own power line. Cutting corners on a less expensive model such as the basic MacBook is one thing, but it puts your nose a bit out of joint when you're paying almost £2000 for a new laptop.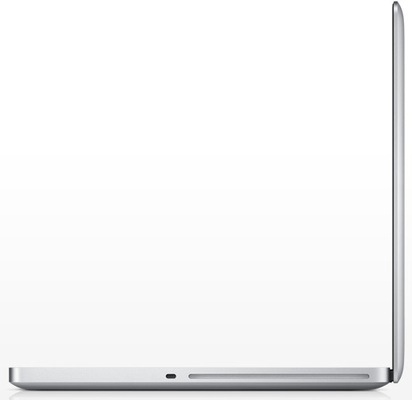 Yes, there's a 16x multi-format DVD burner - but still not Blu-ray
Cables and cosmetics aside, it's the internal redesign that has been attracting the most attention with this model. The good news is that the processor and graphics sub-systems have been updated so that the 17in MacBook Pro can match the performance of its 15in counterpart once more.
There's just a single version of the 17in MacBook Pro available off the shelf, priced at £1949. This now has a 2.66GHz Core 2 Duo processor, 4GB of DDR 3 memory, a 320GB hard disk running at 5400rpm, and the twin GeForce combo of the 9400M and 9600M GT. The frontside bus and memory speeds have both been increased to 1066MHz, compared to, respectively, 800MHz and 667MHz in the previous model, so there should be an extra little performance boost there as well.
That price compares with £1712 for the 15in model with a virtually identical specification - although the review model that we tested back in October actually ran at 2.53GHz, before being tweaked to 2.66GHz recently.
As you'd expect, the 2.66GHz processor in the 17in model allows it to nudge slightly ahead of the 15in" model running at 2.53GHz in terms of processor performance. There's a slight hiccup on graphics performance when using the GeForce 9600M GT in the 17in model, as it falls fractionally behind the same graphics processor in the 15in model - the higher resolution screen means it has more pixels to push in the bigger machine. However, the gap between the two is small enough to fall into the 'margin for error' category.

Svelte
If you're prepared to bust through the £2000 price barrier, there's also a build-to-order option on the Apple website that upgrades the processor to 2.93GHz for an extra £210, along with an optional 128GB solid-state drive for another £240. We also noticed that Apple's charging an exorbitant £800 to increase the memory from 4GB to 8GB – at least £200 more than it would cost to buy a similar 2x4GB kit online and install the new memory yourself.
The problem here – as we reported in February – is that upgrading the memory on this model is extremely difficult, so Apple's obviously taking advantage of this to rather cynically charge over the odds for its 'official' engineer-installed upgrades.
Oddly, though, one upgrade option that people might have been prepared to pay for is completely unavailable. Apple has stated that it doesn't want to get involved with the Blu-ray Disc format, so this HD-resolution laptop – aimed at creative users such as professional video-editors who might well be authoring their own Blu-ray content at some point – can't play BDs unless you can track down an external drive from a third-party manufacturer.
XBench 1.3 Results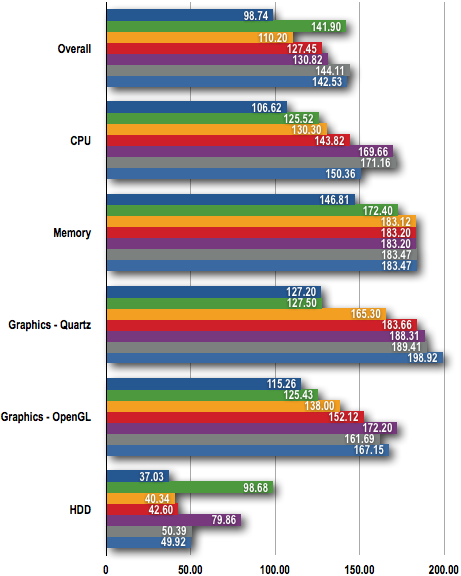 Longer bars are better

More controversial, though, is the 17in Pro's the sealed-in, non-removable battery. Apple's argument here is that the various latches and other components required to house a removable battery take up extra space inside the chassis that could more productively be devoted to a larger battery. Getting rid of those components from the 17in MacBook Pro has allowed Apple to produce its own custom battery design that packs an admittedly impressive 12,820mAh capacity.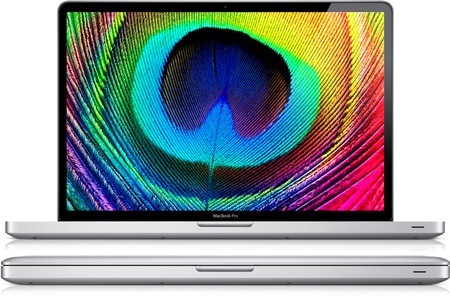 Stonking battery life
Apple claims that this battery can last for as much as eight hours, although that number comes with all the usual caveats that PC manufacturers rely on when quoting battery life. Even so, we had to admit that we were impressed by the battery life that we got from the machine. With wireless networking turned off and the screen brightness lowered to a perfectly watchable 70 per cent of maximum, we were able to play almost exactly five hours of H.264 video.
Less demanding tasks such as browsing the web and running Microsoft Office allowed us to keep going for just a couple of minutes short of seven hours. Those tests were conducted using the GeForce 9400M graphics processor, and you'll cut a good hour off those times if you switch to the more power-hungry 9600M GT, but it does seem as though there's some method to Apple's madness on this occasion. We also noticed that the base of the unit gets warm but not uncomfortably hot, so there's no noisy fan needed to keep things cool.
This isn't the first time Apple has locked the battery inside one of its laptop machines. The MacBook Air started that particular trend - and was roundly slated for it. However, the 6-7 hours of battery life provided by the 17in MacBook Pro is a much more attractive proposition than the 3-4 hour battery life of the MacBook Air. If, for some reason, you do need the ability to stick in a spare battery from time to time then the non-removable battery in this model may simply be unacceptable. But if you're merely looking for a powerful desktop replacement machine then the battery life of the 17in MacBook Pro will be more than adequate.

Verdict
A price tag of £1949 is enough to make even the most diehard Mac fan think twice. You could certainly get a similarly specified PC laptop for less – although features such as the Firewire port, twin graphics cards and the long-lasting battery do make direct comparisons difficult. If you just want a powerful Mac laptop then the 13in and 15in models undoubtedly offer better value for money. But then the 17in MacBook Pro is a niche product aimed at a relatively small number of Apple's creative users who specifically need that big screen display.
The real question, therefore, is whether this new model will tempt those users to upgrade from their existing machines. On that score, the new 17in model will probably succeed, as the twin graphics cards and unibody design correct the most obvious omissions in December's somewhat pointless update. The new long-lasting battery might also help to swing the decision if people think that it will genuinely allow them to get more work done when they're on the move. ®
More Mac Laptop Reviews...
| | | | |
| --- | --- | --- | --- |
| White MacBook (Early 2009) | MacBook Air (Late 2008) | MacBook Pro 15in (Late 2008) | MacBook (Late 2008) |