Original URL: https://www.theregister.co.uk/2009/03/10/formula_001_bike/
The world's best tech bike?
A snip at just £20,000
Posted in Personal Tech, 10th March 2009 12:32 GMT
Some might think £20,000 is rather a lot to spend on a push bike, but what if we told you it's been reportedly dubbed one of the world's most advanced bikes and that it features a host of electronic gizmos?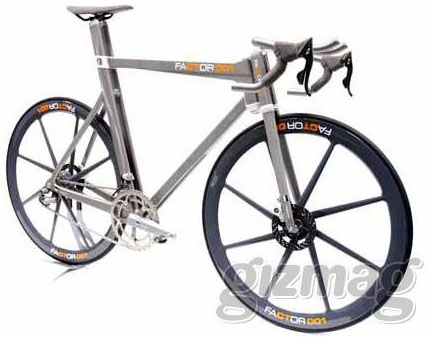 Beru f1 Systems' Factor 001: has an on-board computer and GPS
Image courtesy of Gizmag
Although the Factor 001's specifications are still somewhat sketchy, it's known that the two-wheeler has a "multi-channel electronics package" on board to provide its rider with a host of body and cycling statistics, including ergonomic, biometric and environmental data.
The bike's also said to be set-up for GPS tracking, so everyone from the paramedics to the bank manager that approved your bike bank loan will know where to find you should you slip off of the road or default on repayments.
Oh, and your £20,000 ($27,677/€21,821) will also get you a made-to-measure frame constructed from Formula One-grade materials and a set of carbon ceramic brakes.
The Factor 001 bike is made by Beru f1 Systems and will be officially unveiled at London's Science Museum later this week. ®