Original URL: https://www.theregister.co.uk/2009/03/08/data_centre_fuzzification/
Data centre fuzzification: Clear thinkers needed
How Cisco is trashing the server-storage-switch boundaries
Posted in The Channel, 8th March 2009 09:02 GMT
Comment: Traditional and clear-cut boundaries between servers, network switches and storage gear are breaking down - and skirmishes, in this uncertain new era of fuzzification, are bound to break out.
In the good old days - such as the decade up to 2007 - a clearly defined server talked by a network link to a switch which connected it to shared storage. This was a stable situation with distinct groups of suppliers providing the three pieces.
We had EMC, HDS, NetApp and OEM suppliers like Dot Hill, LSI and Xyratex, providing networked storage arrays. Then we had networking suppliers such as Cisco, Brocade, Juniper, Foundry and Extreme providing switches of various sorts with ancillary suppliers like Emulex and QLogic providing server adapter interfaces.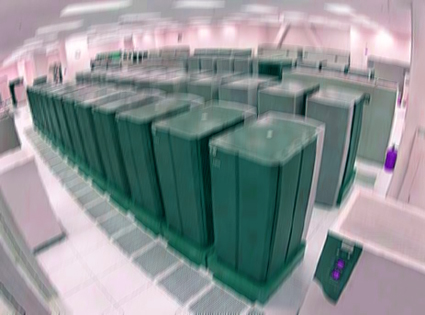 Data centre server, storage and switch edges are blurring.
Finally there were the server suppliers - Dell, HP, IBM and Sun for example - who were, unlike the previous two groups, not pure-play vendors, but multi-play ones providing a full system made of of server and storage components and networking gear although much networking gear and storage kit came to the buyer of the system from specific vendors.
This decade-long steadiness started breaking down as the commoditisation of server hardware and operating software made servers cheap and ubiquitous. After all, a networking switch has a processor, memory and operating software. It might be an ASIC running firmware, but basically it's an embedded server. Ditto for the storage controller.
We saw embedded servers creeping into storage network switches, blades in Directors that would run specific storage management tasks such as virtualisation and replication. With the rise of the virtual machines we began to see storage controller software and storage virtualisation software made available in virtual machine containers. I'm thinking of LeftHand Networks' Virtual Storage Appliance as an example of this.
We saw storage array controllers start being based on an X86/Linux or other Unix platform, think NetApp's FAS arrays, and they started doing very complicated server-like jobs such as virtualisation, careful placement of blocks (Compellent and Pillar), thin provisioning, replication, and snapshotting. Start-up Pivot3 even started offering server-less computing with its video surveillance storage products.
It didn't matter much
None of this mattered too much. So servers ran storage array controller software and so array controllers became servers; this didn't upset any storage and server supplier applecarts. The early use of storage management blades in storage SAN fabric directors could have caused ructions but it was never adopted widely enough to do that; although, now, with the serious upheaval of Cisco's California project coming, we can see what it might have sparked.
Network switches didn't respond so much to the server HW/SW commoditisation forces as high speed processing of network packets meant specially-designed ASICs had the edge over the latest Pentium. No doubt this will start changing. What has changed and what has been identified as a major tipping point in the industry is Mark Hurd's unleashing of HP's ProCurve networking business. It makes good kit which sells well and can be seen as a fine example of a server vendor invading network switch vendor's turf.
This didn't bother Brocade much - not initially at least - because Fibre Channel fabrics are a speciality product range; but then ten gigabit Ethernet arrived, and provided a lot of network bandwidth that could be parcelled and used for different networking channels, LAN, WAN and storage. Again, this didn't upset storage switch suppliers as early storage Ethernet-working meant iSCSI and that was corralled outside the data centre. Layering Fibre Channel itself over Ethernet (FCoE) is an entirely different thing. It means that, ultimately, you no longer need a physical Fibre Channel fabric at all.
This was a threat to Brocade but an opportunity to Cisco, which could use its Ethernet expertise and market presence to move onto Brocade's storage networking turf.
Generally pure-play vendors in the server, storage and switch spaces won't like fuzzification; it blurs their differentiation and exposes them to competitive attack. Aggressive pure-play and generally the multi-play vendors love it; opportunity knocks.
So we have storage vendor EMC buying server virtualisation company VMware and punting server virtualisation software to all and sundry. Server vendors weren't too worried; they no longer write their own server operating software by and large, and if they now have to deal with EMC/VMware as well as Microsoft for that stuff nothing much changes - they still own the server hardware business.
Sun's early lead
Then we have Sun making hybrid server/storage boxes, like the X4500, and promoting the idea of open storage, a storage array with a commodity server HW and commodity, open source storage software stack, with the 7000 as the exemplar. Sun's Jonathan Schwartz is now blogging about an Open Network product following the same example. Although Sun is a fine example of boundary-blurring, it's not big enough on its own to move markets and nothing much changes once more.
But Cisco can move market mountains. When it openly leaks teasers about unified data centre fabrics and unified computing with servers, switch and storage closely interlinked, and doesn't deny server blades will get plugged into its Nexus switch, and that these will be Cisco server blades, then the server world sits up and takes notice.
Server vendors know they are exposed. If customers like the idea of a reinvented mainframe, a closely couple set of racks containing blade servers, switches and storage under the control of a single management entity controlling the virtualised environments within it, then server vendors better get their blades inserted into network switches fast.
The server vendors are OK, for now. Storage blades don't have the capacity needed for racked-up blade servers running hundreds of VMs. That means Cisco has to extend an FCoE-inviting hand to storage vendors, and it looks as if EMC - needed for its VMware ace in the unified computing hole - and NetApp are going to play nice. And why not; it would be a marketing mug's game to walk away from what could be a great growth market through and beyond the recession. Expect every storage array vendor with any pretensions to data centre occupancy to add FCoE interfaces to their products as fast as they can.
Brown stuff or green field
For the server vendors, this Cisco move is either major league brown stuff hitting their fans or a door-opener. HP loves it - let's build a big box with BladeCentre blades and ProCurve switches, VMware and EVA storage. Thank you Cisco for alerting our customers to the idea of reinvented mainframes and blessing ProCurve.
IBM may be responding with a silent groan as it perceives those bastards are snooping around its mainframe business again. Can we be bothered to build our own commodity-component mainframe out of xSeries blades, someone else's switches, VMware and DS6000 storage? Yes, of course.
Ditto Dell, although more whoops than groans there as it gets to play in the big boys' playground; just wait while we mix up Dell server blades, VMware, Xsigo's virtualised InfinIBand fabric and Clariion/EquaLogic storage into our very own Dellframe and we're good to go.
Sun, used to seeing marketing glory passing it by, will sigh as it passes by once again, ignoring the Sun lead, and concentrate on building its own Open Network products, cheaper, faster and more capable than your average network switch.
Caught between server vendors eager to enter the commodity unified computing space and storage vendors eager to hook up to network switches with FCoE, the non-Cisco, non-ProCurve switch vendors also have to decide on a brown stuff disaster or green field opportunity definition of the situation facing them.
Brocade, by buying Foundry, has already made the mental jump. It's in there, actively playing, and will aggressively schmooze the server and storage vendors to hook up with its DCX switches. It won't put server blades in its switches though, that being its differentiation from Cisco. Neither will Juniper, already punting an overarching unified data centre strategy. None of the other switch vendors have the market-moving force and financial strength to take on Cisco and the server vendors.
We may see alliances between server vendors and the switch vendors with, perhaps, an acquisition.
The storage vendors do face a threat four to five years out when, and 'if' of course, SSD technology is advanced enough, reliable enough, and affordable enough, for storage blades using SSD technology, to start displacing storage arrays. HP's tie-up with Fusion-io is maybe a very early warning shot here.
Fuzziness in data centre IT is going to widen the buying choices for customers and make their lives more complicated, because as well as adding a new way of doing computing, this unified computing concept is going to be developing alongside cloud computing. If the VMware and Cisco message of interacting private and public clouds takes root then everyone, server, storage and switch vendors, could find themselves dancing the Cisco-VMware two-step. Who would have thought that a likely thing three years ago? ®