Original URL: http://www.theregister.co.uk/2009/03/06/review_storage_nas_iomega_home_media_network/
Iomega Home Media Network
Promises more than it delivers?
Posted in Personal Tech, 6th March 2009 15:02 GMT
Review The Home Media Network Hard Drive sounds like an all-singing, all-dancing multimedia extravaganza, along the same lines as Iomega's recently-released ScreenPlay Pro HD. However, it's actually a much more modest proposition than that.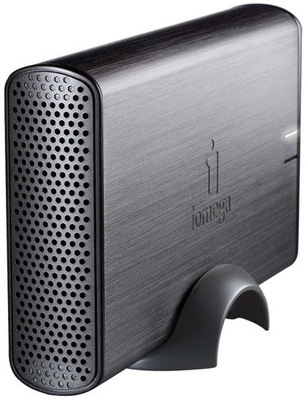 Iomega's Home Media Network Hard Drive: just a basic NAS?
The HMNHD is really just a relatively basic NAS box. It doesn't have the assortment of HDMI and video interfaces provided by the more versatile ScreenPlay, just a Gigabit Ethernet port for hooking it up to your router and a USB port for connecting additional storage devices, or for sharing a printer on your network.
Our review unit was the 500GB model with a 7200rpm drive, priced at £135, and there's also a 1TB model available for £180. The drive is quite neatly designed, with a "burnished gun metal" - aka 'dark grey plastic' - casing that measures a compact 200 x 125 x 37.5mm. The internal fan makes a quiet but steady hum – about the same level as the fan in the Toshiba laptop that we tested it with, so it's noticeable but not annoying. Stick it on a shelf or in a corner next to your router and you won't notice it at all.
Setting up the drive is very straightforward. You just connect the power and Ethernet cables and then install Iomega's Home Storage Manager software from the CD-ROM supplied with the drive. Iomega also includes a copy of the Retrospect Express back-up programme for making regular back-ups of your files.
One nice touch is the capacity gauge on the right side of the drive. This is a small LED that glows blue when the drive is 75 per cent full, orange at 85 per cent and then flashes angrily at you when you pass the 95 per cent mark. It seems a bit daft, though, to set the LED so far back on the unit that you can't really see it from directly in front.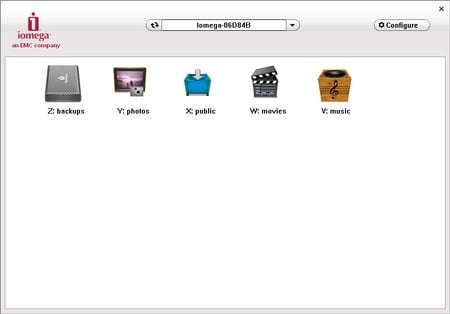 Access content through the OS or Iomega's app
Some NAS drives can be a bit confusing for users who aren't familiar with networking products, but the Home Storage Manager software is very easy to use. It's Mac-compatible too, but there's no Linux version. Once installed, the app automatically scans your network to locate the HMNHD, and then displays the various folders on the drive.
There are folders for photos, music and video, and these are all set up as publicly accessible folders that are available to anyone on the network. These folders also show up as network drives under 'Network Places' on a PC, or as connected servers on the desktop of a Mac, so you can copy files to or from the drive without having to use the Home Storage Manager software at all if you want.
Single 8GB File Copy Results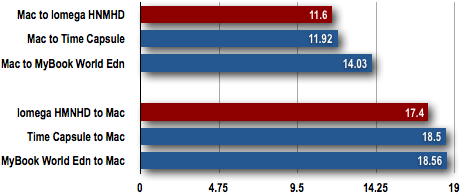 Speed in Megabytes per Second (MB/s)
Longer bars are better
To test the drive's performance we hooked it up to a Gigabit router from Belkin, along with a MacBook that was also equipped with Gigabit Ethernet. Its speed when transferring a single large 8GB file was adequate, although it wasn't quite as fast as rivals such as Apple's own Time Capsule or Western Digital's recently released MyBook World Edition. However, things picked up when copying a 20GB folder containing a large number of individual music and video files. In fact, it actually nudged ahead of the Apple and WD drives when copying the test files off the Mac.
In addition to the default folders that are already set up on the drive, the Home Storage Manager program also allows individual users on the network to create new folders for their own use. Just click on the Iomega icon in the Windows Taskbar - or the main Menu bar on a Mac - and select the 'Configure' option. This opens the drive's built-in web browser interface that gives you access to more detailed configuration settings.
Some companies make a complete dog's dinner of the business of setting up 'shares' on their NAS drives, but the HMNHD allows you to create new shared folders simply by clicking the 'Create' button and then assigning a name and optional password to the new folder. You can then just click on the 'Access' button to specify whether the contents of your folders are available to everyone, or just limited to specific users on your network.
Single 20GB Folder Copy Results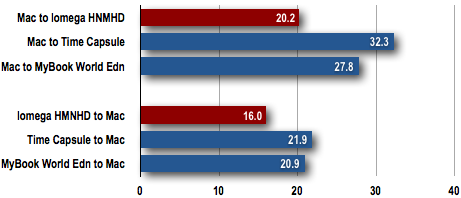 Time in Minutes
Shorter bars are better
The web browser interface also provides a number of other options, such as the ability to reformat the drive, adjust the brightness of the capacity gauge LED, or to shut the drive down remotely. However, Iomega has clearly decided to keep things as simple as possible, and there are few advanced options, such as the ability to create groups of users, or remote access across the Internet.
But while the initial set-up process is very simple, further exploration reveals that the drive's multimedia capabilities aren't as extensive as the 'home media' name-tag might suggest. It doesn't have the custom interface of a device such as the Linksys Media Hub that provides preview and playback capabilities within the web browser. For the most part, you just have to browse through the disk's contents on your desktop and click on files to play them, just as you would with any normal NAS drive or external hard disk.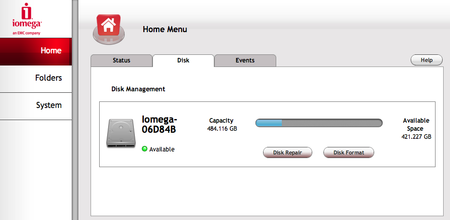 The browser-based configuration panel keeps things simple
The drive does support the DLNA networking standard, though, and is able to stream files to other DLNA devices, such as an Xbox or PS3. That said, it has been reported that the HMNHD's DLNA support isn't as strong as it might be, though Iomega has said it's looking into the claims.
The HMNHD can also act as an iTunes server, allowing you to play music files stored on the drive through iTunes on your computer. The iTunes Server option is activated by default when you first install the Home Network Drive, allowing the drive to automatically appear in iTunes' 'Source' list. However, we were somewhat surprised to discover that it can only stream MP3 files to play within iTunes, and that the AAC files that we copied on to the drive didn't show up in iTunes at all.
Iomega's support documents just tell you to convert other audio formats into MP3 – which isn't what you want to read when you've just spent 20 minutes copying 16GB of AAC tracks onto the drive.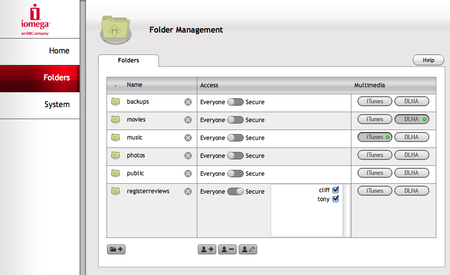 It's easy to set up shared folders
You can work around this limitation by telling iTunes to create its own set of library files on the Home Network Drive, rather than on your local computer. However, this means that people using your network can't just dump an assortment of music files and formats onto the drive and let the iTunes Server play them all for you.
Verdict
The multimedia features of the drive are pretty limited, and calling it a 'Home Media Network' drive merely seems a marketing ploy to make it sound more interesting than 'Bog Standard NAS Drive'. But, to be fair, if you do treat it as a bog-standard NAS drive then it's not at all bad. It's reasonably priced and very easy to set up and use. More experienced users might prefer something more sophisticated, but the Home Media Network Hard Drive will still be a good choice for the les geeky who just want a shared storage space. ®
More NAS Reviews...
| | | | |
| --- | --- | --- | --- |
| WD My Book World Edition 1TB NAS | Cisco Linksys Media Hub | Addonics NASU2 | WD ShareSpace |