Original URL: https://www.theregister.co.uk/2009/03/06/review_netbook_fujitsu_siemens_amilo_mini/
Fujitsu Siemens Amilo Mini UI 3520 netbook
Customisable covers, hurrah!
Posted in Personal Tech, 6th March 2009 09:02 GMT
Review Fujitsu Siemens is no stranger to small laptops, but the Amilo Mini pushes it into the Small, Cheap Computer category along with the likes of the Asus Eee PC and that machine's many, many competitors.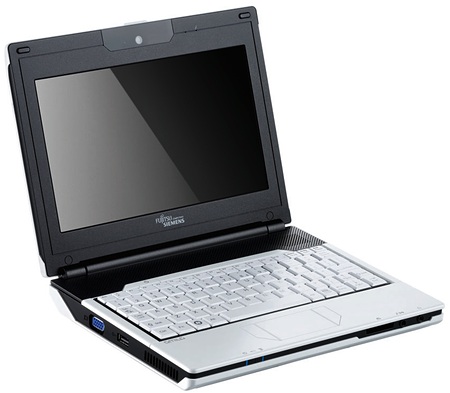 Fujitsu Siemens' Amilo Mini: 1980s styling?
While most manufactures are opting for soft edges and smooth transitions, Fujitsu Siemens has gone distinctly hard edged with design of the Amilo Mini. It's mostly made up of straight edges and 45° angles, with the only concession to curves made on the corners, presumably for safety reasons.
Not only is it a high contrast black and white design, but the white plastic parts extend a couple of millimetres further out than the black, extenuating its edges and making it look a bit like it was born in the 1980s and not the present day.
If two-tone monochrome isn't quite your thing, then you can add a dash of colour to the Mini thanks to its changeable covers. With a range of interchangeable lids on offer, you can even ensure that your clothes and computer always co-ordinate.
There's a dark red one supplied in the box, with other hues available separately. One point to note: the covers fit over the existing white lid which isn't removable - believe us, we tried, accidentally at first - so they extend another couple of millimetres, giving it a bit of a layered look when viewed end on.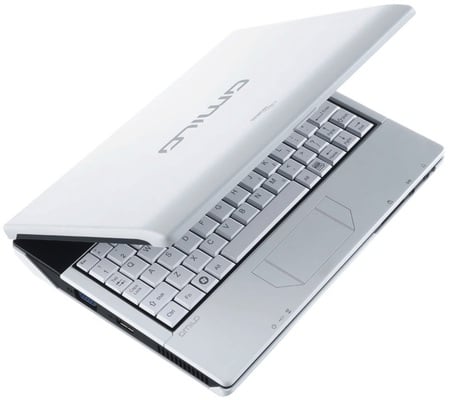 Straight lines, good - curves, bad
The Amilo Mini has a footprint 232mm wide and 175mm deep and measures 29mm high at the front, rising to 36mm at the back - putting it largely on par with other netbooks on the market. And it's light - just 1kg. Unfortunately, a lot of the space appears wasted once you open up the machine.
The 8.9in screen is surround by a large bezel, for example, and there's easily sufficient additional space for a 10in display instead. The keyboard spans the majority of the width of the machine, but at only 80mm deep it occupies less than half the available space. This results in cramped keys and makes mistypes with letters on the lines above and below much more likely. You'll need fairly small fingers and a good bit of practice to get anywhere near full typing speed.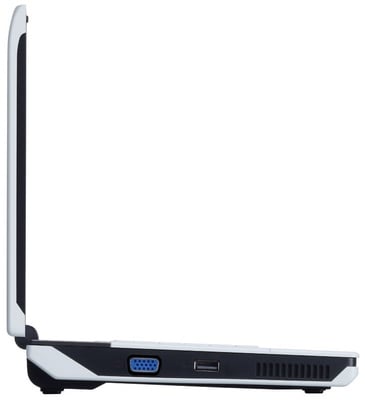 One less USB port than usual
The touchpad is also pretty small - 50 x 30mm - although as it's quite responsive it's still reasonable to use. Unfortunately, Fujitsu Siemens has taken the concept of left and right buttons a little too literally and placed them either side of the touchpad, rather than below. On a small machine like the Acer Aspire One, that's a compromise that makes sense, but here there's room to put them in the proper place.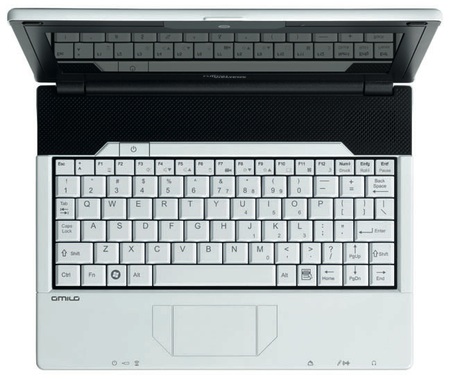 There's definitely room to place the touchpad buttons correctly
A design feature also means that the bottom corner of each button has been cut off at a 45-degree angle, making them even more difficult to use. Thankfully you can tap on the touchpad for a left click, but for right click you'll find yourself hitting the bottom edge of the laptop before remembering there's no key there.
The display runs to a netbook-standard resolution of 1024 x 600 pixels and reflecto-phobes will be happy to know it's a non-glossy display so you don't need to worry about seeing lights behind you reflected back on screen. The trade off for this is less intense colours, though.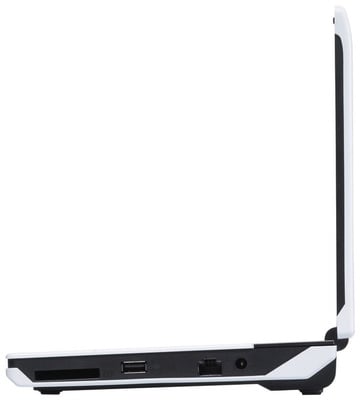 ExpressCard 34 slot, anyone?
There's no prize for guessing that it packs a 1.6GHz Intel Atom N270 processor and 1GB of DDR 2 Ram. Fujitsu Siemens has stuck with traditional spinning disks rather than a solid-state drive for storage, which means higher capacities, but it's more susceptible to damage if you bash it around too much. The review model came with a 60GB drive, but £10 more gets you an 80GB unit. There's also a 120GB model in the pipeline, but pricing has yet to be decided for that.
Wireless connectivity runs to both Bluetooth and 802.11b/g - if you want 3G or 802.11n then you'll need to plug in some extras.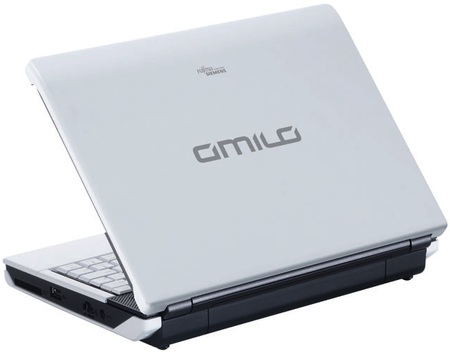 Netbook-standard spec
Speaking of which, you only get two USB ports, which is a little on the stingy side given that most netbooks pack at least three, but at least they're positioned on opposite sides so you can have some say in where you want to put your peripherals.
You'll also find a VGA connector on the left, and Ethernet and power on the right-hand side. Fujitsu Siemens has also included a ExpressCard 34 slot, something you don't normally find on machines of this size, but which is handy if you don't like HSDPA dongles stuck onto the side of your machine.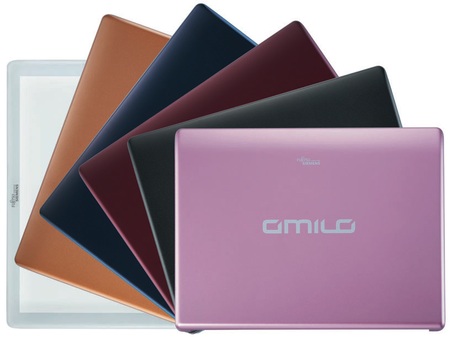 Colourful covers
Round the front are the usual status LEDs, plus headphone and microphone sockets, and a memory card slot which will accept SD, SDHC, Memory Stick, Memory Stick Pro and MMC devices. One thing to note, however, is the slot doesn't swallow the card whole. An SD card, for example, protrudes from the machine by around 15mm - so it's not really suitable for use as permanent solid-state storage.
Battery Life Results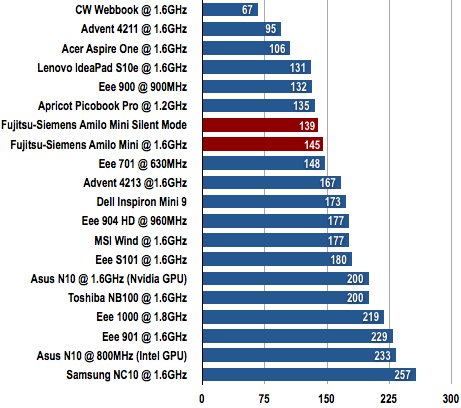 Battery life in minutes
Longer bars are better
PCMark05 Results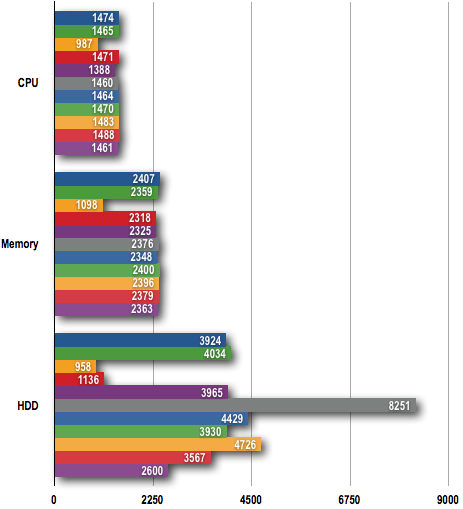 Longer bars are better

The Gimp Results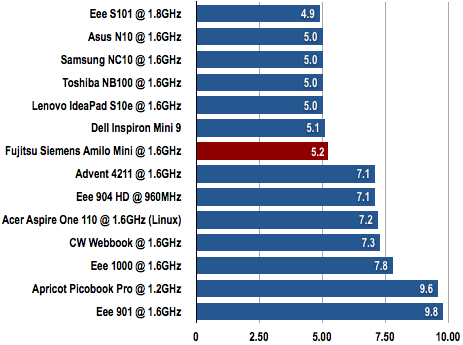 Time in seconds
Shorter bars are better
When it comes to performance, the Amilo's benchmark scores were decent, but nothing to write home about. It's CPU and Memory scores running PCMark05 put it among the fastest machines we've seen, but its hard drive performance was weak compared to the competition.
Our Gimp Gaussian Blur test proved no problem for the Amilo either - its scores was within 0.3 seconds of the fastest so far.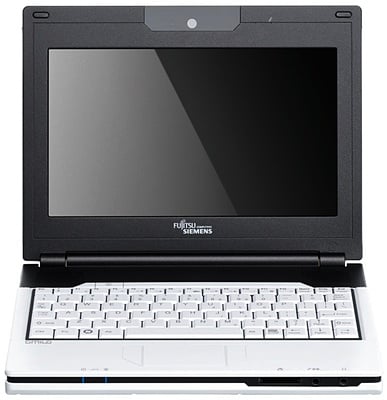 Decent but unexceptional performer
The Amilo offers two running modes: Silent, which throttles the processor and kills the fan, and Normal. However, running our standard battery test, which involves playing an H.264-encoded video on loop showed little difference between the two settings. With throttling turned on, it ran for 139 minutes, while with it disabled it lasted ever so slightly longer, at 145 minutes.
This is an extreme test as it involves setting the screen brightness to the maximum and decoding video is a processor intensive activity. In more real life usage, you could probably expect around four hours from each charge.
Verdict
If you like to keep your expansion options open, then the addition of an ExpressCard slot certainly makes the Amilo worth looking at and the ability to change coloured lids could be a bonus, depending on your personal preference. Its sub-£300 price tag is also quite appealing.
Its downsides, however, are its small display for the machine's overall size, slightly awkward keyboard and touchpad, and sub-par hard drive performance. While it can mostly keep up with the competition, the Amilo doesn't exactly stand out either, making it a decent, if not exactly exciting machine. ®
More Netbook Reviews...
| | | | |
| --- | --- | --- | --- |
| Lenovo IdeaPad S10e | Samsung NC10 | Toshiba NB100 | Dell Inspiron Mini 9 |