Original URL: https://www.theregister.co.uk/2009/03/05/review_dvr_humax_freesat_hdr/
Humax Foxsat-HDR Freesat HD digital video recorder
Record and replay HD
Posted in Personal Tech, 5th March 2009 09:02 GMT
Review We've been looking forward to getting our hands on the Foxsat-HDR for quite a while now. In fact, we'd been hoping to review it early in the new year – until some uncouth louts decided to hijack an entire shipment of the devices as they came into the country, including, needless to say, one unit that had been earmarked for El Reg.

Humax's Foxsat HDR: record 80 hours of free-to-air HD TV shows
Still, we're pleased to say that the Foxsat-HDR was worth the wait. It's a bit pricey - it comes in at around £299 -but it's a well-designed and versatile digital video recorder that includes the added bonus of being one of the few options for viewing and recording the free-to-air HD content that is available from the Freesat satellite TV service.
There are currently three types of Freesat receivers. The most basic ones, which Freesat refers to as "Freesat digital boxes", cost about £100 and allow you to view the full range of around 140 Freesat channels and radio stations – but only in standard definition. Then, at around £150 there are "Freesat HD" boxes, such as Humax's own, less expensive Foxsat-HD, which can also receive high-definition broadcasts - though it's worth remembering that Freesat's subscription-free HD offerings are currently limited to just the BBC's single HD channel and occasional outbursts of activity on ITV HD. However, neither of these options allows you to record Freesat programmes so that you can watch them at your own convenience.
That's where the Foxsat-HDR comes in, as this is one of the first top-tier models that can both receive and record Freesat's full range of SD and HD programmes. Just remember that the £299 price tag doesn't include the cost of buying and installing a suitable satellite dish. You'll need to budget an extra £50-100 for the dish, depending on the deals that you can find from various high-street retailers. However, it is possible to connect the Foxsat-HDR to an existing Sky satellite dish and receive the various Freesat channels through the Sky dish as both services are broadcast from the same Astra satellite up there in the great blue yonder.

When you lift it out of its box, the Foxsat-HDR looks like a slimline, matte-black DVD player. It measures 380 x 250 x 55mm deep, which makes it slightly wider, but not quite as high as our existing Sky+ box. Setting it up proved to be admirably straightforward. The Foxsat-HDR has two tuners built into it, allowing you to record two channels at the same time, or just to watch one channel while recording another. You will, however, need two input cables connecting the box to the satellite dish in order to use both tuners simultaneously.
At the back of the unit, you'll also find an HDMI interface, two Scarts and one set of RCA video connectors, which should allow you to connect it to most recent types of TV, including older standard-definition CRT sets. We were also pleased to see that Humax actually bothers to include cables for all three interfaces. A SPDIF connector provides digital audio for surroundsound speaker systems, and there are two USB ports – one on the front, another on the back – that can be used for playing MP3 music files or JPEG photos, so you've got some limited media player functionality.

Plenty of connection choices
We also noticed an Ethernet port round the back, although Humax will only say that this is intended for some unspecified "future use". The firmware can be updated over the air, so that's not it. Finally, there's a CI (Common Interface) slot that lets you purchase upgrade cards for additional subscription channels.
It took us less than five minutes to plug in the satellite cables, HDMI lead and mains power, and to let the recorder's Installation wizard automatically scan through the available Freesat channels. Then, before we knew it, we were watching k.d. lang warbling in high-definition on the BBC HD channel.
The unit makes very little noise when running – less than our Sky+ box – so it didn't overwhelm Ms Lang's dulcet tones. Power consumption rises to a peak of 50W when recording programmes onto the hard disk, but drops to just 1W in standby mode, and the unit can be set to automatically switch to standby when it's not being used. One nice touch is that you can hit the 'Standby' button on the remote while recording a program and this tells the recorder to automatically switch to standby mode once the current recording is finished.
The Foxsat-HDR can output HD programmes in either 720p or 1080i HD formats – which are the two formats used by Freesat broadcasts – and the difference in quality between the HD and conventional SD broadcasts is immediately noticeable. One handy feature of ITV HD is that it allows you to quickly switch between the SD and HD versions of certain programmes simply by pressing one of the coloured buttons on the remote control. This makes it easy to switch back and forth in order compare the image quality of the various resolutions, and the HD image produced by the Foxsat-HDR on HD broadcasts really seems to jump forward and come into sharper focus.

The DVR comes with a decent remote
We were, however, a little disappointed to see that the Foxsat's attempted upscaling of ordinary SD programmes doesn't really make much difference to the image quality. That's probably the fault of the low-bitrate SD signal itself, rather than a failing on Humax's part, but given the limited HD content on Freesat right now we'd find it easier to justify the £299 price tag - plus the cost of the satellite dish - if the Foxsat-HDR did a better job of upscaling the SD programmes that you'll be watching most of the time.
The dull grey display of the Foxsat's electronic programme guide (EPG) is visually drab, but it's efficient enough for locating and recording programmes. As well as letting you browse standard categories such as news, films or sport, it also lists options such as children's programmes, music, shopping and even dating channels. You can quickly jump forward two hours or a full 24 hours at a time, and as well as creating a list of your favourite channels you can also create groups of favourite channels, perhaps having one group for the kids and another for grownups.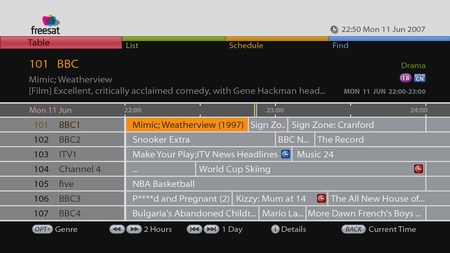 The EPG looks bland, but it does the job
One odd thing about ITV HD is that it isn't a standalone channel that has its own schedule and listings, as BBC HD does - it's provided as a 'red button' extra alongside the SD broadcast. The Foxsat's EPG handles this well, as it knows which ITV programmes are being broadcast in both SD and HD. When you tell it to record one of these programmes it asks whether you want to record it in SD or HD, before offering additional options such as recording a single episode or the entire series.
The only mildly annoying detail is that instead of clearly labelling individual ITV HD programmes on the EPG, it displays a small HD logo in a separate area on the screen above the main EPG listings table. This means that you have to keep looking up and down the screen to see which programmes are available in HD. It's a small detail, but we found it quickly became rather irritating when trying to figure out which ITV programmes we could watch in HD.
We were also curious to see how much HD programming could be recorded onto the Foxsat's capacious 320GB hard disk. Humax quotes about 200 hours of SD programmes and 80 hours of HD content, and the recordings we made seemed to confirm this, with a two-hour HD recording taking up about 2.5 per cent of the available hard disk space.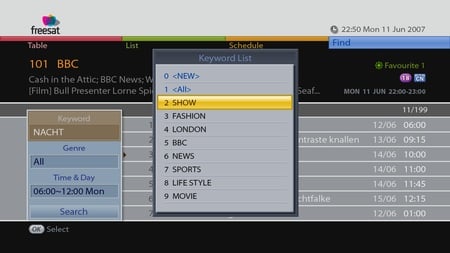 Search for shows by keyword
One other benefit of the large disk is that the Foxsat can record a full two-hour 'buffer' of live TV, giving you plenty of freedom to pause and rewind programmes if you need to go and walk the dog in the middle of Heroes.
There are a number of other useful little touches that show Humax has been paying attention to detail. The remote control is crammed with buttons that perform various tasks, and it can work in four different modes, allowing it to control your TV, DVD player and audio system, as well as the Foxsat itself, although you do need to program it with codes listed in the manual first, rather like a 'universal' remote.
There's a slow-motion button that allows you to choose either half, quarter or eighth normal speed, while the fast forward/backward option goes right up to 64x normal speed. You can also add bookmarks to recordings, allowing you to quickly snap back to favourite scenes. We even like the option to adjust the transparency of the on-screen menu display, so that you can still see programmes playing in the background while you fiddle with various menu options.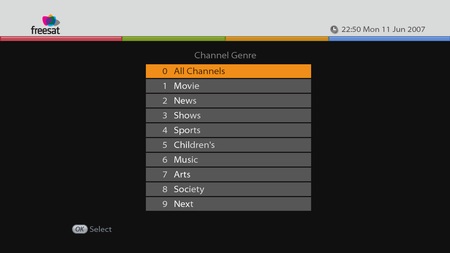 Channels segmented, Sky style
We have no real complaints about the performance of the Foxsat-HDR. It's versatile and easy to use, and the ability to record HD programmes without paying a subscription is enormously tempting. The problem is that's it about £100 more expensive than a comparable Freeview recorder and the extra HD content that would justify the premium is still limited.
If you're already a Sky subscriber then the recent price cut for its Sky HD box to just £49, plus another £10 per month on top of your existing programme package, is arguably a better deal as you'll get a wider range of HD channels, although ITV HD isn't available on Sky. If your area is covered by Virgin's cable TV services you can get their V+ HD box and BBC HD for £99 plus a £10-per-month subscription. Then, of course, there's the possibility of Freeview launching its own free-to-air HD channels later this year.
Verdict
If you want to experience – and record - HD television without committing yourself to a monthly subscription then the Foxsat-HDR is probably worth the high initial outlay. It only took a few minutes of Wallace and Gromit in HD to make up our minds for us. However, the combined cost of the recorder and the satellite installation means that Freesat devices such as the Foxsat-HDR are going to have to come down in price quite a bit before they can challenge the popularity of the terrestrial Freeview service. ®
More Set-top Reviews...
| | | | | |
| --- | --- | --- | --- | --- |
| Emtec Movie Cube S800 | Epson EH-DM2 | TVonics DTR-Z500 | Western Digital WD TV | Hauppauge myTV Pocket |