Original URL: https://www.theregister.co.uk/2009/03/05/review_dvr_emtec_movie_cube_s800/
Emtec Movie Cube S800 DVR
TiVo meets AppleTV?
Posted in Personal Tech, 5th March 2009 14:25 GMT
Review There are now many digital video recorders (DVRs) out there and there's also a host of digital media streaming units, but if you're trying to find a device that can do both, you're going to struggle. Until now. Enter the Emtec Movie Cube S800, a gadget that promises to deliver a delicious combination of the two.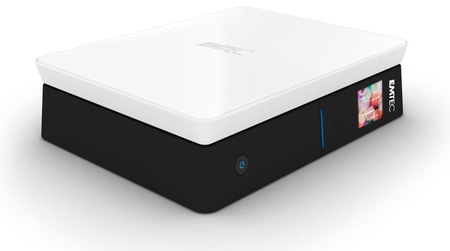 Emtec's Movie Cube S800: yes, it plays movies. But it's not a cube
Emtec is probably best known for its storage media. Over the last few years, Emtec has branched out a bit, staying within the broad storage arena, but looking at ways of enhancing its products with various other features.
The Movie Cube S800 is an example of this diversification. It's essentially an external hard drive, but it also includes a pair of TV tuners - one DVB-T and one UHF - giving Brits access to both Freeview and the basic selection of analogue channels. Although this should be fine for some folk, building in two DVB-T tuners would have been better, especially with the digital switchover underway.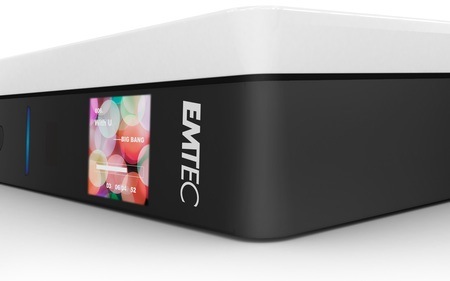 Only one digital tuner
The S800 packs in a capacious hard drive - our review unit came with 500GB of storage space, but Emtec also offers 250GB, 750GB and 1TB versions - and if you need more space, you can connect an external drive to one of the unit's two USB ports or stream content over the network before even having to consider opening up the box to replace the drive.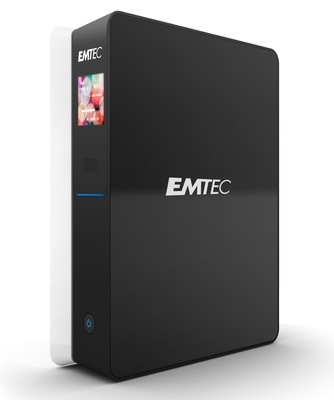 The info LCD flips orientation when you rotate the box
The unit itself has a nice looking is somewhat quirky half black, half white casing. It's designed to work either lying flat or standing on its side, so it's easy to find it a home no matter what the layout of your entertainment set-up.
On the front, there's just a power button, status indicator light and a small colour information LCD screen, which automatically changes display orientation, depending on the alignment of the unit.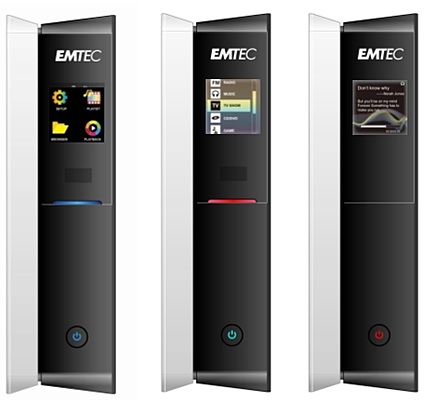 The info display's clear and easy to use
On the back, you'll find just about every input and output connection option under the sun, including Scart, component-video, s-video and HDMI. For HD content, the box's maximum output resolution is 1080i.
In addition to the two standard USB ports, there's a USB-A socket for attaching the S800 to a PC as an external drive. There are two sets of RCA analogue audio jacks, plus coaxial and optical digital SPDIF connectors.
The S800 can be networked through its Ethernet port, and Emtec bundles a USB Wi-Fi dongle for you to use if you only have a WLAN.
Emtec has even enabled the S800 to work as network-attached storage device, but this function has to be switched on when you want it and all other features are disabled when the box is in NAS mode.

Plenty of connectivity options
The S800's settings are easy to navigate and adjust, and the main menu offers a nice simple selection of the various features, including digital TV channels, analogue TV, recorded programmes, and the player that handles content stored on the device or shared over the network. If the S800 can get an internet connection, there is also the option of listening to internet radio stations.
The remote closely resembles a regular TV remote, and most users should have the basics down quickly. That said, some of the functions are somewhat counter-intuitive and take a longer to get the hang of. For instance, there's a record button that will start recording immediately if you're watching live TV, as you might expect it to. But if you're flicking through the electronic programme guide (EPG) and want to schedule a recording, the record button doesn't do anything. Instead, you have to press a strange combination of two other buttons.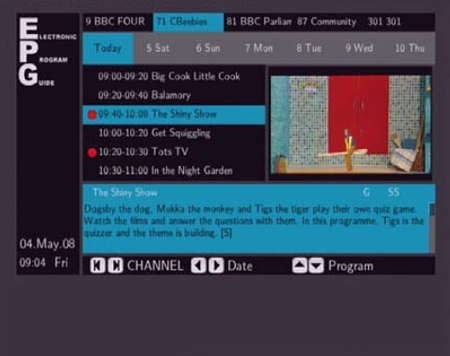 The only way to get programme info is through the EPG
Of course, this the fault of the software rather than the remote itself and, sadly, once you start scratching the surface, the interface quickly becomes clunky and counter-intuitive.
For instance, there's no easy way to get information on the programme you're watching without entering the EPG, so surfing through the channels and pressing a key to get a quick note about what's currently being broadcast is out.

Setting up repeat schedules isn't easy
Similarly, while navigating through the EPG we couldn't find a way to change to the channel whose schedule we were looking at. Every way of quitting the EPG took us back to the channel we entered it from.
This left us flicking through the EPG to find something we wanted to watch, remembering the channel number, returning to the channel we started on and then inputing the new channel number – a somewhat laborious and over complicated process.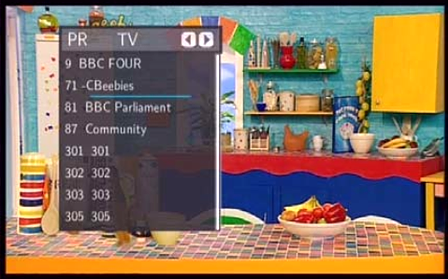 The UI's basic
As mentioned above, scheduling a recording is also trickier than it needs to be and setting up repeat recordings is even more difficult. You have to set the initial recording and then delve into the schedule list and manually adjust the entry for future dates.
Recording schedules went off without a hitch, but the S800's recording schedule is based strictly on time so if a show overruns, the recording will simply cut off. Some DVRs have the ability to detect when a programme is running over time and adjust the recording duration accordingly. Others will at least let apply an automatic early start and late finish to buffer you against overruns or premature starts.

Cute design
Emtec has also included a timeshift function which buffers the live TV stream, allowing you to pause, rewind and fast forward the feed. In practice, we found although the timeshifting worked, it slowed down the machine so much as to make it barely usable.
The story's better when it comes to playing back other media, as there's good support for the majority of common codecs, including MP3, WMA and Ogg for audio and MPEG 2, MPEG 4, AVI, VOB, DAT, MP4 and XVid for video. Furthermore, the S800 saves recordings in MPEG 2 format, allowing you to copy these onto a notebook or other media player to watch while you're out and about.
What it comes down to is that the entire recording structure harks back to the days when VCRs were just starting to get smarter. DVB-T provides a plethora of information in its transmission streams that can make life so much easier for everyone, if only Emtec's programmers would make use of it.
The one positive side to this is that none of these are problems are hardware related, meaning that they could overcome in future firmware updates. We're hoping that Emtec will continue to work on the S800's interface and EPG, but as it stands we simply can't recommend using the machine to watch live TV, though playing back recorded shows and other content is very easy.
Verdict
We loved the notion of the S800 as a DVR with so much extra functionality thrown in, but the clunky EPG, the unfriendly recording systems and the poor timeshifting performance means that it's very hard to recommend the unit as a digital video recorder. If your prime interest is the media streaming and storage side, and the DVR functionality is secondary, it's not a bad box. If Emtec improves the firmware, then we'd give the DVR side the thumbs-up. Until it does, though, we can't rate it highly. ®
More Set-top Reviews...
| | | | |
| --- | --- | --- | --- |
| Humax Foxsat-HDR | Epson EH-DM2 | TVonics DTR-Z500 | Western Digital WD TV |