Original URL: http://www.theregister.co.uk/2009/03/04/review_projector_epson_eh_dm2/
Epson EH-DM2 projector with built-in DVD player
Only needs a mains connection?
Posted in Personal Tech, 4th March 2009 14:02 GMT
Review Will users get carried away by Epson's EH-DM2 portable projector that features an integrated DVD player and audio output?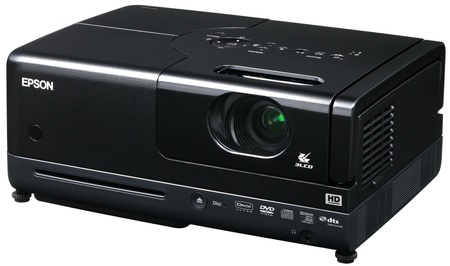 Epson's EH-DM2: more Volvo than Ferrari
First impressions are not good: this is not a curvy, sexy colour supplement-friendly machine. Think Volvo, rather than Ferrari. Yet if you're a movie buff who wants high-end performance, this is definitely not the machine for you. It does many things quite well, but it really suits folk who want to watch big-screen movies occasionally rather than the home theatre crowd.
The projector itself has a tough exterior, with its own integrated lens cover for keeping dust away from the lens when not in use. Quite a few machines could take a tip here - integrated lens covers are definitely the way to go. The unit also comes with its own built-in carry handle and a padded bag that makes the projector easy to move around. It grants some protection, though the bag is designed to protect the projector only from minor bumps and scratches.
The remote has a slight retro look about it and, to be blunt, is a brick. But its controls are well laid out and we liked some of the more quirky symbols, like a little coffee cup which, when pressed, ceases projection but keeps the disc cued up so you can take a break without leaving the picture on pause. Oft-used functions like Keystone correction are also easily identified and accessed. Since these are so often hidden away in sub-menus only available on the screen, this is a plus. Response time between remote commands and the on-screen graphics is also quick and accurate. The remote also has luminous buttons for control in the dark.
The projector itself isn't the smallest of its kind, but considering it's carrying a DVD drive and speakers, its 320 x 230 x 135mm dimensions are acceptable. Connection-wise there are component-video, PC RGB, component-video, and left and right audio inputs.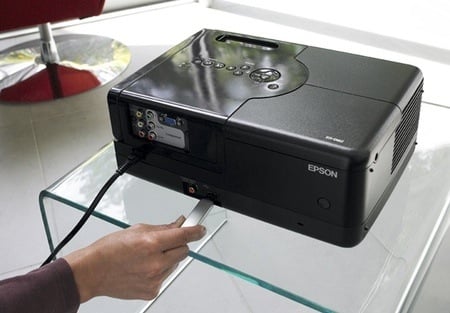 There's a USB port but no HDMI
There's also a coaxial digital audio out if you want to connect to something more serious than the unit's own pair of 8W speakers. And you get a USB 1.1 port for hooking up portable hard drives or cameras, and a headphone jack. In the minus column, there's no HDMI.
Playback options of course includes DVD, but also DivX 3 though 6, DivX Ultra, all the special of recordable and rewriteable DVD, MP3, WMA, JPEG, Video CD, Kodak Picture CD, FujiiColorCD, and MPEG 1, 2 and 4. HD is only catered for in 720p and 1080i resolutions, fed from the component-video jacks.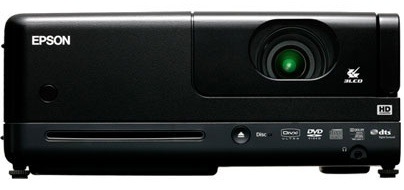 Three-LCD projection
Getting started is easy enough. The unit has adjustable feet with a good range, so it can cope with quite rugged terrain. The projector automatically detects a DVD's aspect ratio and disc format. As a rough guide, through the unit's 1200 ANSI lumens lamp, a 16:9 DVD displayed on a screen 2.3-3.2m (7.8-10.6ft) away will give you an 80in image. For a 150in picture - and we wouldn't recommend you try to go larger with this unit - you need to be able to back off between 4.4m and 6m (14.8-20.1ft).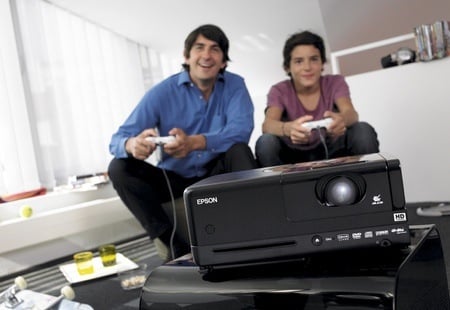 Good for gaming?
The EH-DM2 has no optical zoom. The picture can be adjusted digitally within the unit's native 480p (854 x 480) resolution, but reducing in this way is obviously going to cut the pixel count. The projector also kicks out some heat, so don't sit anyone directly to the right of the unit, which is where the hot air vents. Even so, the DM2 gets quite warm during playback, though it cools down quickly.
The fan isn't the quietest we've heard, either, but it is within acceptable limits.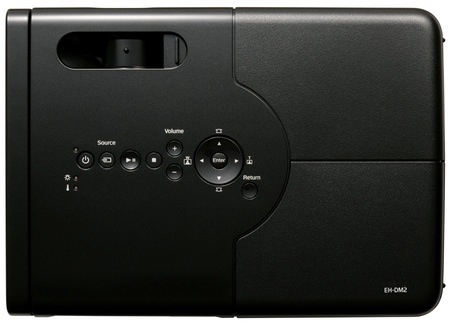 There's an integrated lens cover
Start up is fast. After just a few seconds, we had a decent looking test screen. Shove a DVD in the slot-loading and spin up is on a par with a decent standalone DVD player and quicker than some not-so-decent ones. The DVD picture can sometimes lack a little sharpness and we did notice on occasion a small amount of mosquito noise on the screen - and some of the 'chicken wire' effect that some LCDs get.
The colour reproduction we found to be fine, but with some weakness in producing really convincing blacks. We gave the DM2 Hell Boy II: The Golden Army to get its teeth into, and the movie's overload of primary colours and fast-paced images were given a decent enough outing.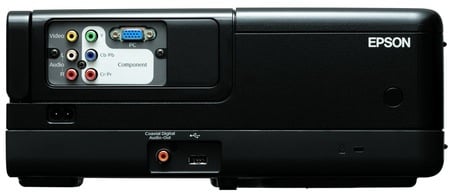 HD input limited to component-video
Some adjustment of the picture is available: brightness, contrast, colour saturation, tint, sharpness, colour temperature - the type of tweaks that are only going to please the casual user. There is also an easy to find status menu for information like lamp life.
Now, Epson says the unit has its own "surround sound" capability. That's pushing things a little far, and we strongly recommend you get something more capable to plug the unit into to handle the audio. That said, the sound isn't as weak as you might think. It's surprisingly clear, and there's a good degree of synchronisation between screen and sound (including vocals). Some 'surround' (ish) effects are detectable.
The other nice thing about having the audio on board is that it does mean you can take the unit to venues that don't have audio back-up to plug into.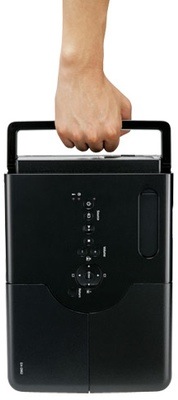 Carry handle built in
DVD isn't the EH-DM2's only party trick. The connection suite also means the projector can be connected to a PC, digital camera, digital receiver or games console. Performance is these areas is again adequate, but not impressive. But we tried some 'winner stays on' Tekken action and it worked well enough. PC connectivity takes things to another area again, allowing the EH-DM2 to play all your digital content. If you must use it for presentations, there's a guide on the product CD to getting rid of any screen burn should this occur with lots of static images on the screen.
Verdict
We liked the genuine usability and adaptability of this machine. The different inputs give enough flexibility to suit the type of user that it's aimed at: general consumers rather than home theatre buffs. However, its lack of HDMI and limited HD options makes the feature set feel a little out of date. It's a little on the pricey side too, especially since you don't get any of the necessary cables in the box. ®
More Projector Reviews...
| | | |
| --- | --- | --- |
| Infocus X10 | BenQ W500 | Samsung SP-A400B |