Original URL: https://www.theregister.co.uk/2009/03/04/review_netbook_lenovo_ideapad_s10e/
Lenovo IdeaPad S10e netbook
The ThinkPad of laptots?
Posted in Personal Tech, 4th March 2009 11:10 GMT
Review Ah, netbooks... everybody is making them - cue Psion lawyers - and everyone wants one. Yet despite the stiff competition, Acer and Asus combined own around 70 per cent of the market. So what are the rest of them doing so wrong? Not distinguishing themselves well enough, if the Lenovo IdeaPad S10e is anything to go by.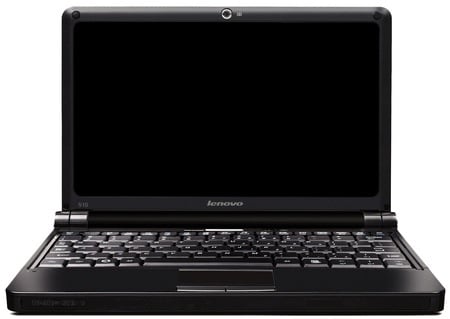 Lenovo's IdeaPad S10e: 16:9 aspect ratio screen
Aside from a minor change in screen size - 10.2in reduced to 10.1in - the primary difference between the previously released S10 and the S10e is the inclusion of Lenovo's "Quick Start", which apparently makes it ready for the education sector - hence the 'e'. Quick Start is a rebadged version of DeviceVM's SplashTop, which is included on several Asus motherboards and its Eee Box desktop. SplashTop is a lightweight Linux distribution that can boot in a matter of seconds to give access to the web, music, photos, Skype or IM.
From pressing the power button, it takes around 23 seconds to get into a web browser. The S10e has 802.11g Wi-Fi and you'll need a few more second still for this to connect to an access point – bringing you up to around the 30-second mark before being able to check your train times. Unfortunately, it doesn't seem to support any 3G dongles, which are becoming our firm favourites for working on the road.
SplashTop has a few other issues too: the lack of a word processor, leaving you reliant on web-based apps, and no option to customise the trackpad sensitivity, which has a default setting that's far too sensitive. A couple of minor additions and SplashTop would be competitive enough to take on the Xandros based distribution that Asus uses on its Eee PC range. For now, though, it can't.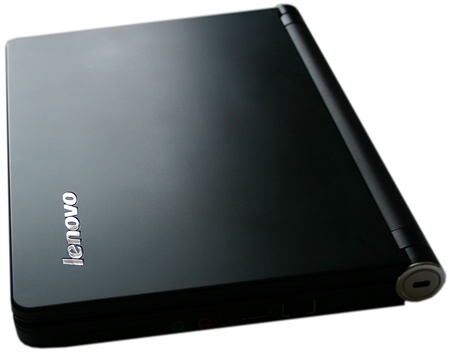 One inch thick but still very portable
Underneath the S10e's exterior lies a 160GB hard drive with Windows XP pre-installed. As with all Lenovo machines, there's a recovery partition too should you need to return XP to the factory settings, although this does take a few hours. With 1GB of DDR 2 memory and the almost netbook-standard 1.6GHz N270 Intel Atom processor, you certainly don't feel you're being held back.
Differentiating from other netbooks, the S10e uses a 1024 x 576 resolution, unlike the 1024 x 600 panels that most other netbooks are using, including the original S10. The selling point of this is that it's a widescreen telly style 16:9 aspect ratio - whoop-de-doo. In fact, all we're seeing is fewer pixels for our viewing pleasure. Frankly, we'd rather have the 24 pixels back and put up with some (narrow) letterbox bars when watching videos.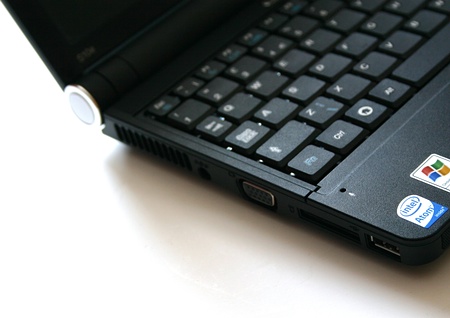 Who decided to swap the Ctrl and Fn keys?
It is, however, a fairly nice screen, with the glossy finish that really brings out the colours, partly helped by the use of LED backlighting. The downside is that the viewing angle is rather poor, and if viewed from a less than optimal position, colours really start to suffer. This is really noticeable when you're on a Skype call, as the 1.3Mp camera is mounted at the top of the screen, where the angle can only be adjusted by moving the display itself - at least it's a sturdy hinge and stays in place.
The built-in microphone is unfortunately located where just below the keyboard where your hands are likely to be if you find yourself taking notes during a Skype conversation. Things aren't much better with the speakers either, being under powered and positioned at the very front. If you're into Skype, you'll definitely want to consider using a headset.
Without a doubt, one of the most important aspects of a netbook is the input mechanisms, and by and large Lenovo has done a good job. Aside from the sensitivity issue - which is easily adjusted in XP - the touchpad works nicely, with responsive buttons. The keyboard is also a fairly decent size, and we could happily type on it for hours at time.
However, there are two complaints, which are common to many netbooks. Firstly, the Function key is on the outside edge of the keyboard, instead of the Control key – which has meant several URLs never made it into the clipboard. But more annoyingly, the right-hand Shift key is small, and much to our frustration, we found ourselves hitting the up arrow instead. Both of these issues aren't deal breakers though, as with a little practice , you can get around them.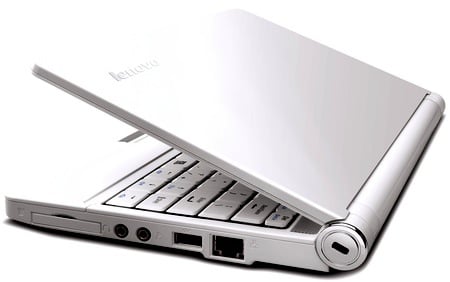 Does anyone still use PC Cards?
On the left side, we see a USB 2.0 port, VGA port for an external monitor and an SD card slot. SD cards unfortunately jut out of the netbook, so don't lend themselves to being permanently installed. Also of note: we couldn't boot from SD cards either, for those who like to keep a Linux distro on SD cards. On the right side, there's a PC Card slot - does anyone use these any more? - another USB 2.0 port, Ethernet and 3.5mm headphone/microphone sockets.
PCMark05 Results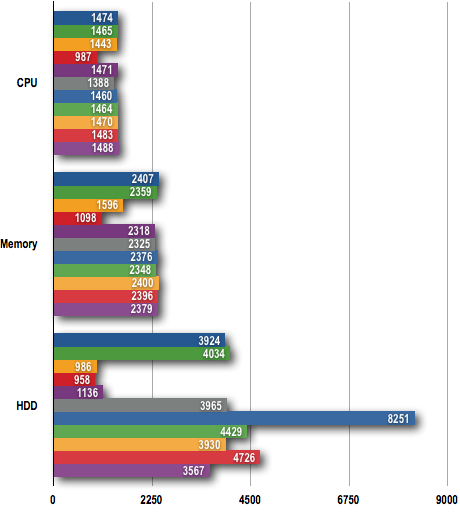 Longer bars are better

Battery Life Results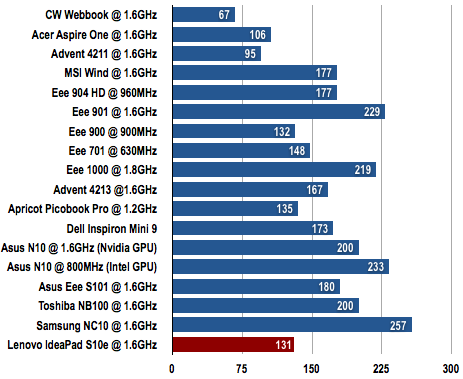 Battery life in minutes
Longer bars are better
Although a 4GB SSD version of this notebook is said to be available, we couldn't find them anywhere listed, let alone in stock, so the only option is the 160GB hard drive version – plenty of room for media, but not as sturdy.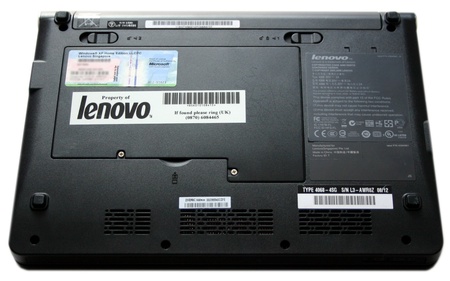 Readily accessible innards
With the screen at full brightness, volume at 50 per cent, Wi-Fi on and Bluetooth off, we managed to get 2 hours 11 minutes out of the conservative 2500mAh battery with full-screen standard-definition H.264 video playback. Expect this to double when doing less intensive tasks such as word processing. This places it at around the same battery life as the original Eee PC 701.
Boot up time was just over one minute to a working XP desktop. We also installed Ubuntu 8.10 and had very similar boot up times. For those interested, with Ubuntu, everything "just worked" - wireless, Bluetooth, function keys - no extra tweaking was needed and the S10e dual-booted happily.
The S10e weighs in at 1.3kg, an average weight for a netbook. The rounded edges and thin profile make it perfect for slipping into a bag, but we were surprised not to see a carry case included. It certainly felt comfortable to carry around and more convenient than a notebook – and that's what counts.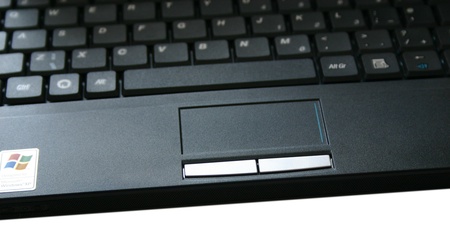 Not a bad trackpad
Benchmark results were as expected, due to the standard Intel Atom setup. In PCMark 05, it closely matched machines such as the Samsung NC10 or the Asus N10. It's evenly matched on the Gimp test too.
Verdict
The Lenovo S10e is a great netbook. The Quick Start feature is lacking and the battery life could be better. At £249, it's competitively priced and worthy of consideration. If you need extra battery life, consider the similarly specced Samsung NC10, with double the battery life, for only £50 more. ®
More Netbook Reviews...
| | | | |
| --- | --- | --- | --- |
| Samsung NC10 | Toshiba NB100 | Dell Inspiron Mini 9 | Asus Eee PC 1000 |