Original URL: https://www.theregister.co.uk/2009/03/03/review_blu_ray_drive_lg_blue_be06_lu10/
LG Super Multi Blue BE06-LU10
Very fast, very capacious
Posted in The Channel, 3rd March 2009 13:02 GMT
Review The LG Super Multi Blue BE06-LU10 external DVD writer's headline figure is its 6x Blu-ray writing speed. The rest of the specification also catches the eye: 2x BD-RE, 16x DVD±R, 8x DVD+RW and 6x DVD-RW writing.

LG's Super Multi Blue BE06-LU10: stylish, kind of...
You need to read the packaging of the drive to get those figures as the LG website claims that the drive has DVD-RW and DVD+RW 16x write speeds. That seems unlikely, but the only way to be sure was to look at the drive inside the USB caddy.
After some swift work with a screwdriver, we were able to see that the drive inside the casing is the same GGW-H20L drive that we reviewed a while back, so the correct specification is:
Maximum Write Speeds
Maximum Read Speeds

BD-R (single layer) 6x
BD-R (dual layer) 4x
BD-RE 2x
DVD-R 16x
DVD-R (dual layer) 4x
DVD-RW 6x
DVD+R 16x
DVD+R (dual layer) 4x
DVD+RW 8x
DVD-RAM 5x
CD-R/RW 40x/24x

BD-Rom (single layer) 6x
BD-Rom (dual layer) 4.8x
BD-R (single layer) 6x
BD-R (dual layer) 4.8x
BD-RE 2x
HD-DVD Video 3x
DVD-R/RW 12x/10x
DVD-R (dual layer) 8x
DVD-Rom (single layer) 16x
DVD-Rom (dual layer) 8x
DVD+R/RW 12x/10x
DVD+R (dual layer) 8x
DVD-RAM 5x
CD-R/RW 40x/40x
You can buy the GGW-H20L for less than £150, while the BE06-LU10 sells for around £185 which means you're paying a premium of £35 for the case and USB sub-system. Externally, the housing is a smart box that has a shiny white plastic top with shiny black sides. This cosmetic skin covers the GGW-H20L drive and also conceals an adaptor that plugs on the back of the drive. The GGW-H20L is a conventional SATA drive so the adaptor converts the SATA connection to USB and also feeds power from a small external power block to the back of the drive. A ribbon cable leads from the adapter to the front of the caddy where it powers the blue activity LED and the eject button.
This is one aspect of the BE06-LU10 that we strongly dislike. The shiny chrome button looks great but it's a soft-touch control that takes a moment to respond. The button is flush in the casing and doesn't move when you press it so you can never be sure that you have put your finger in the correct position. Press too long and too hard, and there's every chance that the LG will interpret it as a double press so that the trays starts to open and then slams shut again. We found it easier to right click the drive in Windows Explorer but, honestly, it's amazing that something so simple could turn out so wrong.
The key question is whether the addition of a USB 2.0 interface has any effect on the speed of the BE06-LU10 compared to the internal GGW-H20L drive. We slammed together a test system that consisted of an Intel DX58SO motherboard with a Core i7 965 processor, 3GB of 1066MHz DDR 3 memory and an Intel X25-M solid-state drive, all running Windows Vista Ultimate.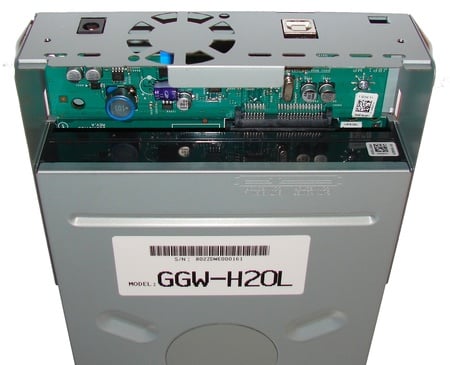 The internal drive inside the external
Next, we installed the bundled CyberLink Hi-Def Suite which consists of PowerDVD Ultra aka PowerDVD 7.3, PowerProducer v4, PowerBackup, Power2Go 5.5 which is the main disc writing application, the InstantBurn packet writing utility and LabelPrint. The LG also supports LightScribe so you can add labels directly to the surface of the disc. Installation of the software is quick and easy as the installer treats the suite as a unified whole and you don't even need to enter a CD key as it's handled automatically.
The other piece of software is LG's ODD Auto Firmware Update, which is useful as the LG support and download page is something of a nightmare to navigate.
Blu-ray Disc Burn Test Results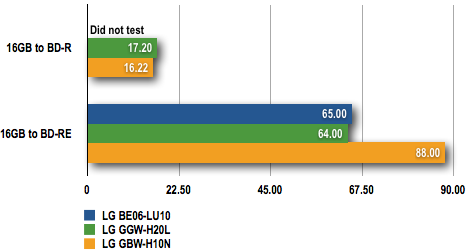 Burn time in minutes
Shorter bars are better
We had a hunt through our stack of DVD media and ran the same tests that we used with the internal drive, burning 16GB of data to Blu-ray, 4GB to DVD and 350MB to CD. As you can see from our test results, the external LG runs at exactly the same speed as the internal drive. However, there are a couple of points to make here.
We didn't test the external drive with BD-R media as we don't have any to hand and the £7-per-25GB-disc cost put us off the idea of buying a pack. BD-RE media is, at £12 per disc, far better value as it's reusable, but both types of Blu-ray media are only available with a burning speed of 2x while the GGW-H20L is capable of BD-R 6x and BD-RE 2x.
DVD Burn Test Results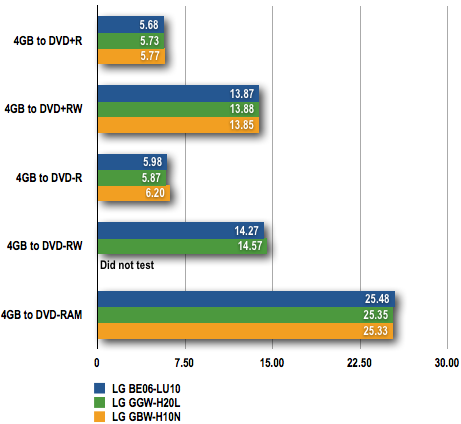 Burn time in minutes
Shorter bars are better
On the DVD front, both LG drives are rated at DVD-RW 6x and DVD+RW 8x, but the fastest rewriteable DVD media we have is Verbatim 4x, which costs 40p per disc. We probably bought that media about a year ago and we see that you can now buy 6x DVD-RW for 46p per disc and 8x DVD+RW for 65p. We've got some of this media on order but this brings home how rarely your reviewer burns DVDs these days - which takes us to the heart of the matter with the BE06-LU10.
An external drive has appeal as it allows you to avoid the expense and hassle of installing an internal drive. In the case of the BE06-LU10, the hassle factor is especially relevant as you may not be able to install a SATA optical drive inside your PC. Older motherboards don't have SATA connectors and more recent motherboards can throw a fit if you're using AHCI drivers with your hard drive as they don't play nicely with optical drives.
CD Burn Test Results

Burn time in minutes
Shorter bars are better
Clearly the interest in the BE06-LU10 centres on the Blu-ray writing feature with its hefty capacity of 25GB capacity on each disc instead of the usual 4.7GB single-layer or 8.5GB dual-layer DVD. Dual-layer BD-R sounds tempting, but at £20 per 50GB disc, it's horribly steep.
Our major problem with the LG is that we feel sure most people simply don't need a Blu-ray writer. For starters, anyone who wants to play Blu-ray Discs can buy an external drive, like the Lite-On DX401S-03C, for £75.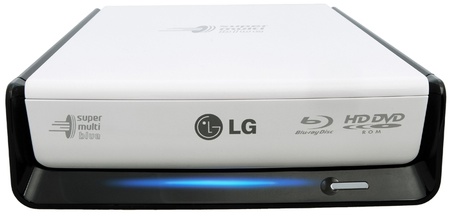 Good if you really need it
Those who wish to transport more than 4GB of data quickly and conveniently can buy a 16GB Flash drive for £25 or a 32GB model for £40. Anyone who wants to transport huge amounts of data should invest a piffling 70 quid in an external USB 250GB hard drive. This is the reason why your reviewer is so out of touch with the speed of the latest DVD rewriteable media - he simply gives Blu-ray a wide berth and sticks to AVI or DivX movie files on a device that isn't laden to the gunnels with DRM.
This means – in our opinion - that the BE06-LU10 is only likely to be of interest to the tiny handful of people who author and burn HD movies to Blu-ray. If you happen to fall into that category and can't or won't install an internal Blu-ray burner then the BE06-LU10 gets our vote.
Verdict
LG has come up with an external Blu-ray writer that is blazingly fast and modestly priced, but we're unsure who might actually be in the market for such a device. ®
More Storage Reviews...
| | | | |
| --- | --- | --- | --- |
| LG GP08NU10 | Pioneer DVR-116D | Samsung S1 Mini | OCZ Apex SSD |