Original URL: https://www.theregister.co.uk/2009/03/02/lampo_geneva_launch/
Protostar steers out Lampo 'leccy sportster
Italian for 'lightning', apparently
Posted in Science, 2nd March 2009 16:02 GMT
'Leccy Tech Swiss design company Protoscar has announced that it will unveil a new two-door electric sports cabriolet at the Geneva Motor Show on 2 March. This in itself should be quite some trick as the show doesn't actually open until the fifth...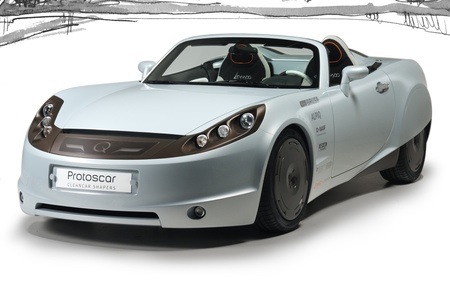 Protoscar's Lampo: Italian for 'lightning', don't you know
Its Tardis-like abilities notwithstanding, the car - called the Lampo, 'lightning' in Italian - will be powered by two water-cooled Brusa electric motors each coupled to a single-speed gearbox. One drives the rear wheels and is apparently optimised for acceleration, while the other drives the front and is optimised to make the most of regenerative braking energy recovery.
Each axle is coupled to a 3.3kW charger to make the most of you chucking the anchors out.

Not sure about the rear wheels...
According to Protoscar, the two motors together deliver a total output of 268bhp (200kW) and more than 325lb-ft (440Nm) of torque. The two "lightweight" lithium-ion battery packs each have a rating of 16kWh and are said to be good for a combined range of around 125 miles (200km). The zero to 62mph dash is dispatched in around five seconds, and the top speed is 125mph (200kph).
A not unattractive lump in Reg Hardware's opinion, the Lampo's signature styling traits include partially faired-in rear wheels, flush wheel trims and a Smart Roadster-like nose.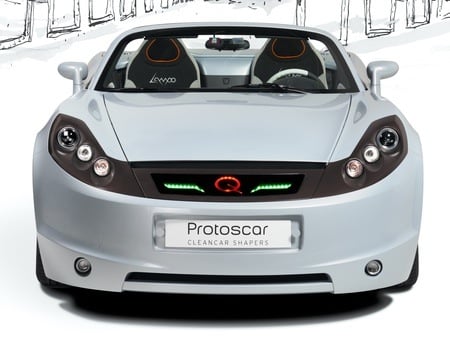 Smart Roadster-style nose?
The vehicle itself has a tubular steel frame with composite body panels, seats two and had a curb weight of 1380kg (3036lbs) which, after consulting the back of the trusty Reg Hardware envelope, gives the Lampo a rather better power-to-weight ratio than the Tesla Roadster, though admittedly it comes at the expense of range.
Unique among the list of fitted extras are the green and red arrows in the nose to warn pedestrians that you are about to run them over. And the heated headrests for those chilly, cold-cranium mornings.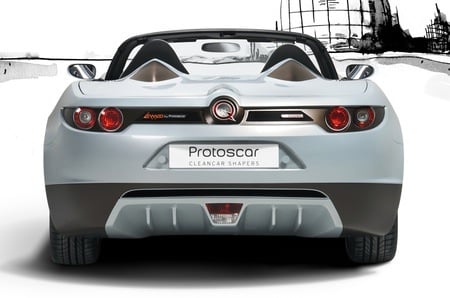 YOUR_CAPTION_HERE
There are no prices or likely production dates to scoff at because Protoscar is being up-front about the Lampo being a one off prototype-cum-technology demonstrator rather than something we will be able buy any time soon. ®