Original URL: http://www.theregister.co.uk/2009/02/26/review_mobile_phone_sonim_enduro_xp3/
Sonim XP3 Enduro ultra-rugged mobile phone
Well 'ard
Posted in Personal Tech, 26th February 2009 13:02 GMT
Review Launched in November, but only just available in the UK, the Sonim Enduro is hard to kill - very hard. We know - we tried.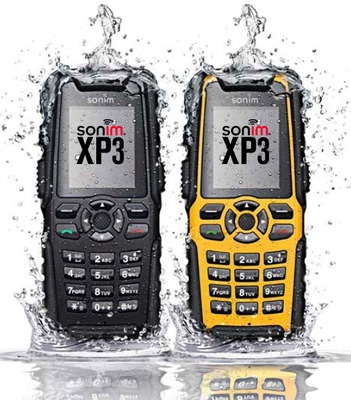 Sonim's XP3 Enduro: well 'ard
Sonim announced its range of toughened handsets back in 2007, and made much of the phones' indestructibility. The specifications list an operational temperature range of -20 to +60° C and the ability to survive a drop of two metres. Our handset got sloshed around in a pot of boiling coffee for half an hour and chucked off the roof of a house, not to mention being stamped on by everyone who saw it - and survived it all with nothing more than a scratch on the screen.
All that fortitude commands a pretty steep price, in terms of both cash and a reduced feature set. The Enduro is a 2G device, lacks a camera and the interface reflects the functionality in its Spartan options lists. There are no games, no support for Java, a very basic WAP browser and the most primitive MP3 player we've ever encountered.
As a phone, the Enduro works very well. Once charged up through its mini-USB connection - the handset comes with a USB cable in the box as well as a mains charger - displayed reception was remarkable good, though in use we found it comparable with typical mid-range handsets.
Beyond the USB port, the only other socket on the phone is for a headset, and both ports are protected with a heavy rubber seal. On the left side of the phone are three rubberised buttons: two which control the volume, and one that's a shortcut to the address book. On the right is a single button which turns on the LED torch built into the top of the phone.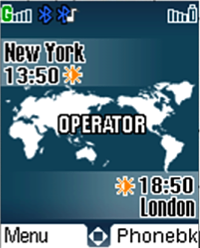 Basic - but colour - UI
Access to the battery requires a screwdriver - or a spoon at a push - and the SIM sits under the battery, where it's securely clipped into place. There is no removable memory.
Stylistically, the handset has a sort-of 1980s cyberpunk feel: hi-tech, but built to outlast the owner. Assuming the user doesn't have tiny hands - and this is not the kind of handset people with diminutive digits use - then it fits well in the palm despite being larger than most modern handsets. In use, it feels solid as a rock - which is not an entirely inappropriate comparison.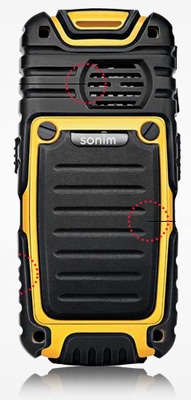 The battery's screwed in
We tried the usual throwing-the-phone-around-the-office tests, and then some slightly more challenging roll-down-the-stairs assays, before resorting to the tried and tested chucking-it-as-high-as-possible test and, when it survived that without a scratch, the throwing-out-of-buildings and jumping-on-it tests which were all we had left.
The boiling coffee pot was someone else's idea, and the phone had to remain there for half an hour while we waited for the coffee level to drop far enough to fish the still-working handset out, this was followed by a bout of vigorous stamping that saw a partial failure. But within ten minutes the phone was working again. Since then, it's been in the freezer and in the mud, and we even gave it to a three-year-old to play with, but nothing seems to phase the Enduro.
Call quality is very good and the speaker pumps out enough volume make calls in the kind of environment for which the phone is built. A basic selection of ring tones is available, any of which should be loud enough to ensure calls aren't missed. It's also possible to Bluetooth across an MP3 file and use that as a ringtone.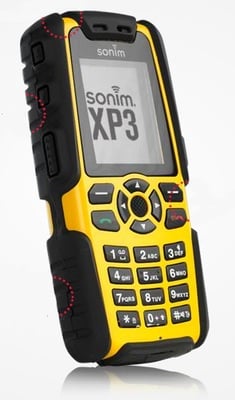 Well padded
However, don't expect to listen to music on the Enduro despite the volume attainable: the MP3 player lacks any kind of recognisable interface, even the hardware volume buttons don't work with an MP3. When questioned about the lack of interface, the chaps from Sonim expressed surprise that the handset had any MP3-playback capability at all. Bonus!
But this is a phone, unlike most of the feature-packed devices we're dropping into our pockets these days, and as a phone it's a tri-band GSM handset with a quoted battery life of more than 13 days on standby and six hours of talk time - figures with which we found no reason to argue with, beyond the usual impact of real-world conditions. With a screen resolution of only 128 x 160, it's hardly surprising that WAP browsing is a challenge, but WAP is not something we'd recommend on any device.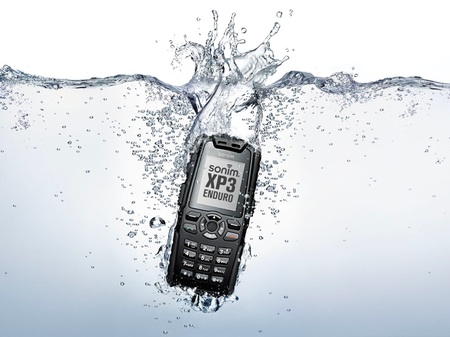 Splashproof
The only damage we did manage to inflict, small scratches to the screen, were achieved by hitting it with a sharp piece of metal, and Sonim assures us it's working on an even harder display, though with a three-year unconditional guarantee it's hardly a reason not to buy an Enduro even if you are prone to attacking your phone with lumps of sharpened steel.
The Enduro is clearly a second handset - one for for weekends spent bog snorkelling, spelunking or suchlike, while you reserve your regular, less hardy phone for the working week. Incidentally, Sonim is working on a 3G phone, so you could use one handset for both roles, but it's not going to be out for some time.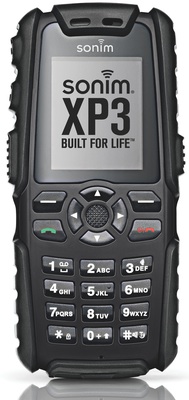 Tough enough?
However, Sonim's next phone, the Quest, which features A-GPS, mapping applications and a camera along with Opera Mini will be available in the summer and for only an additional €50 (£45/$64) on top of the €350 (£313/£445), so you may be tempted to wait.
Verdict
Even if €350 is quite a lot to spend on a second handset, the Enduro fits the role well. Those who spend the majority of their time in hazardous environments might well fancy something like this to resist bangs, crashes and wallops, and the looks will appeal to sci-fi buffs seeking a phone that looks a little more Aliens than most others do. ®
More Rugged Phone Reviews...
| | |
| --- | --- |
| Sony Ericsson C702 | Samsung SGH-M110 |