Original URL: http://www.theregister.co.uk/2009/02/26/review_iphoney_mini/
iPhoney nano found, tested in Asia
Not the gadget you were expecting...
Posted in Personal Tech, 26th February 2009 14:28 GMT
Review While rumours of an iPhone Nano abound, anyone knocking about China or South-East Asia with a few quid spare can buy one right now. Well, up to a point. While the 'iPhone Mini' looks and feels like a Nano-style two-thirds scale iPhone -and even comes complete with an almost-Mac icon on the back - it has absolutely sod-all to do do with the folk at Cupertino.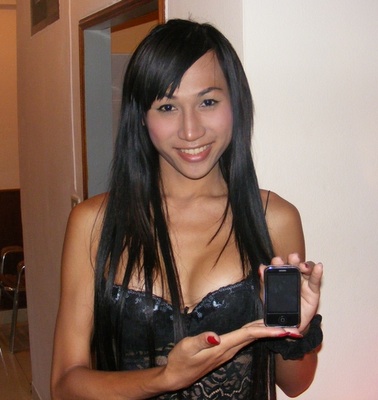 iPhoney and friend
The Mini - "Designed by USA. Assembled in China," according to the case - measures up at 90 x 52 x 11mm, weighs around 70g and has a 2.5in screen of indeterminate resolution. Register Hardware's immediate impressions were that in all, it's an eminently pocketable little device and certainly feels as well made as a genuine iPhone.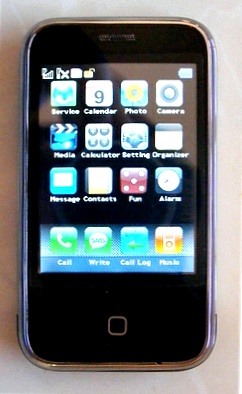 The 'iPhone' Mini: looks the part
According to the back panel, the Mini comes with 8GB of storage but we couldn't find any way of accessing it - only the supplied 1GB SD card showing up in File Explorer, so perhaps that 8GB symbol means it supports SD cards up to 8GB. Or maybe you shouldn't take that '8GB' any more seriously than the faux Apple logo.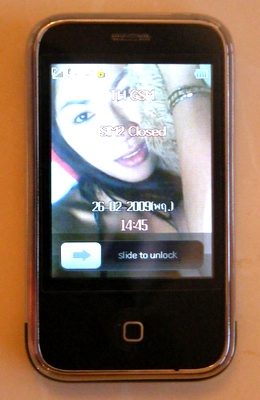 There's the lock slider...
Switch the Mini on and the usual Apple icon flashes up followed by the trademark virtual lock slider. The main menu page is also pretty much as per the iPhone, only the status bar at the top suggesting that all is not quite kosher.
When it comes to general system navigation, the Mini, while not iPhone fluid, is really no less pleasant or easy to use than the touchscreen UI on an HTC Touch or similar device. The Mini also comes with haptic feedback for those who need that extra confirmation that they've made contact.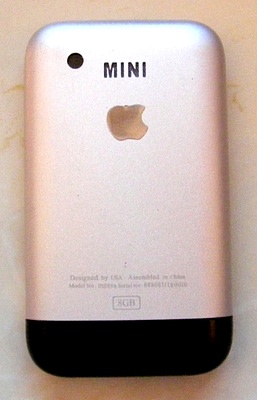 Hang on, though - that logo's not quite right...
The Mini's touchscreen in resistive rather than capacitive, a choice no doubt partly dictated by cost and partly by the need to use a stylus to type on the diminutive virtual Qwerty keyboard which only appears in portrait mode. That's not to say you actually have to use the stylus – after some practice we managed to finger-type with around a 60 per cent chance of getting the right letter the first time.
While its anyone's guess how the Mini's OS was bodged together, said bodging clearly didn't extend as far as a decent rip-off of the iPhone's Safari browser since all the Mini comes with is a pretty basic WAP browser which is more or less useless.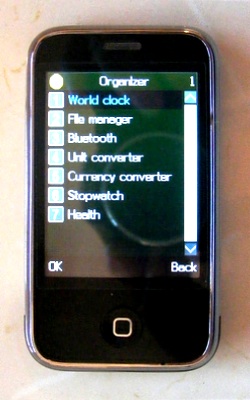 Hmm...
The exact capabilities and specifications of the Mini are a bit of a mystery due to the instructions being entirely in Chinese. The only file type we managed to load and play was MP3, though whether our failure to get H.264 or AVI video files to play was down to a lack of codec support or a resolution issue remains an open question.
The maximum resolution the camera could be cranked up to seemed to be 640 x 480 though it will also shoot video at 176 x 144 and store in Motion JPEG format. Of course, you can't shoot video at all with the real thing, at least not without third-party software, so we can't beat the Mini up too badly on that score.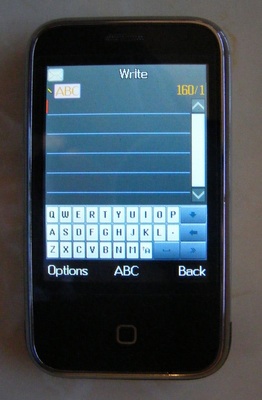 Not the virtual keyboard we know and love
Of course, it's not all a one-way street and the Mini has a few advantages over its legitimate counterpart. Firstly, it has room for two SIM cards and a Micro SD card slot. Secondly, you can remove the plastic back panel and swap out the 1380mAh battery.
Cost? In Thailand, the Mini can be picked up for between 6500 and 7000 Thai baht - around £130/$187 in real money.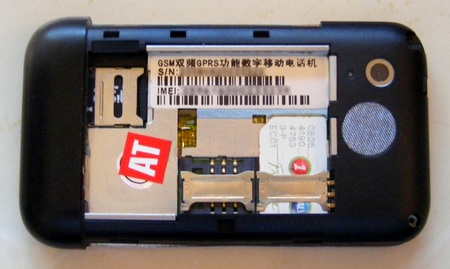 Dual SIMs and Micro SD support though...
OK, it's a blatant and not wholly convincing knock off, but the iPhone Mini is not totally without merit. It's very small and light, the larger-than-average battery gives a decent life between charges, the dual SIM and Micro SD slot are handy touches, and the touchscreen UI – while admittedly not a patch on the real thing - is really no worse that what you can find on many Samsung or HTC touchscreen devices.
If it was a real Apple device we might even consider queueing up in the rain on Regent Street just to own one. ®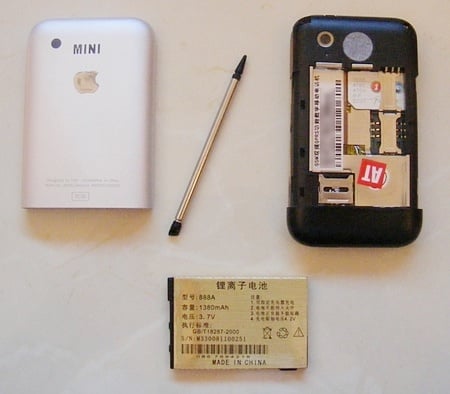 At last! An iPhone with a user-replaceable battery!