Original URL: http://www.theregister.co.uk/2009/02/24/review_mono_laser_printer_lexmark_e260dn/
Lexmark E260DN networked mono laser printer
Not as fast as claimed
Posted in Personal Tech, 24th February 2009 13:02 GMT
Review Unless the vast majority of your documents need colour, you'd do well to look at a mono laser as your main printer. Lexmark has a wide range and maintains its reputation - a hangover from its days as IBM's printer division - for producing good, reliable office-oriented printers. The E260DN is a mid-range machine handy for the home as well as the office.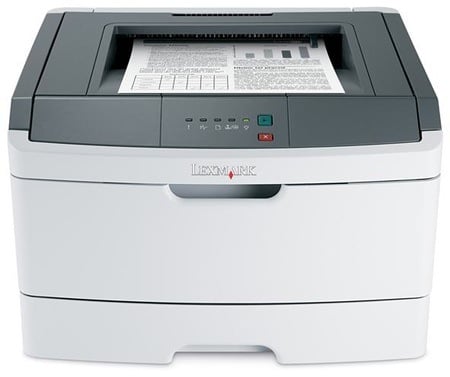 Lexmark's E260DN: unobtrusive - if unexciting - looks
Simple lines in off-white and dark grey mean the E260DN fits in unobtrusively in most locations. Although it has a fairly substantial footprint for an A4 printer, it sits quite low on the desk. Its design is as conventional as its looks, with a 250-sheet paper tray drawer at the bottom of its front panel and a pull-down cover above that, serving as a single-sheet multipurpose tray.
Output is fed to a depression in the top of the machine, and for some reason Lexmark has included a strange piece of bent wire which sits on top of pages as they feed out. We could see its purpose, if this was a phenomenally fast printer which would otherwise throw paper out over the front and onto the desk. However, although it has a fair turn of speed, the E260DN shows no signs of unwarranted paper spew.
The control panel is no more than five LEDs and two buttons, but since there are no walk-up-and-print facilities and everything is controlled from the software running on your computer, this isn't too much of a disadvantage. The indicators cover the usual printer status needs, such as low toner and paper jams. The buttons restart and stop a current print job.
At the back, as well as sockets for USB 2.0 and 10/100Mb/s Ethernet, which were to be expected in an 'N' - for 'network' - suffixed machine, there's a ye olde parallel port. It's hard to believe there are many places using PCs with parallel ports but no USB, but it may be easier to slip this machine into some slow-turnover or non-PC environments as a result.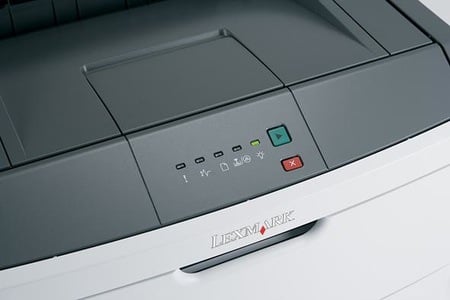 No LCD on the control panel, just lights
Fold the whole of the front panel down and you can get at the two-piece drum and toner cartridge, which slides in from the front. The drum is rated at 30,000 ISO pages, which is a healthy life for a machine in this class, but the toner cartridge is only good for 3500 pages, which is on the low side. The toner cartridge clips onto the drum, so both consumables slide into the printer as one.
Support software, supplied on CD, includes a well laid-out driver, which offers support for page collation, multiple pages per sheet, watermarks and control of duplex print, which is standard on the E260DN. There's also a network support applet, so you can access printer status from any machine running it. Both PCL 6 and PostScript Level 3 are provided in emulation, and there are drivers available for Windows 2000 upwards, Mac from OS 9 onwards, and several species of Linux.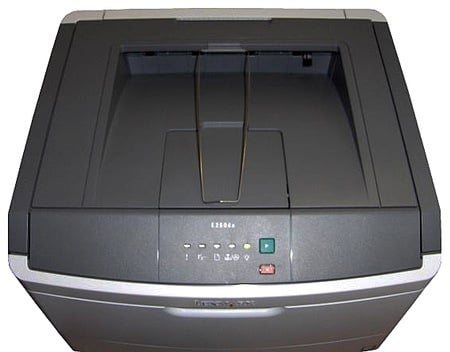 Is this fiddly wire really necessary? Er... no
Lexmark claims a speed of 33ppm for this machine, but it's hard to see how it arrives at this figure. We started testing with a standard, five-page text document and timed, as always, from clicking OK in the Print dialog, to the last page arriving in the output tray. This takes account of processing time, as well as physical printing and is a more practical measure, as you can't do anything with a document until the printer has finished producing it.
The five-page test completed in 19 seconds, equivalent to 15.8ppm - less than half the stated figure. Running a 20-page document, where processing time is a smaller proportion of the complete print, increased the measured speed to 20ppm, but this is still less than two-thirds of the spec sheet figure.
When we switched to draft mode, a trick most printer manufacturers use to produce their headline speeds, there wasn't much of an improvement. The 20-page test, which completed in a minute in normal mode, only speeded up by five seconds when we printed in draft, giving a draft mode speed of just under 22ppm.
The only way we can see Lexmark could reach 33ppm is printing pages with very little text on them, not typical of most office documents. Printing a five-page text and graphics document took 16 seconds, or 18.8ppm - slightly faster than the all-text pages.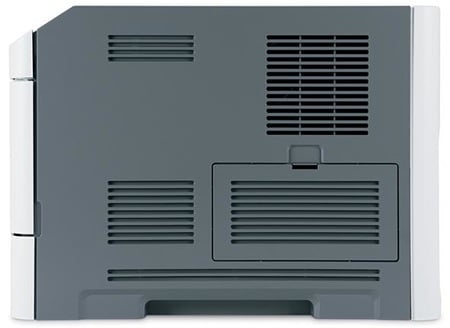 Well ventilated
Printing the 20-page document in duplex mode produced a speed of 7.5ppm or 15 sides per minute. It's very unusual for duplex print to take only a third longer than single-sided output and this is a pretty good result for a machine costing under £200.
There are two key factors all printers are measured on: print quality and print price. The E260DN produces high quality black print. Text is clean, almost like dry print, and densely black. The printer's default resolution is 1200dpi, but even when you switch to draft mode you get 600dpi, which is more than adequate for internal documents and could be set as the default by many folk.
Greyscale graphics are also reproduced better than average, with good differentiation between different colour equivalents. There's some slight banding in large areas of greyscale fill, but generally graphic output is more than acceptable.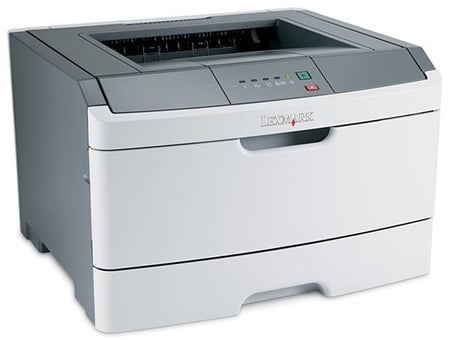 Not as fast as claimed
When you get to photographic output - never a particular strong point of a mono laser, to be fair - there's some irregularity across the sky of our test print and some shadow detail has merged to black, but foreground detail is good and reproduction is generally reasonable.
Running costs come down to the 3500-page toner cartridge, which at internet prices comes in at around £85. The drum unit, which is good for 30,000 pages, will set you back around £32. Doing the maths gives a cost per page of 2.6p. Compared with other mono lasers in the same price bracket, this is on the high side. For comparison, the £170 OKI B410d has a page cost of around 1.7p and the £175 Kyocera Mita FS-1300D will cost you just over 1p per page, using the same calculation parameters.
If you can find consumables cheaper than we found, your costs will go drop accordingly, of course, but you're unlikely to get down to the levels of these rival printers. And if you buy consumables at the 'official' price, your running costs will be even higher.
Verdict
This is a good, general-purpose mono laser printer, with surprisingly fast duplex and a useful draft print mode. It's not as quick as Lexmark would have you believe, but still has a decent turn of speed. Running costs, while not as good as some of its competition, are not excessive. ®
More Printer Reviews...
| | | | |
| --- | --- | --- | --- |
| Kyocera Mita FS-C5200DN | Lexmark C543DN | Samsung ML-1630W | Brother MFC-5890CN |