Original URL: https://www.theregister.co.uk/2009/02/23/samsung_pl10/
Samsung showcases PMP camera
Part camera, part iPod
Posted in Personal Tech, 23rd February 2009 16:32 GMT
Samsung has unveiled a "multimedia camera" for photography enthusiasts and amateurs alike.

Samsung's PL10: for photography and film fans
The 9Mp PL10 is described as being part camera, part Personal Media Player because in addition to supporting MP3 audio files, Samsung said the camera's 2.7in LCD can be used to watch movies while on the move.
But if you're more into photography than videos, the camera's various recognition modes – which include face, smile and blink – should mean that snaps of pals are always picture perfect.
Beauty shot also helps to retouch images, making the subject even more… ahem… beautiful.
In addition to recognising faces, the PL10 can be set to highlight specific individuals' faces. This has the notable advantage of making searches for images containing only Adam's face that much faster.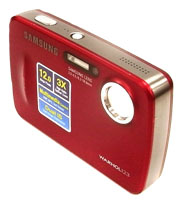 Search for images according to date snapped, themes and more
A so-called "smart" image search system also allows users to sift through album contents according to defined search strings, which could range from the specific date an image was snapped on to the picture's contents or theme.
The PL10 has 11 pre-set scene modes, including night and portrait, and the camera also boasts digital image stabilisation to eradicate shaky snaps. The camera's ISO sensitivity tops out at a respectable 3200.
Samsung's PL10 will be available in April, with body colour options including silver, "royal black", "arty red", "candy pink" and purple. It'll cost £180 ($262/€205). ®