Original URL: https://www.theregister.co.uk/2009/02/23/review_networking_powerline_devolo_dlan_aveasy/
Devolo dLAN AVEasy Wireless G
The reach of powerline networking, the flexibility of Wi-Fi
Posted in Networks, 23rd February 2009 13:02 GMT
Review Expanding its portfolio of powerline networking devices, Devolo's new dLAN 200 AV Wireless G Starter Kit is designed to cover the parts other gear cannot reach. Relying on the HomePlug AV 2.0 standard, the kit uses domestic mains wiring to pump internet, IPTV and VoIP connectivity to any room in the home. The additional Wi-Fi functions carry 802.11b/g signals up to 300m beyond these bounds, enabling the Starter Kit to cover just about any nook and cranny in an Englishman's castle.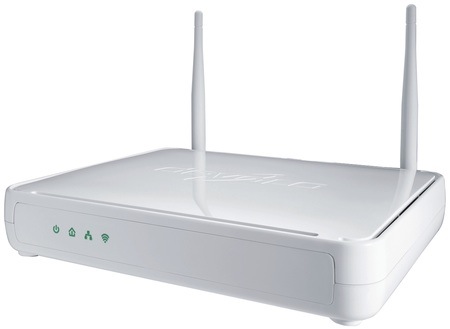 Devolo's dLAN 200 AV Wireless G:
First of all, it should be stated that the dLAN 200 AV Wireless G Starter Kit doesn't have a built-in ADSL modem. It comprises of two main parts: the dLAN 200 AVEasy and the dLAN 200 AVEasy Wireless G. The former is a HomePlug AV compliant adaptor that plugs straight into the mains and is about the size of a typical 'wall wart' power supply.
With just three indicator lights - power, poweline network and Ethernet - an encryption button and an Ethernet port, the AVEasy adaptor does nothing more than take a feed off an existing networking set-up via an Ethernet cable and propagates this through the mains wiring.
Plugging in the dLAN 200 AVEasy Wireless G anywhere in the house will detect the presence of networking from the AVEasy adaptor and make this available either through its four Ethernet ports or with Wi-Fi. The unit itself has two antennae and, at around the size of a box of chocolates, is somewhat larger than your average Wi-Fi router.
But appearances can be deceptive: the Devolo wireless unit has an integrated power supply and not the external PSU found on many wireless routers. The front panel bears the same icons as the AVEasy adapter plus one for WLAN. Round the back, each of the four Ethernet ports features status LEDs, there is also a recessed reset button, an encryption switch, another that simply deactivates the WLAN, and a 'figure of eight' mains socket.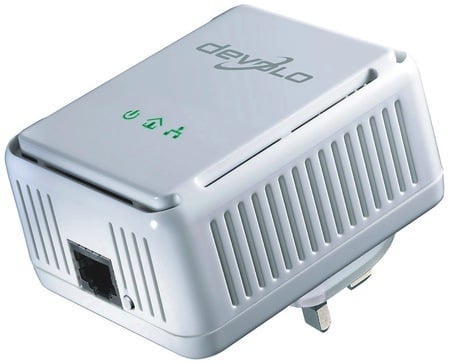 The dLAN 200 AVeasy adaptor: plug and play
It's important to make the distinction between the networking the Devolo dLAN 200 AV Wireless G starter kit offers, as it effectively has three tiers of operation. It can be used as 54Mb/s Wi-Fi box, while its Ethernet connectivity can act as hub networking PCs at 10 or 100Mb/s.
Furthermore, the dLAN functions can delivers speeds of up to 200Mb/s via Ethernet. This is where the 'AV' addition comes into play, as the system supports plumbing in a VoIP phone or a set-top box for HDTV-quality viewing. As the system is based on HomePlug AV 2.0, the bandwidth is greater than that of HomePlug 1.0 devices. HomePlug AV also features a Quality of Service function that negotiates the available bandwidth among devices to maintain stable connections – essential given the potential demands on this network.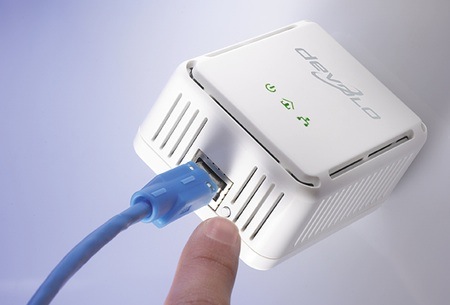 Push button network encryption
Setting up is so easy - it's all plug'n'play - that Devolo seems to have overlooked the pedants - read: cautious - of this world. Supplied is an image-only step-by-step guide plus a CD. The manual on the CD focuses on the wireless unit and neglects the crucial adaptor, which may frustrate those who simply want to get it right, rather than muddle through. What you get is a lot of fragmented scenarios but not a basic, written Step one, two, three…
On the CD, there's software for Mac, PC and Linux. The Read Me advises of a firmware patch and the URL provided revealed a couple of updates which, assuming they were there for a purpose, we downloaded and applied without further ado. The dLAN Wireless Configuration application seems little more than a script that provides browser access to the Wireless G's innards.
Anyone familiar with configuring a Wi-Fi box will whizz through these options in a trice; setting up an SSID and a preferred security system – WEP, WPA or WPA 2. Unsurprisingly, options exist for MAC address filtering and IP address assignment, as well as a password for the box itself. You can, of course, tap into an attached ADSL modem from this network, if the admin access is known.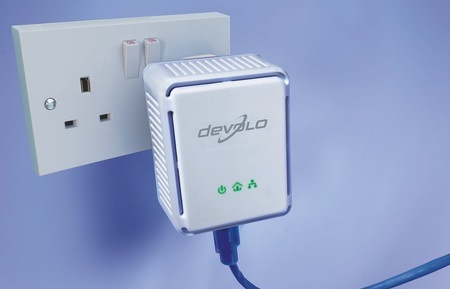 Should leave room for other plugs
The dLAN Setup Assistant is more exclusive to the system, as it identifies devices on the powerline network - in the first instance the AVEasy adaptor and the Wireless G box. With the latter, the MAC address is identified and the unit added by default to the list of secure devices. With the adaptor, its security code needs to be entered. Now this is on the underside of the unit and bloody awkward to see when plugged into a wall. Still, it can be unplugged, noted and then replugged without too much disruption. Once all the devices have been added, a preferred password can be applied to the powerline network.
There is an alternative, however, because Devolo HomePlug AV devices have encryption buttons on them, so the network can encrypt itself. Within one minute, you have to press the encryption button on each device for one second and it's done. However, older HomePlug AV devices without this feature will need to make use of the dLAN Setup application - and a firmware update - to work on an encrypted network. Encryption is part of the HomePlug AV standard and – as it is so simple to plug in a device and tap into a network – it's easy to see why, given how this system could migrate to business environments.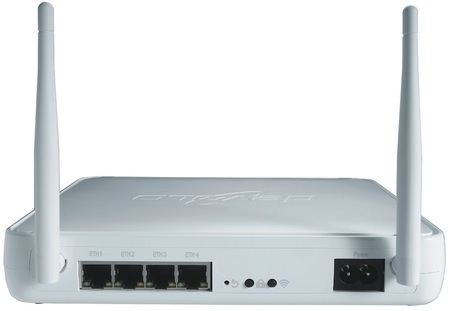 Connections for multiple devices, not just wireless ones
Incidentally, HomePlug AV networks will co-exist with HomePlug 1.0 and HomePlug 1.0 Turbo powerline LANs, but they won't talk to each other. Nor will they talk to 200Mb/s Universal Powerline Association (UPA) kit from the likes of Netgear and Corinex.
During tests, moving the Wireless G box around revealed its more quirky side. Starting from cold, only the power light would show, with the rest of the unit appearing dead for half a minute before any other status light activity kicked in. Needless to say, despite its faultless operation, this seemingly lengthy flatlining is unlikely to inspire confidence in users familiar with ADSL boxes blinking at them within seconds.
Taking the Wireless G unit to typically impossible places in the home for a router allowed tests of its range, and while going through four walls did markedly attenuate its output, nonetheless an adequate internet connection was accessible.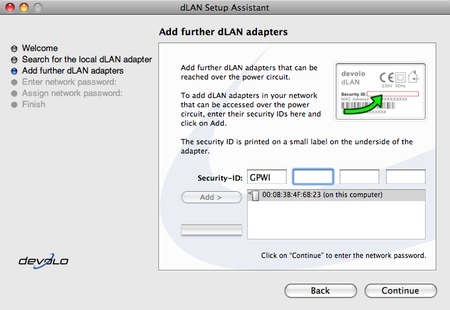 Let the network pick its encryption code - or set your own
Ideally, these HomePlug AV devices should be plugged straight into a wall socket, the thinking behind the rule being that it avoids the potential woes of use on filtered mains blocks that would annihilate performance. Still, tests with 'normal' extension leads and multiplug adaptors presented no problems whatsoever. That said, the dLAN 200 AVEasy adapter can be a squeeze next to other wall plugs. It gets a little hot too, while the dLAN 200 AV Wireless G merely gets warm in the middle on the underside.
Verdict
The Devolo DLAN 200 AV Wireless G Starter Kit replaced an existing networking set-up for a fortnight, streaming audio, video, sharing volumes, as well as everyday internet access. The upshot of it all was that the changeover was completely transparent in terms of performance. There was also the added flexibility of being able to take the option of Ethernet and Wi-Fi to any location within the home. While this system does appear expensive, especially as there's no 802.11n support, it does come with a three-year guarantee and claims to deliver networking for a 200m range over power lines, which seems like a good run for the money. ®
More Networking Reviews...
| | | | |
| --- | --- | --- | --- |
| WD My Book World Edition 1TB | Cisco Linksys Media Hub | Huawei E176 HSDPA modem | Addonics NASU2 |