Original URL: http://www.theregister.co.uk/2009/02/19/review_mobile_phone_samsung_armani/
Samsung Emporio Armani Night Effect designer phone
Sophisticated - or silly?
Posted in Personal Tech, 19th February 2009 12:29 GMT
Review After some flash for your cash? Hot on the well-turned heels of LG's new Prada phone, Samsung and Armani have delivered their latest ensemble - the Emporio Armani Samsung Night Effect.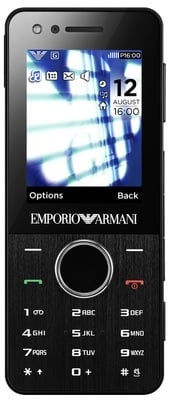 Samsung's Emporio Armani Night Effect: sophisticated?
Rather than reworking last year's elegant Giorgio Armani Samsung touchscreen collaboration, this model takes a distinctly different approach to design. Tall, thin and smooth, with brashly lit edging, this otherwise sophisticated-looking candybar phone is designed for younger fashion-savvy buyers.
The branding certainly isn't subtle. As well as logos on the front and back, a stand-out Emporio Armani neon strip lights up the side of the phone - part of the glowing blue, red or green LED trim that appears around the edges when the phone's in action. No one'll miss what phone you're packing, that's for sure.
While the design is eye-catching, the features roster is more solid Samsung mid-tier than trend-setter. It's a 3.6Mb/s HSDPA 3G handset sans Wi-Fi but with a typical tick-list of music and movie download and playback facilities, plus a set of dedicated music player control buttons and a 3.5mm headphone socket on the side. A 3.2Mp camera with autofocus - but no flash - is built into the back, and there's a front-facing face-to-face video chat camera.
Naturally, you get plush Emporio Armani-branded accessories: a CD-style fabric zip-up carry case, neckstrap and earphones.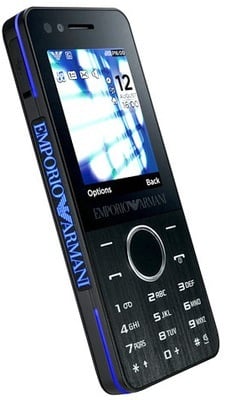 Glows blue...
Apart from the dazzling light effects and overt branding, the phone's design is relatively restrained. Available in minimalist black or white bodywork, the candybar's numberpad is totally smooth, finished with a fine hairline-metal effect. Rubber-feel material is used on the back, giving it a decent grip in the hand, while reinforced glass protects the display. Measuring 114.9 x 47.4 x 12mm and weighing 90.2g, it's well balanced to operate one-handed.
Running in a thin strip around the phone, that hard-to-ignore neon piping comes into play when the phone is active, pulsing when you're making or taking calls, pressing buttons and so on. It can easily zap between retina-searing red, green and blue hues - although if you prefer your phone not to be spotlighted by that city-lights-at-night effect, you can switch the illumination off.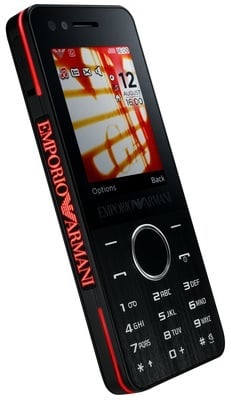 ...red...
The screen is average-sized rather than lavish: a 2.2in and 320 x 240. It's an OLED panel and is sufficiently bright and clear for eyeing content, and for showing off the tailored Emporio Armani themes and wallpapers that come pre-loaded.
Despite its snazzy click wheel-style look, the navigation control panel doesn't do any fancy twirly stuff – it's a straight up and down, left and right navpad. With no separate buttons defined on the level surface, using the numberpad accurately depends on your own digital dexterity.
On the Vodafone-exclusive version of the phone we tested, the soft-menu key set-up was problematic. Unlike on the SIM-free model, where the right soft-menu key is pre-set as a handy phonebook shortcut, it's here designated to the Vodafone Live! portal. That means there's no one-touch button for accessing your phonebook, as there are on most handsets. It's an irritating oversight.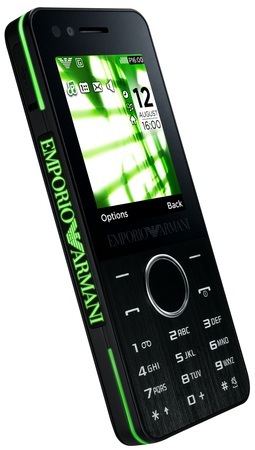 ... and green
Thankfully, it's easy to re-assign one of the five on-screen shortcuts. These are pre-set for new text message, music player, ringtone profiles, calendar and external edge-light colour. We'll leave you to work out which you can best afford to swap. All of these shortcuts can be reset, though we're surprised someone at Vodafone HQ didn't consider the phonebook a priority option.
There is a Samsung 'search as spelling' option for finding contacts, whereby you tap out the number keys relating to the name you're after - though it's no phonebook replacement.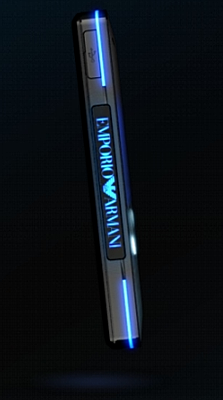 Dark Knight phone?
If you don't mind a few button presses, you can also access your contacts from the main menu. The main menu is set from switch-on as a V-shaped carousel of options you can toggle through using the navpad, though this can be switched easily to a conventional grid format. Dipping further into sub-menus, you get assorted sub lists and folders in normal Samsung style.
Accompanied by a panel of three music control buttons and a 3.5mm headphone socket on the right side of the phone, the music player is one of the more prominent features of the Emporio Armani phone.
Interestingly, as well as the 3.5mm headphone plug, Samsung has included a Mmicro USB charger/USB/earphone multi-connector socket on the other flank, which means you can plug in and use two pairs of earphones simultaneously if you want to share your tunes with a friend.
Samsung's EA-branded earphones are a two-piece handsfree set, with another 3.5mm adaptor mid-way. The in-ear buds are a notch above regular mobile 'phones, and fit snugly for good quality, well-rounded sound. There's plenty of low frequency punch, and it puts in a fine, nicely balanced audio performance.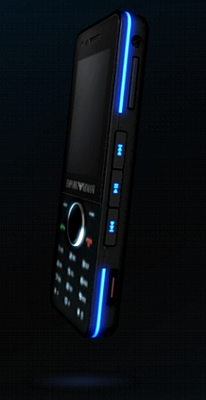 Dark night phone?
The player user interface is familiar Samsung: a roster of regular tune categories and support for cover art. It can be operated by the navpad or the dedicated controls. These side buttons come into their own when tunes are played in the background, while you're multi-tasking your way around other features.
Tracks can be synced with Windows Media Player 11 on a PC, copied across using Samsung's PC Studio app, dragged and dropped in USB mass-storage mode, Bluetoothed over, or simply copied on to a Micro SD card and slotted in. The 120MB of on-board storage is boosted by a 1GB Micro SD card that comes boxed with the handset, and cards of up to 8GB capacity are supported.

Dedicated music controls and a 3.5mm jack on the side
As well as the tune-player, embedded music recognition software from Shazam is included for naming tunes. It records short song clips and remotely interrogates the track database before delivering the track details back in moments, along with cover art. An FM radio does a serviceable job too with the headset connected, and can play back OK thought the phone's speaker.
The Vodafone version of the Emporio Armani is preloaded with links to a spread of Vodafone 3G services, including streaming and download options from Vodafone Live!
As we've said, the EA's screen isn't the largest in town, but video comes across reasonably well. H.263, H.264, MPEG 4 and WMV files are supported.
Its video shooting efforts are surprisingly modest, however, recording at maximum 176 x 144 pixels at up to 15f/s, producing typically unimpressive footage for a low-res cameraphone.
The main camera does a reasonable job for its class, although you'll notice the absence of the flash when you want to take a snap at night or in a poorly lit room. The autofocus-equipped shooter fires up in a couple of seconds after press of the side-mounted shutter button, and automatically flips into landscape viewfinder mode.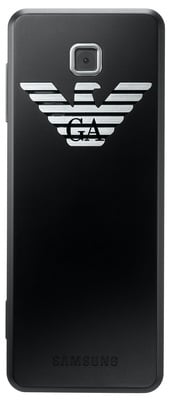 Flash-less
The two-step autofocus works efficiently, and snaps without significant lag. Close up shooting is possible too, and you can get good results with the tight focusing area. Generally, shots come out reasonably well in decently lit environments - colours are natural and accurate. However, indoors and low-light shooting isn't quite so good, with more picture noise creeping in.
A selection of auto-metering settings can be applied, including white balance, brightness and colour effects, and there's a range of situation-specific shooting modes. Alongside typical continuous multi-shot, panorama and frame effect modes, Samsung has included its gimmicky smile-shot option, which only snaps a piccy when it spots that the subject is smiling.
Once taken, pics can be given a bit of a touch up in an editing app, and there's an option for uploading images and videos directly to websites or blogs using embedded ShoZu software.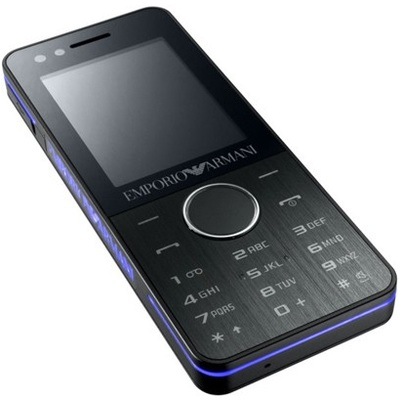 Stylish looks, unexciting feature set
The standard-issue NetFront 3.4 browser puts in a reasonably speedy performance when it comes to finding and downloading pages, but typically for a mid-range handset, the EA's small screen means it doesn't offer the smoothest phone browsing experience around.
Other features include a stock selection of organiser functions and tools: calendar, memo, tasks, voice recorder, world clock, alarms, calculator, convertor, stopwatch, timer, document viewer, RSS reader, and five trial Java games.
The voice call performance is straight down the line. Call quality is perfectly acceptable and network quality appears fine. Battery performance is sufficient too. Samsung quotes an optimum talktime of up to seven hours on GSM networks, or 4.3 hours within 3G coverage, or alternatively 345 hours GSM standby time or 275 hours standby on 3G networks. We got two to three days' usage between charges with our normal usage, which is typical for a mid-range phone like this.
Verdict
This fashion-label phone may give you a distinctive look but it doesn't deliver any of the wow-factor features it would need to be a must-have. Its splash-the-cash appeal is clearly based on the Emporio Armani branding - and that neon-strip styling. If that makes you swoon, then the features-for-the-money factor will probably be secondary to anyway. ®
More Phone Reviews...

Nokia 6600 Fold

LG Prada II

Sony Ericsson
Walkman W302

HTC Touch Viva