Original URL: http://www.theregister.co.uk/2009/02/18/review_storage_network_wd_my_book_world_edition/
Western Digital My Book World Edition 1TB NAS box
Great value network storage
Posted in Hardware, 18th February 2009 12:32 GMT
Review Western Digital maintains that the stylised hardback design of its My Book external hard drives has proved really popular with the punters. But while it's extended the range to take in not just local storage but also network-connected drives, the latter haven't grabbed consumer attention as much as the others have.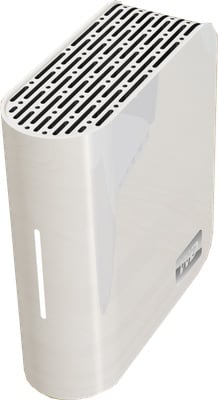 WD's My Book World Edition: more beefy than before
WD is hoping for better luck with its new, revamped My Book World Edition, launched today. The brand's not new: WD's had World Edition drives out for some time. It's had 1TB and 2TB models out as well.
No, the drive maker claims to have simplified the process that links Windows PCs and Macs to the network-attached storage to the extent that it's hoping to avoid using the abbreviation 'NAS' altogether. And that, it hopes, will mean consumers aren't scared off as it fears they might have been with past World Edition drives.
Likewise, there's no mention of the R word: RAID. The old My Book World Edition II was a fat box packed with a pair of 1TB drives in RAID configuration. The new World Edition offers 2TB using a single disk - WD's GreenPower 2TB unit - so it's essentially the same size as the old, single-width World Edition product.
There's the same portage on the back: a USB port for additional storage or backing up the My Book, a power socket, a Kensington lock slot and a Gigabit Ethernet port. Again, nothing new there. What is new is the power button, taken off the front of the drive and placed at the back.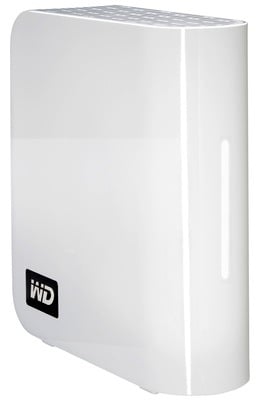 Contains 2TB on a single disk
The front of the new model is home instead to a single strip light that's used to give an indication of available capacity, in a very broad sense. Fresh out of the box, a quarter of the length of the light is lit, so it's more a guide than a precise capacity read-out.
In Mac OS X 10.5 the drive appears automatically in Finder's sidebar, courtesy of Apple's Bonjour zero-configuration technology, from where you can mount the pre-configured Downloads and Public folders with a double-click. Nicely for Mac users, the drive support the Apple Filing Protocol (AFP) as well as the more Windows-friendly and cross-platform CIFS/SMB.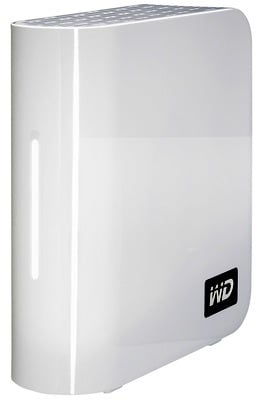 Shiny
Connect to the box using a Windows XP or Vista machine, and you'll see a pair of entries among the list of network devices: one that takes you to the admin console, and another that connects through to the management console for the My Book's built-in Twonky UPnP media server for feeding Xbox 360s, phones and the like. There's an on-board iTunes-oriented music server too.
The CD doesn't come with a UPnP client for the Mac, so you're left in the odd situation where, out of the box, the My Book's shares can be immediately accessed by a Mac but not a PC, but the admin consoles can be accessed immediately by a PC and not a Mac. To access the shared folders from a Windows machine, you need to know either the IP address or use tool WD bundles with the My Book to sniff out the shares and map them to drive letters for you.
But there's no bundled Mac UPnP client, so you can't easily get through to either the Twonky or My Book admin tools without knowing the IP address first.
WD also bundles automatic back-up tools for both Windows and Mac OS X - the My Book isn't compatible with the latter OS' own auto-backup system, Time Machine. You can install the software on five machines.
Freshly purchased, then, the My Book World Edition arguably meets WD's goal of being an easy-as-pie network storage resource. Anyone can plug it in by looking at the picture on the box. Installing the software on the CD completes the process and, once done, you're ready to share files and back up multiple machines.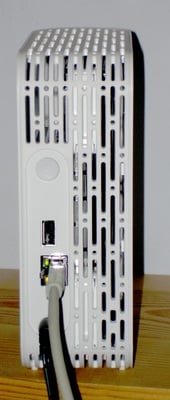 Gigabit Ethernet and USB 2.0 round the back
Well, almost. Mac OS X's network sniffer-outer is resilient to changes of IP address, but the shortcuts the WD Windows software puts in place rely on the initial IP address. Turn the My Book and router off overnight, and when they start up next time, the storage could, quite easily, have a different IP address, forcing Windows users to run WD Windows Discovery all over again.
Techies hankering for a more involved experience can head over to the management console, but it's by no means mandatory. If you do, you'll find the same system used on WD's business-oriented ShareSpace NAS box. There's a Basic mode that provides a pared back set of options for adding user accounts, managing the shared - and new, not-necessarily shared - folders, and engaging the remote access facility - of which, more later.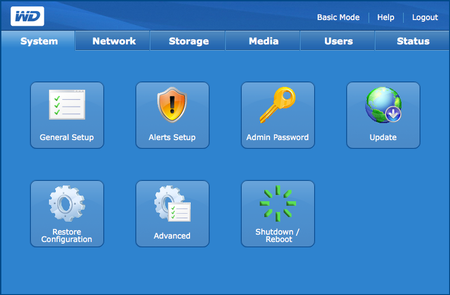 Deeper-level admin in Advanced Mode
Advanced mode lets you dig a little deeper: corral users into groups; apply storage quotas; disable the media servers and/or the various data-access protocols supported; apply firmware updates; and get notifications of problems. All solid sysadmin stuff, in other words, none of which consumers will need, or geeks, come to think of it.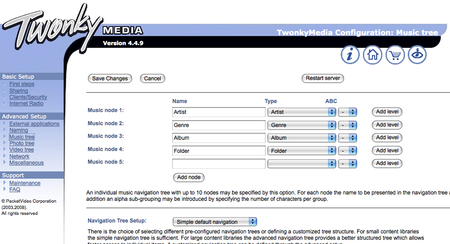 UPnP/DLNA server included
The management console's login screen also provides access to Copy Manager, which is used to duplicate the drive's contents on a USB-connected back-up drive or another NAS box. Yes, the letters N, A and S are mentioned, so WD hasn't entirely rid itself of the term. Only another WD NAS is supported here - the My Book didn't present the 500GB of Time Capsule CIFS storage on the network, though maybe that's because it's too small to back up the 1TB My Book on.
Alongside Copy Manager and Network Storage Manager (the My Book management console), the login screen also connects you to Downloader, the tool you use to schedule downloads the box will automatically grab for you. It'll only do http and ftp downloads - BitTorrent buffs will have to look elsewhere.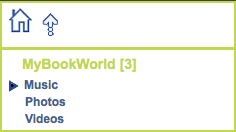 Access UPnP/DLNA from a phone
Downloader has different login details than the other consoles. We can't see why, on a consumer device, they're not all the same. Actually, we can't see why they're not all accessed from one, unified management console. Heck, we're not even sure if all these layers are necessary in a business-class device. If admins don't trust their own passwords why should they trust three?
We plugged the My Book into an Apple Time Capsule 802.11n router to which we also connected the Ethernet port of a MacBook Pro to the Time Capsule, ensuring a Gigabit pathway from My Book to router to Mac.
Single 8GB File Copy Results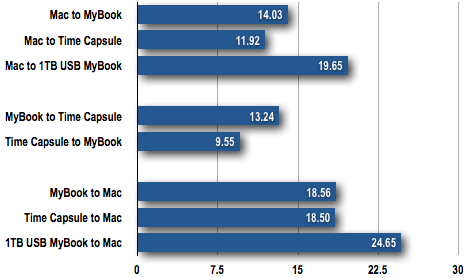 Bandwidth in Megabytes per Second (MB/s)
Longer bars are better
The Time Capsule contains a 500GB 7200rpm Enterprise-class Seagate drive. That's half the capacity of the drive in the My Book, but it pumped out consistently more heat during testing - though it's worth bearing in mind that the TC's AC adaptor is built in; the My Book's is separate. That said, the Apple unit is more tightly sealed, so there was little to choose between them when it came to noise, with not much of it.
First, we copied an 8GB file from MacBook Pro to the two drives, between the drives and then back to the laptop. The My Book's drive is nominally rated at 7200rpm, but you can see from the chart that we got better file copy performance from the WD than from the Apple unit.
We should point out that we made sure the Time Capsule's drive was spinning before timing the copy actions. The Time Capsule's firmware spins down the HDD after a period of inactivity, partly to conserve power, but mostly to help keep the heat down. Add in the TC's drive spin-up time, an the My Book's lead is enhanced. And it was always ready to begin copying files immediately.
Single 14.67GB Folder Copy Results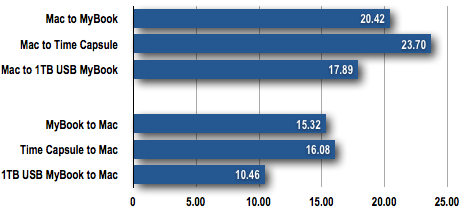 Time in Minuts
Shorter bars are better
Still, it's not quite the equivalent of hanging a USB drive off a single machine, and we've included appropriate figures to show you. Maybe with a fast desktop drive, you'd get close to USB speeds, but not with your average laptop. And certainly not if you're connecting your computer to the router over Wi-Fi or 10/100Mb/s Ethernet.
You can see the impact better with our second test: copying 14.66GB of files - 2400-odd of them - in a single folder. Backing up is 14 per cent faster on the My Book than the Time Capsule - retrieving data is just under five per cent faster.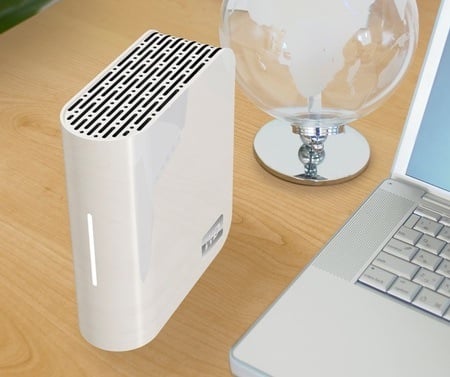 Looks nice on a desk - but better on a bookshelf
Again, USB transfers are quicker still, but you have to weigh the convenience of always-on, multi-machine storage against faster data transfers.
And transfer time's less of an issue with in-the-background back-ups in any case. WD's Anywhere Backup does a reasonable job of file-level back-up, keeping up to two generations of each item and allowing you to find and restore them from the back-up's folder structure. It's pre-set to ignore Windows files, apps and temporary files, though you can add these if you want, or limit the selection further. It's not Time Machine, but it appears to do the job. And it does it live, regularly copying across files as you work on them.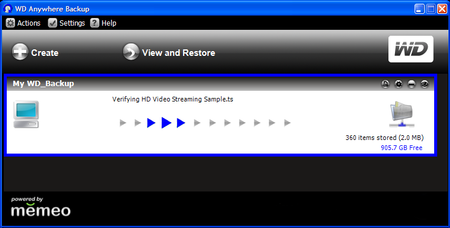 Auto-backup included
The 1TB My Book World Edition is available now for around £169. The 2TB version's more than twice the price, £370, and won't go on sale until later this month. Given that both have the same feature set, the premium for that extra 1TB of storage seems high. But then it offers an impressive capacity for a single-drive until - it's one big file bucket.
If the 2TB My Book World Edition is impressive but pricey, the 1TB model's great value - against both pre-made and DIY NAS boxes. It's half the price of Linksys' Home Media Hub, yet offers double the storage capacity. And if Linksys' box has a nicer-looking media streaming UI, the WD machine is no less functional for that. And it's smaller, quieter and runs cooler too.
Verdict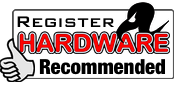 BitTorrent aside, the My Book World Edition supports all the media streaming protocols all but the most geeky of NAS geeks could want - and pretty much every tech-savvy consumer too. It offers plenty of storage capacity at a low cost - and in a snazzy box too. Perfect. ®
More Storage Reviews...
| | | | |
| --- | --- | --- | --- |
| Cisco Linksys Media Hub | Addonics NASU2 | DroboShare | Western Digital ShareSpace |